Michelle Carter Wins First U.S. Women Shot Put Medal Since 1960 Rome Olympic Games
RED OAK—It's not as glamorous as gymnastics, but the Women's Shot Put had its fair share of drama as Ovilla native Michelle Carter took home the Gold at the Rio Olympics.
Carter, who has always been a top contender in the field, qualified for the finals but later fell behind athletes from New Zealand and Hungary. She remained in the third position throughout most of the finals. It looked as if Valerie Adams of New Zealand would win with her first and best throw of 20.42 meters.
As the trials came to a close there was something different in the cards. Carter's last throw was better than four aces as she hurled her shot 20.63 meters to clinch a spot in the record books.
"I knew I had more in the tank," Carter told reporters. "And to be able to go out there and put the pieces together and pull it out, I'm just really excited."
Michelle wasn't the only one excited about her accomplishments. Her father and coach Michael Carter placed in the same sport 32 years earlier. More than a month ago, he predicted their trip to Rio wouldn't be in vain.
Adams was hoping for her third Olympic gold.
Coincidently, the first and only American female to place in the Women's Shot Put since its introduction in 1948, was also another African American woman from Texas.
Earlene Brown of Laredo, Texas, took part in three Olympic games from 1956-1964. Also the daughter of professional athlete, Brown set records in both the shot put and discus throw.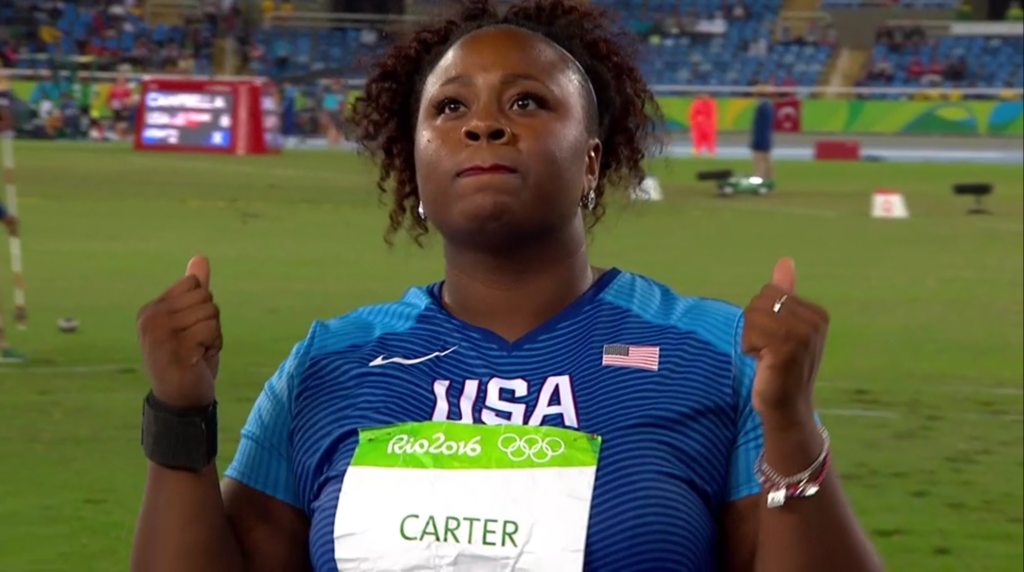 Carter Follows Father's Legacy
The 30-year-old Carter set another mark at her third Olympics. She and her father, Michael Carter, are now Team USA's first father-daughter combination to medal at the Olympics.
Carter is one of very few athletes to go to the Olympics multiple times as she follows the legacy of her father. Michael Carter brought home the silver medal in the shot put at the 1984 Summer Olympics in Los Angeles. He is also well-known as a three-time Super Bowl winner during his standout career as a nose tackle for the San Francisco 49ers.
Michelle says her father always downplayed his accomplishments, focusing on family life instead.
"He didn't really talk about it. That's one thing he didn't want to do," she remarked. "He didn't want to pressure us to do anything. If we chose it, it had to be on our own. He never wanted us to do anything we didn't enjoy."