Record Breaking Olympian Michelle Carter, Heads To Brazil For Third Time
Fans and well wishers braved the heat Tuesday to wish best of luck to Red Oak's Michelle Carter. This will be her third appearance at Olympic Games, and her first time in Rio de Janeiro, Brazil. The two-time Olympian and a World Championship bronze medalist is a 2003 graduate of Red Oak High School.
Red Oak ISD alums, business and community leaders were on hand lauding Carter's many accomplishments and dedication. During her time at Red Oak, she was a four-time Texas 4A state champion in the shot put, as well as having set state records in the discus.
Her road to Rio gold has definitely spiraled upward with each passing Olympic Game. In 2008, Carter placed 15th in her first Olympic appearance in Beijing. In the following 2012 London games, she leaped into shooting distance of the podium landing the 5th place position. Carter expects more of the same this year.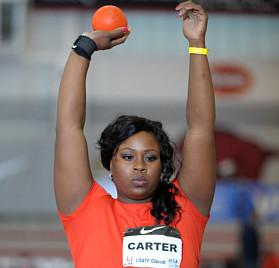 "My goal is to peak big in Rio, because my goal is to win gold," she said in a recent article. "Just knowing that my training is coming together, and I'm where I would like to be, I just will keep working and get ready for Rio."
Carter has had a stellar year, winning the International Association of Athletics Federations World Indoor title in March and breaking the Indoor Women's Shot Put Record when she took home the gold with a throw of 66 feet, 3.75 inches.
It was more of the same this month in Eugene, Oregon. Carter was the highlight of the final days of the USA Track and Field Olympic Qualifiers when she came from behind to surpass collegiate record holder Raven Saunders from Charleston, South Carolina with a throw of 64 feet, 3.25 inches setting a USATF record.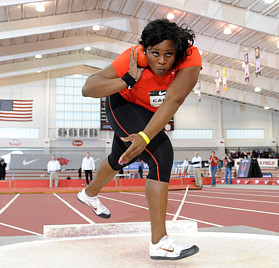 Michelle Follows Her Father's Legacy
Carter is one of very few athletes to go to the Olympics multiple times. She is following the legacy of her father, Michael Carter, who brought home the silver medal in the shot put at the 1984 Summer Olympics in Los Angeles. He is also well-known as a three-time Super Bowl winner during his standout career as a nose tackle for the San Francisco 49ers.
Michelle says her father always downplayed his accomplishments and, instead focused on family life.
"He didn't really talk about it. That's one thing he didn't want to do," said Carter. "He didn't want to pressure us to do anything he did. If we chose it, it had to be on our own. Because he didn't want us to do anything we didn't enjoy."
The 2016 Summer Olympics will take place August 5 – 21 in Rio de Janeiro and broadcast live on NBC and is already being promoted on Channel 5 in the Dallas/Ft. Worth market.