Methodist Midlothian Medical Center gave Midlothian ISD students valuable hands-on opportunities in April. Health Science students from Midlothian High School and Midlothian Heritage High School attended a medical symposium at Methodist Midlothian Media Center. Hospital leaders, nurses, and physicians shared their expertise, and guided the students through hands-on learning opportunities. They also discussed future career pathways with the students.
"It's an honor for Methodist Midlothian and physicians on the medical staff to have the opportunity to invest into the next generation of healthcare leaders," said Ivan Cruz, MD, general surgeon on the hospital's medical staff. "These high caliber students were extremely engaged in the unique experience, and it was a pleasure getting to share about the career opportunities in the medical field."
Midlothian HS Students Learn Skills
Students learned hands-on skills such as suturing, endotracheal intubation, intraosseous IV infusion, ultrasound IV, and how to read EKG/heart rhythms. In addition, the students had an opportunity to discuss medical career pathways with physicians, registered nurses, and more. The hospital's education and community relations departments helped facilitate this unique learning opportunity for the school district.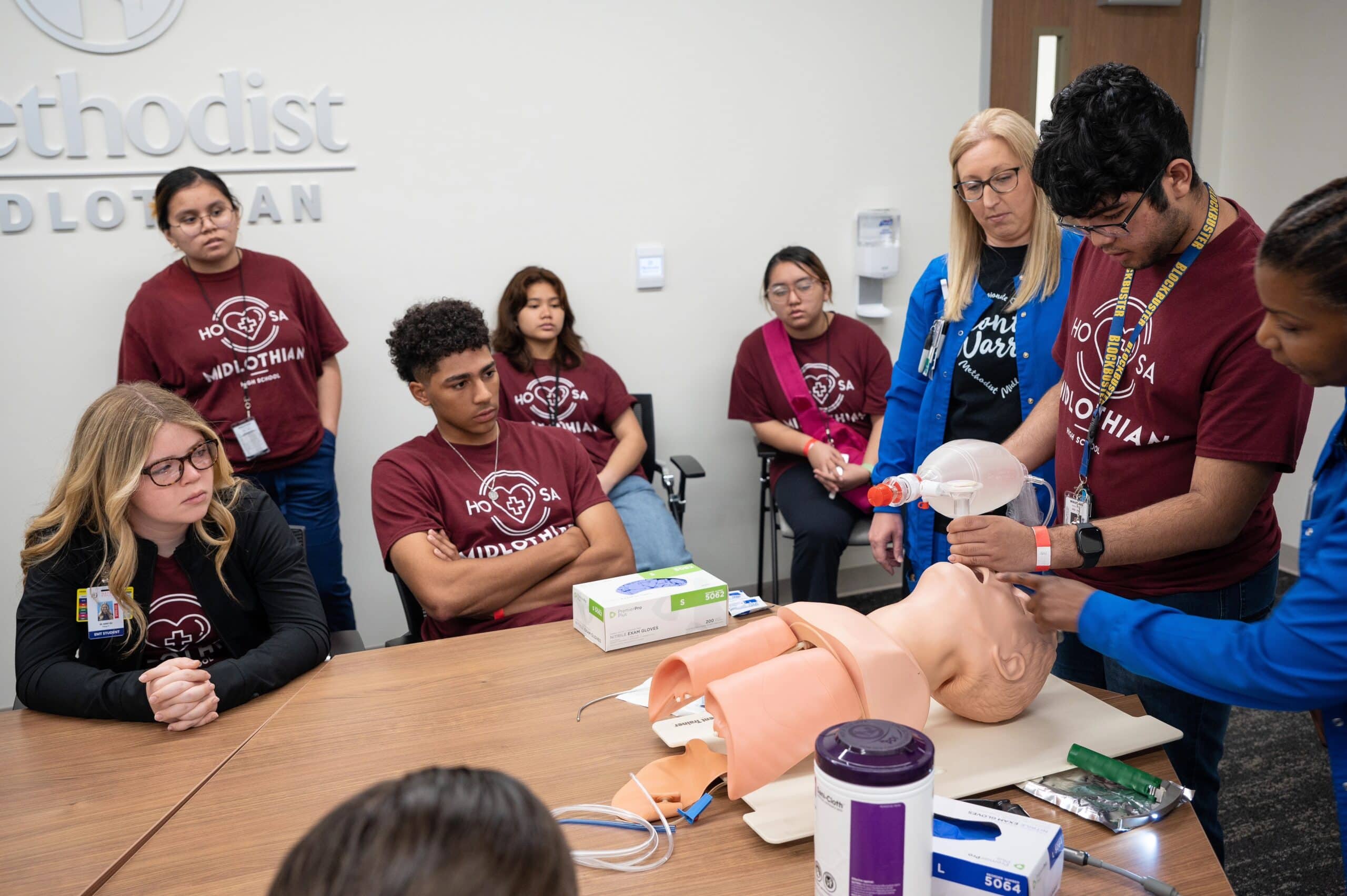 "It is so rewarding to see the passion of our students in such an important career path," said MISD Superintendent, Dr. Jo Ann Fey. "We appreciate the hospital staff for facilitating this event and allowing our students to grow outside the classroom. The district is grateful to have such a dedicated partner like Methodist Midlothian to help us enrich our curriculum with real world experiences."
Methodist Midlothian Medical Center
The Methodist Midlothian Medial Center provides north Ellis County residents advanced, quality, healthcare, with access to a range of diverse medical services. Together with independently practicing physicians, the hospital's areas of focus include surgery, emergency care, women's services, orthopedics, cardiology, imaging, oncology, and more. The new emergency department offers residents timely care that's supported by additional hospital services when needed. For women in the area, Methodist Midlothian offers complete care all in one place, including women's imaging and a dedicated labor and delivery unit.
Through its two operating suites, the hospital is designed to support many surgical procedures—from general surgery to advanced orthopedic care. For some conditions, residents will have minimally invasive surgical options. Often these less-invasive procedures help speed recovery and get residents back to daily living faster. Along with a full-service acute care hospital, the medical center's 67-acre campus also includes a medical office building. By bringing hospital and outpatient care together on a single campus, North Ellis County residents now have one convenient location for their healthcare needs close to home.