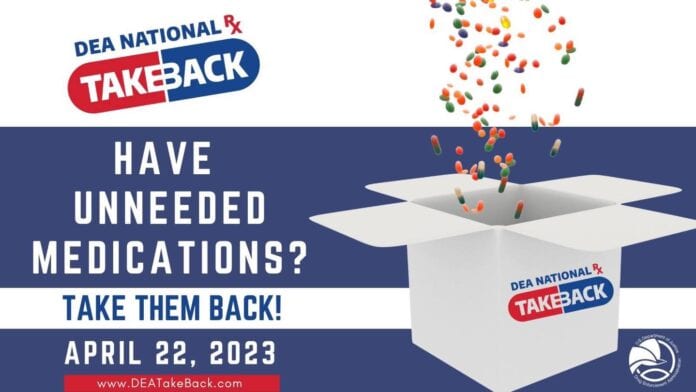 DEA's National Prescription Drug Take Back Day reflects DEA's commitment to Americans' safety and health, encouraging the public to remove unneeded medications from their homes as a measure of preventing medication misuse and opioid addiction from ever starting.
Cedar Hill National Drug Take Back Day Details
April 22, 2023 – 10:00 am to 2:00 pm
Walgreen's – 501 E. Belt Line Road in Cedar Hill
Your Cedar Hill Police Department is proud to participate in the DEA's National Drug Take Back Day on Saturday, April 22, 2023, from 10am to 2pm at Walgreen's.
This event provides an easy and responsible method of disposing of any unused or expired prescription drugs.
We CANNOT accept: needles/sharps/sharps containers, syringes, aerosol spray cans, chemicals, lotions, medical devices or other hazardous materials. #TakeBackDay
This event is free and anonymous, with no questions asked. For more information, please visit https://takebackday.dea.gov/
DeSoto Prescription Take Back Day April 22
Remember, this Saturday is #TakeBackDay!
Do your part to make sure your old Rx medications don't end up lost, stolen, or misplaced and in the wrong hands.
No questions asked, just drop off the medication/prescriptions in the labeled drop box which will be located in the jail lobby of DeSoto.
*Please note this is for prescription drugs only.
Red Oak Police Drug Take Back Details April 22
Members of the Red Oak Police Department will be serving our community during the drug take-back program which is happening Saturday, April 22, 2023 from 10:00 AM to 1:00 PM at the Red Oak Police Department. No matter where you live in Ellis County, take it to the box. The National Prescription Drug Take Back addresses a vital public safety and public health issue. Many Americans are not aware that medicines that languish in home cabinets are highly susceptible to diversion, misuse, and abuse. Prescription drug abuse is a huge problem and this is a great opportunity for citizens to safely clean out their medicine cabinets and make their home safe from drug theft and abuse.
THE RED OAK POLICE DEPARTMENT ALSO OFFERS A YEAR ROUND PRESCRIPTION DRUG RETURN BOX INSIDE OF THE RED OAK POLICE DEPARTMENT LOBBY