Inclusive Playground Coming to Katherine Rose Memorial Park In Mansfield
For some time now Mansfield has been one of the fastest growing cities in Texas. And with that growth comes the demand for more amenities.
City leaders are listening. In an effort to accommodate folks moving to the area, the city council recently announced two new projects they approved.
Just in time for the 25th anniversary of its opening (June 8), Mansfield announced that resident-favorite Katherine Rose Memorial Park is getting a major renovation. More than just a facelift, changes include a complete layout overhaul and brand new inclusive playground that will be optimized for children of ALL abilities to play together.
At the same time, the city is developing a brand new park off Gertie Barrett Road. Plans for this neighborhood park, which leaders say is much needed, are to include a large playground, splash pad, walking trail and nature area for the residents in the northwest quadrant of Mansfield.
Both projects are early in the design phase. Funding has been approved for both with a goal to have both completed by the end of next summer.
Long Overdue Upgrade Will Make Better Use of Space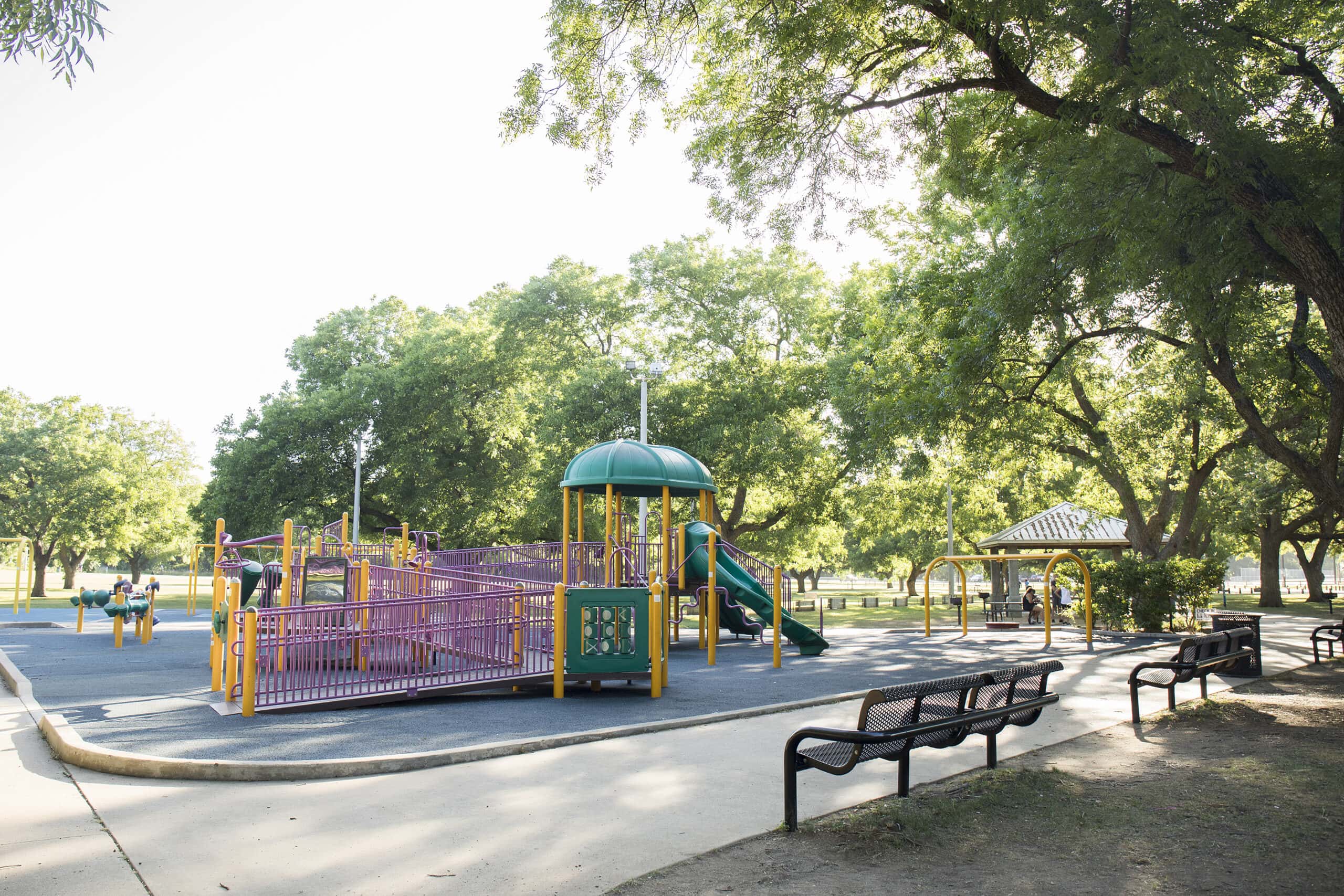 "Katherine Rose Memorial Park is our most popular park, beloved by residents and always packed with people and events," said Ann Beck, Mansfield Parks and Recreation Communications Manager. "It's also 25 years old and showing clear signs of age. The playground was installed in 2002, and thus is nearing the end of its 10-15 year life cycle. Because of the high visibility and use, it was a priority out of our 2020 Master Plan to give Rose Park a long-overdue upgrade."
The size of the Rose Park itself will not change, as Beck said the hope is to renovate from within, bringing in some new amenities and making better use of the space.
"We'll be doing some community engagement to get ideas and work with a designer to narrow down the specific amenities, but the overall goal is a larger, more distinctive playground space that can make the park more of a destination," she said. "It's very important to everyone involved that the new playground is not just accessible, but inclusive to all children, so that's another big part of the project.
"If possible, we'd also like to make some layout adjustments to the rest of the park amenities, depending on what happens with the design. It's really too early to say any of that for sure just yet, but it's an exciting process."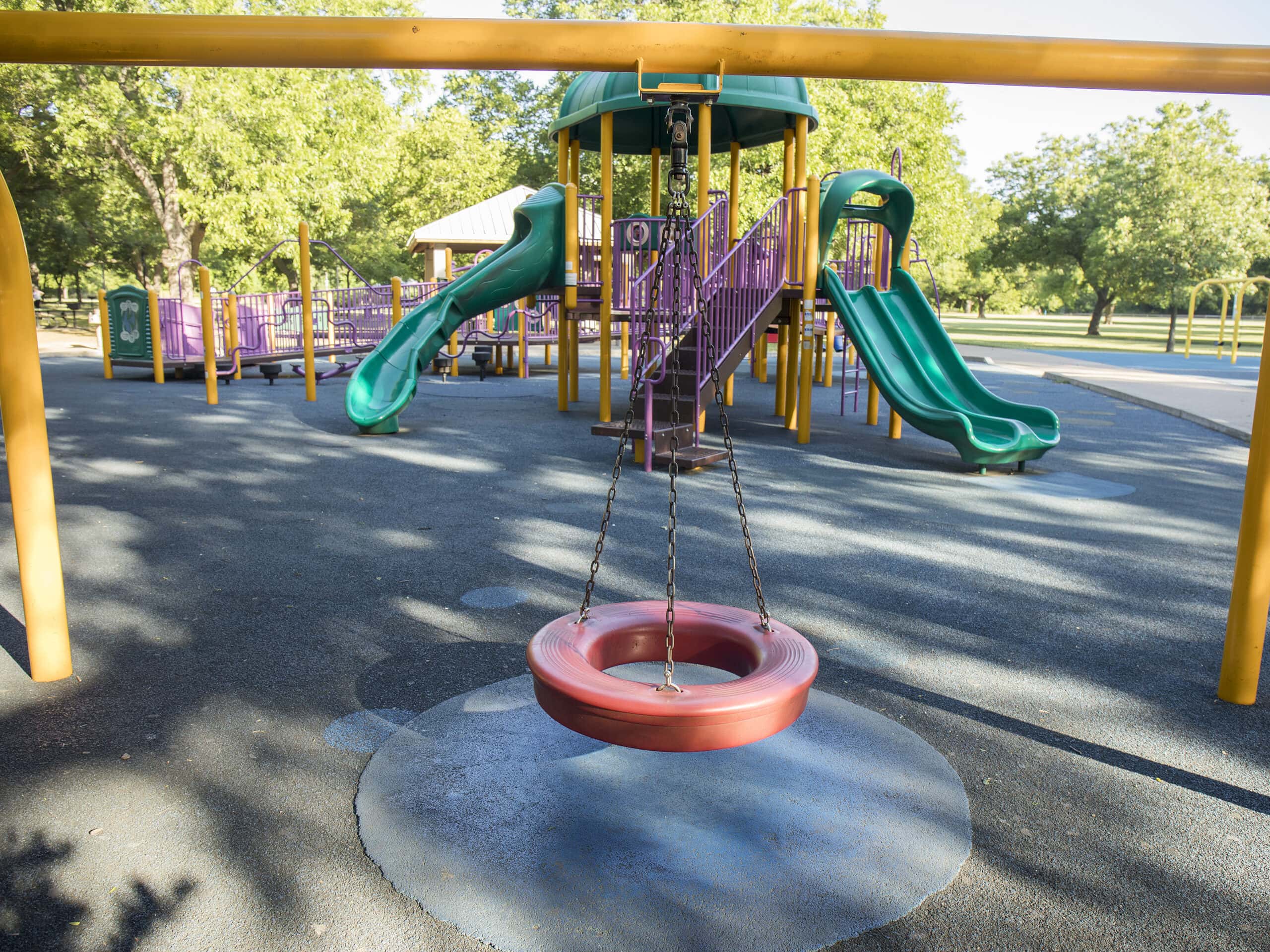 Equipment That Is Accessible & Addresses Sensory, Motor Challenges
An inclusive playground is one that encourages and enables physically challenged and able-bodied children to engage with one another in play. Usually, a wheelchair glider somewhere on the playground makes the playground "accessible."
"Park equipment has come a long way in just the last few years, and we're now able to provide spaces where all abilities can really play together, and elements can be designed specifically for different sensory or motor challenges to give every child an amazing experience," Beck continued.
"Public parks are inherently meant for everyone. They are free, open every day, spread around the city for easy access and offer a variety of amenities to serve different interests.
But they can't really serve everyone until everyone has the opportunity to use them, and we are beyond excited to bring this to Mansfield. We heard many requests for expanded services for special needs families in our master plan feedback and know it will be welcomed wholeheartedly."
Significant Demand For Park Space in Northwest Mansfield
The eight-acre tract of land at Gertie Barrett Road and Garrison Lane was purchased by the Mansfield Park Facilities Development Corporation in 2009. They bought it with the intention of developing it into a neighborhood park to serve this fast-growing area of town. Currently, the northwest quadrant of Mansfield only has four parks (Killian, Piedmont, McKnight West and Town Parks). Two of those are right along the southern border, so there is significant demand in the northernmost section for green space and amenities, Beck said.
"Developing this park was the number one priority for the northwest quadrant in our master plan and we are thrilled to make it happen so soon," Beck said.
The city council allocated $1.5 million for each of these projects as part of the city's 2021 capital improvement program. Funding will be available in July to begin the design phase for both projects, with construction expected to begin in early 2022.
Mansfield has 27 total parks and facilities. That includes 20 parks, the Mansfield Activities Center and six public-private partnerships (Mansfield National Golf Club, Hawaiian Falls, Big League Dreams, Fieldhouse USA, StarCenter Mansfield and The LOT Downtown.) In total, the city has 1,100 acres of land in its inventory, including both developed and undeveloped parkland.
Parks Are Important To Mansfield Residents
"We moved to Mansfield for the great schools, but quickly discovered the parks were the city's best kept secret. Between soccer games and playground playdates with friends, or just burning off some energy after school, our family spends a ton of time in one park or another, and it means a lot to me to see the city supporting parks so enthusiastically and constantly reinvesting in itself," said resident Whitney Brown. "I can't always keep up with everything going on, but I'm always excited to see the next announcement or opening, it makes me proud to live in Mansfield."
Matt Young, Director of Community Services for Mansfield, added, "We are so excited that our city leaders are committed to improving the quality of life for Mansfield residents. These projects are a direct response to the feedback that we received during the public engagement phase of the master plan project."
Beck said over the past 18 months in the COVID-19 pandemic city leaders have discovered that parks are far more than something "nice to have". They are truly an essential service for any community.
"When everything closed last year, the parks stayed open, one of the few places people could safely exercise, play and get some fresh air," she said. "Even as restrictions have lifted, we still see park usage on an endless upward trajectory and expect that to continue as our population increases. We learned how important parks and open spaces are to people and are even more committed than before to expanding and improving those services."
2020 Master Plan Includes 61 Projects
There will be even more parks in the future. The 2020 Master Plan included 61 projects in total, which includes new parks and trails and redevelopment of existing parks.
The National Recreation and Park Association recommends all residents live within a 10-minute walk to a park. The national average is 50%, but currently only 23% of Mansfield residents meet that benchmark, Beck said.
"We know from our research that there's a huge need for more parks and new amenities in all areas of the city, so those 61 projects outline our plans to tackle the issues, one park at a time," she said.
Beck said that, in addition to the Rose and Gertie Barrett projects, the city is also working on redevelopment and/or improvements to the McClendon Parks, which are still in the design phase, and have a 1.3-mile extension to the Walnut Creek Linear Trail under construction, due to be complete in early fall.
"We also just launched a feasibility study to create concepts for a new recreation center and library. This would be a completely new facility with fitness, indoor aquatics and a full library, in addition to classrooms, rental space and recreation components," she said.
"We've got public meetings and surveys planned all summer long as our steering committee works with a consulting team to develop concepts and cost estimates."