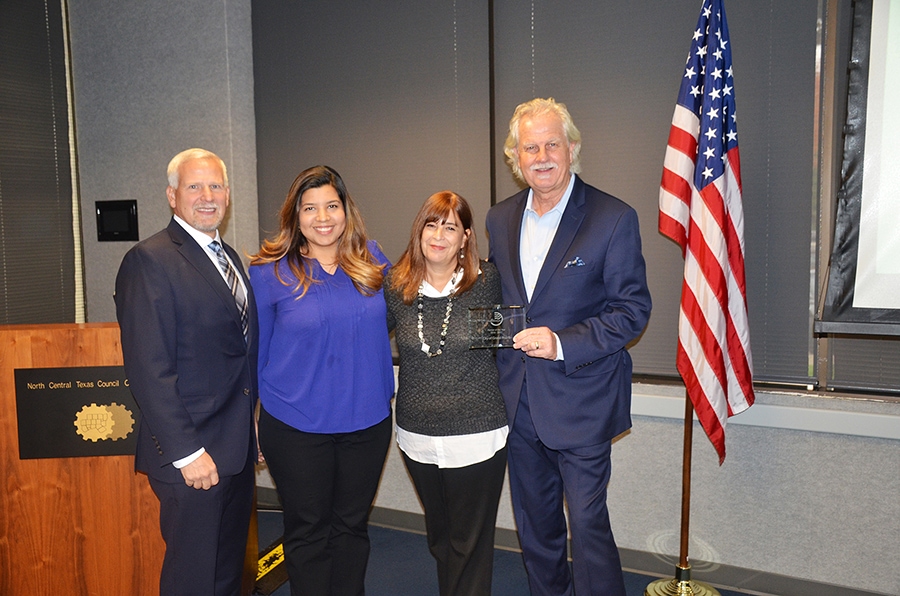 GRAND PRAIRIE — With the winter months rapidly approaching and ozone season nearing an end, the City of Grand Prairie is continuing its year-long quest to be mindful of the importance of clean air.
This year the Dallas-Fort Worth area's ozone concentration is on track to drop to its lowest point ever. That is thanks to cities like Grand Prairie doing their part to make sure residents are aware.
Grand Prairie, and cities like it, are continuously working alongside Air North Texas, the region's public awareness campaign designed to make breathing cleaner air a priority.
Recently, Grand Prairie was named Air North Texas Partner of the Year for the second straight year. The city has developed a comprehensive campaign that includes website content, social media promotion, newsletter articles about air quality and coordination with promotion of Air North Texas at community events during ozone season.
"Our strategy for outreach is to look at this issue from multiple viewpoints," said Cindy Mendez, City of Grand Prairie Environmental Quality Manager. "For parents, teachers, outdoor enthusiasts – we focus on the health impacts of poor air quality and ozone. Community and businesses, we focus on how air quality non-attainment negatively impacts businesses moving to the area versus moving to an area that has attainment with the eight- hour ozone standard. For others we have a more general focus of letting them know how their actions impact air quality."
Mendez said the campaign involves social media posts at least monthly, promotion of Clean Air Action Day for city employees through the use of the city's intranet, and promoting Air North Texas messaging in city publications. The city strives to make citizens aware of Air North Texas by setting up Air North Texas education booths at health fairs and even offering a Clean Air Challenge for industrial facilities in Grand Prairie and offering awards to yearly winners.
Clean Air Initiatives
Among the clean air initiatives through the Clean Air Action Challenge this year, local companies came up with ideas such as creating a carpool parking spot and making clean air pledges. In fact, there was a total of 647 pledges made with Lockheed Martin leading the way with 373 employee commitments. Pratt & Whitney and Airbus Helicopters also made significant commitments.
Mendez said the city is always thinking of ways to make sure residents and businesses are mindful of clean air through public education.
"We heavily use the terminology "Do One Thing for Clean Air Today" and stress the importance through social media and printing that doing things like tuning up their car, checking air pressure in their tires, turning off lights, and reducing energy use are things that benefit themselves financially and our environment and health."
For businesses, the yearly winner of the Clean Air Challenge gives a presentation to other businesses about what their project was and how the company achieved it. This then serves as a model for other companies to do the same.
Several of Grand Prairie's departments also have a "No Idling" policy for municipal vehicles. Mendez says the city regularly maintains its fleet vehicles, emergency generators, and other equipment that if not maintained could contribute negatively to air quality.
Grand Prairie is also upgrading its diesel generator fleet to meet state environmental standards by replacing units rather than repairing them to create more efficiency while reducing emissions. And, the city continually upgrades the building's lighting by replacing fluorescent, sodium vapor, and mercury vapor bulbs to LED fixtures, which minimizes energy consumption.
Second Consecutive Award
"We are very proud to be Partner of the Year for the second year in a row," Mendez says. "Sustainability actions and awards are attractive to residents, future residents, and businesses. Next year, we will be installing between six to ten electric vehicle charging stations at Grand Central where the new EPIC water and EPIC recreational center is located. We will of course be looking for more opportunities to educate and to take action for clean air."
During last month's Regional Transportation Council meeting city officials were on hand receive awards. Air North Texas is one of many strategies in place to improve air quality as ten North Texas counties strive to meet the Environmental Protection Agency regulation for ozone pollution.
Other local cities recognized for work in keeping the air quality clean locally included the City of Dallas recognized for Outstanding Effort in Outreach and the City of Plano for Outstanding Effort in Partner Involvement. The award for Outstanding Effort in Initiative went to the University of North Texas Health Science Center, which created its own Clean Air Action Day pledge in an effort to increase campus involvement and award participation.