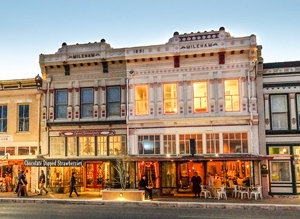 Georgetown Offers Small Town Charm With Natural Beauty
The city of Georgetown claims they have "the most beautiful town square in Texas." After visiting this central Texas town with my husband several times recently, I can't argue with their claim.
Located 27 miles north of Austin off I-35, or 164 miles from our Oak Cliff home, Georgetown is a two-college town with a growing population currently estimated at 63,716. We first discovered this friendly community's charms several years ago, during the Christmas season. Most of the square's retailers light up their shops for the holidays, so strolling around the town square was like taking a trip back in time to small town Texas. We were greeted with "y'all come in," and handed cups of cider or hot chocolate by smiling boutique shop owners. It's hard not to spend money when you're made to feel so welcome.
Wildfire, a restaurant Time Magazine called "a reason to move to Georgetown," is just off the square at 812 S. Austin Avenue. With its soothing atmosphere and attentive servers, it's the perfect spot for romantic dining. The menu is loaded with meat-and-potato dishes plus wild game like the oak-fired elk tenderloin ($32) my husband loves. Wildfire offers something for everyone, except maybe vegetarians. Their flame-kissed, bacon-wrapped stuffed jumbo shrimp with Pepito wild rice and tequila vegetables ($22) is my favorite.
Dinner reservations at Wildfire are a must during the holidays. We found this out the hard way when we showed up once without reservations. We ended up eating in the adjoining saloon, a lively, crowded spot from happy hour till closing time. Nothing like the lengthy romantic dinner we had envisioned, but the food from the limited bar menu was still good.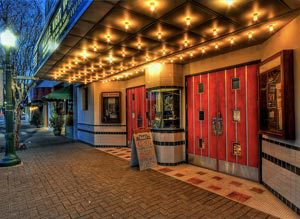 Wildfire's next door neighbor is the historic Palace Theatre, built in 1925 to show "moving pictures." The venue now showcases local talent in musicals like "Man of La Mancha," (April 14-May 7) and "Joseph and the Amazing Technicolor Dreamcoat," (May 19-June 18).
Georgetown is home to the first university in Texas, Southwestern University, established in 1873. The city is proud of its history, lovingly restoring many older buildings like the court house (circa 1911), and the Willliamson Museum on Austin Avenue.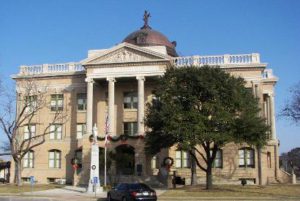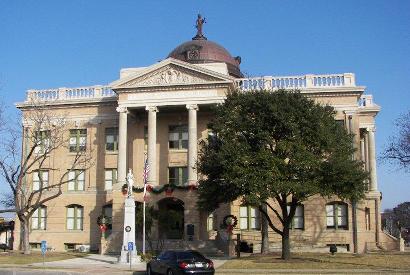 The Monument Café, 500 S. Austin Avenue, is a few blocks north of the courthouse square. The 1940's-style diner features home-style cooking, reminding my husband of his west Texas childhood. My favorite meal is breakfast, and they serve it all day long.
I ordered the three egg omelette with ham, cheese and spinach, home fries, biscuits and honey ($10) and Monument Blend coffee ($2.25). Another favorite is their huge cinnamon roll, large enough for two ($5)—not that I plan to share.
My husband can't pass up Monument's chicken fried steak with gravy and potatoes ($10). It's easy to see why. They hand cut their French fries and serve Kobe beef from Heartbrand and Certified Angus beef from Texas ranches–even for the CFS. Another special that looks good is Truckstop Enchiladas ($8). All desserts, including delicious cream meringue pies, are made from scratch.
Monument Café doesn't require reservations. The restaurant is large enough there's usually room for two more any time you go. If there is a waiting line, head to the back to browse the Monument Market's wide selection of fresh produce. Many of the vegetables are grown in their own garden, and other goods are locally produced.
Any time is a good time to visit Georgetown, which has a number of outdoor activities in the spring. There are several family-friendly, free festivals like the upcoming Red Poppy Festival. There will be music, food, arts and crafts, and a car show Friday, April 28 through Sunday, April 30.