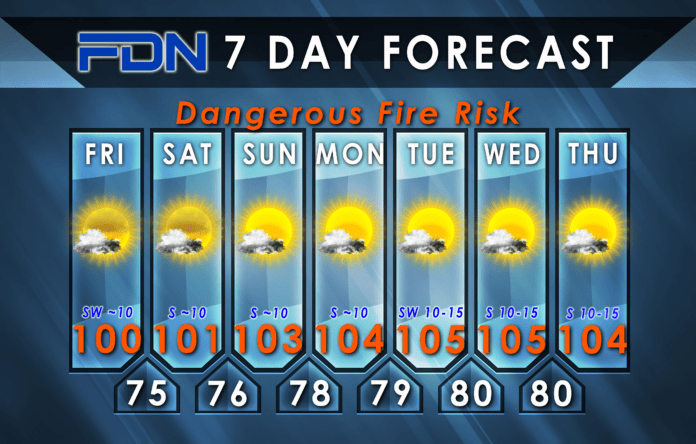 Today is the coolest it's going to be it for a while…so get out and wrap up those outdoor projects you've been putting off. It's uphill from here.
Today we are clear of all heat alerts as highs look to top out around 100°. Some lucky folks may not even reach the triple digits. Dangerous fire conditions continue, however, as we won't have any rain and winds will still be breezy.
After today…well, I'm sorry.
Tomorrow we should still be in the low 100's, then we get into the mid 100's for the remainder of the forecast period. Winds increase next week, increasing our fire risk – but humidity should increase as well, which should at least reduce the likelihood of new fires starting…but will raise the heat index value and lower our quality of life.
I've been watching the signs of a pattern change in the first week or so of August. Right now, models still disagree about what will happen – one has high pressure retreating westward and opening us up to some rain and cooler temps, while another has high pressure sticking around and keeping us hot and dry. As we get closer, we'll see these two models start to get closer to a consensus…and a clearer idea of the forecast will present itself. For now, it's up in the air (no pun intended)…so stay tuned!