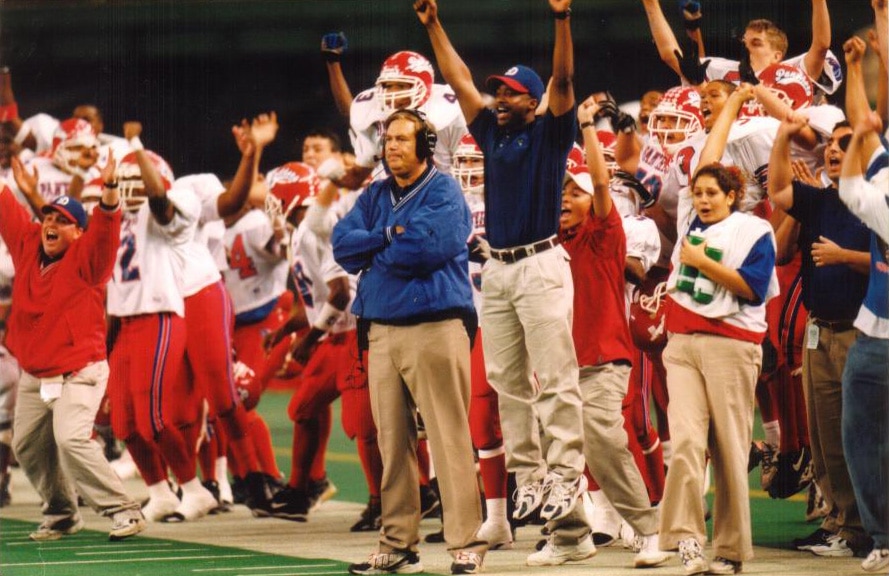 Friday Night Duncanville Fieldhouse Renamed After Duncanville Coach Bob Alpert
DUNCANVILLE—The Duncanville Fieldhouse will get a new name this week. District and city officials will honor former Athletic Director and Head Football Coach Bob Alpert by naming the fieldhouse for him on Friday, October 21. Just before the football game named in his honor there will a reception at 6:30 p.m. at the athletic office; followed by a ceremony at 6:45 p.m.
During his six years with Duncanville High School, Bob Alpert was known for his leadership and direction. He led the athletic program to elite status among Texas high schools. With the belief that athletics teaches valuable lessons about life. According to Duncanville athletic staffers, Coach Alpert always expected his student athletes to set high goals, be good citizens and make positive contributions to society.
The Bob Alpert Era
Alpert arrived in Duncanville in 1996, taking on the roles of head football coach and athletic director. He brought immediate success to the program, which had gone 17-32-3 in the five seasons before him. In his first year as head football coach, Alpert led the team to its first undefeated regular season in school history.
In 1997, his team advanced to the state semifinals after winning back-to-back district titles.
In 1998 the Panthers beat Converse Judson, 24-21, in a come-from-behind victory at the Astrodome for the 5A Division I state title. That same year he was named coach of the year by the Dallas Morning News.
Alpert led his 2000 team to the state quarterfinals, and his 2001 team to the state playoffs. All told, Coach Alpert held one of the best 5A football records in the Dallas/Fort Worth metroplex, with an impressive 59 wins and 15 losses. During his tenure at Duncanville, 63 players continued to the next level – excelling in college football.
Alpert retired from coaching in 2001, ending a 34-year career.
Before arriving at Duncanville, Alpert spent 13 seasons at Aldine MacArthur. He led the program to 10 playoff appearances, including a trip to the state finals.
EDITOR'S NOTE: In a previously printed version of this story the location was erroneously identified as 1700 S. Main Street, which is owned and operated by the City of Duncanville Parks and Recreation Department. The Bob Alpert Fieldhouse, a Duncanville Independent School District property is located at 900 West Camp Wisdom Road, within the Bill Savage Athletic Complex.