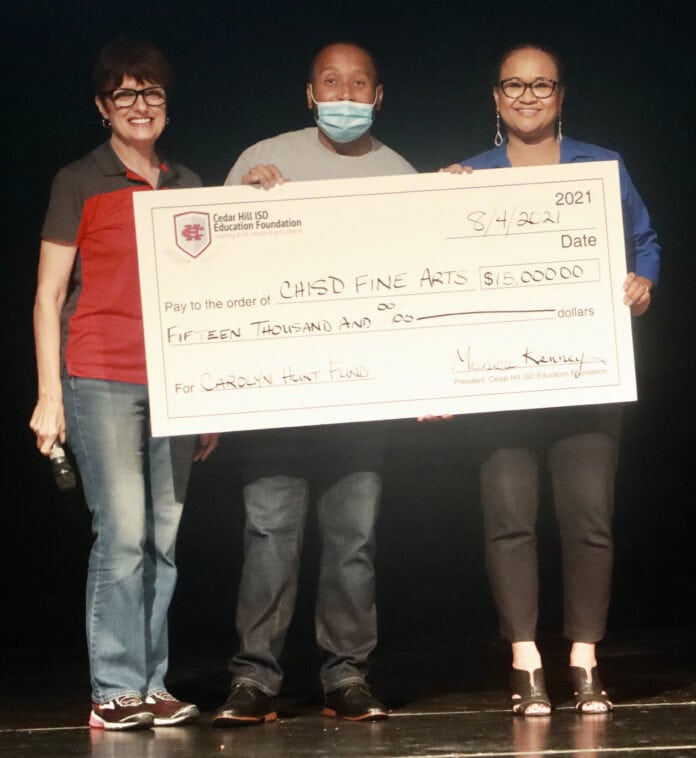 Largest Arts Related Check CHEF Has Presented
(CEDAR HILL, TEXAS) Cedar Hill ISD Director of Fine Arts Derrick Walker was completely surprised when the Cedar Hill ISD Education Foundation (CHEF) presented his department with a $15,000 check during Wednesday morning's Convocation.
"I'm still in shock about it," Walker said. "I'll be dancing all night. This was great news to end a really long summer. I didn't have a summer break. This is a good reflection of the work we've been doing. Sometimes we think the work we do doesn't matter, but it does."
CHEF presented $15,000 from the earnings of the Carolyn Hunt Endowment for the Arts. Hunt was a Cedar Hill citizen and strong supporter of the Fine Arts who passed away in 2004.
In the past, CHEF presented an arts-related grant for a teacher and for a classroom. Wednesday's presentation was by far the largest arts-related check that CHEF has presented.
"I am absolutely ecstatic," CHEF Executive Director Denise Root said. "We hope to have more presentations in the future."
Walker met with Root and members of the CHEF Board last spring to discuss the Fine Arts Department's "Wish List."
Walker met with Fine Arts department leads to learn about wish list items. There are 45 Fine Arts employees in CHISD, so Walker meets with department leads to determine needs.
Walker said he plans on meeting with his department leads – from Band, Art, Choir, Elementary Music and more – to discuss how to spend the funds.
In addition to the Fine Arts Grant, CHEF is donating $50 to each classroom teacher, for a total of $21,550.
"We want to start the year on an upbeat note," Root said.