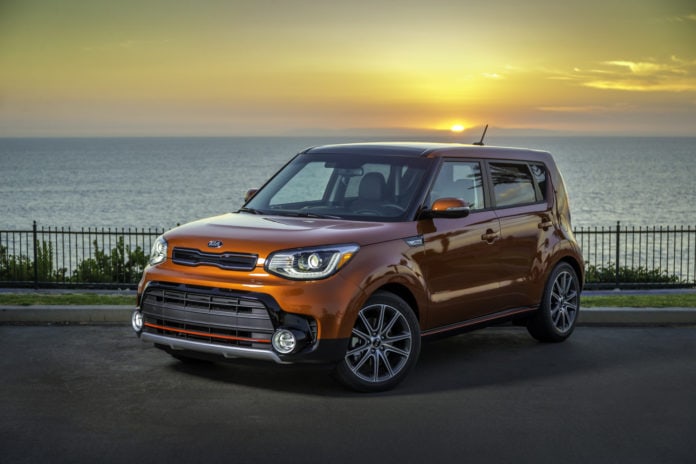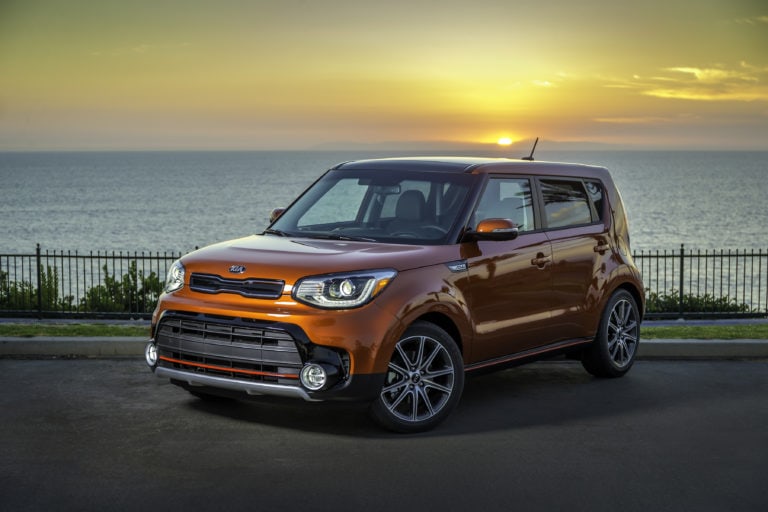 2017 Kia Soul! Screams Power and Value
The Kia Soul has always been on the cutting edge in terms of design. Originally thought to be perfect for young people just entering the automotive market. Since its introduction, it has surprised many with its popularity by buyers throughout every strata of the shopping public.
The turbocharged 2017 Kia Soul! (note the exclamation point – this is a special "exclaim" model of the Soul) is sure to attract everyone wanting sport, roominess, unique design and comfort – all at a price that is sure to please. The model I tested weighed in at a base MSRP of only $22,650. Even when one adds in the destination charge of $850, this is a vehicle that provides a lot of value.
Wild Orange Is Sporty
The Wild Orange color screamed fast and the 1.6-liter turbo engine provides confirmation. With forty additional horses and more importantly in my mind, 45 extra pound feet of torque, the teenager inside me was thrilled to spend a lot of time behind the wheel. To make things even better, Kia "exclaims" that I should get 28 mpg.
Kia enhanced the performance in the turbocharged Exclaim by adding a new 7-speed Dual Clutch Transmission (DCT). With quicker and smoother shift points and no shift shock, the Soul Exlclaim provided more dynamic acceleration producing a more engaging driving experience.
Kia Gets Sportier With Turbocharged Engine
"We wanted to provide loyal Soul lovers and new buyers a sportier option," Orth Hedrick, vice president, product planning KMA, points out. "The 2017 Soul Exclaim with its turbocharged engine gives the car's fans another wonderful choice from an already wonderful line-up."
In addition to the turbo engine, the Exclaim includes specialized trim and sportier features, including exclusive 18-inch wheels, red-accented body trim, chrome grille surround, unique Soul tailgate badge, and, for the first time on Soul, dual chrome twin-tip exhaust.
The Exclaim comes with a standard leather-wrapped, D-shaped steering wheel, push-button start with smart key and UVO3 with e-Services with integrated Android Auto and Apple CarPlay. A 315-watt Harman Kardon 5 premium audio system with eight speakers, including a center channel and sub-woofer, navigation and 8-inch touchscreen display is also available. Other new options for the 2017 model year are convenience systems such as Rear Cross Traffic Alert and Blind Spot Detection.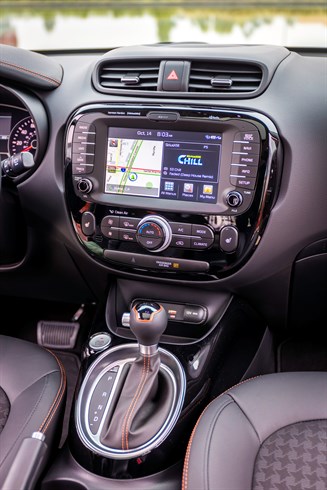 Do you want Manual or Automatic?
The 2017 Kia Soul is available in two other trim levels. The base offers either a manual or an automatic six-speed transmission. It is equipped with a 1.6 liter I-4 GDI (gasoline direct) engine. The Plus model provides a larger 2.0 liter I-4 GDI engine and 31 additional horsepower (My Exclaim model adds another 40 horses, for a total of 201).
By the way, Car and Driver has named the Soul to its 10Best Trucks and SUVs list, which recognizes 2017's best trucks and SUVs on the market.