Wonder Woman 1984 is the film I couldn't wait to see in 2020. It was disappointing that the arrival of my favorite Super Heroine was delayed as movie theaters closed down across the globe. So I was thrilled when Warner Bros. sent a special Christmas gift, and Gal Gadot as Diana Prince/Wonder Woman came streaming through the airwaves to land on my PC Dec. 25.
But some of the wonder from the 2017 film was missing. It's the same gifted director (Patty Jenkins) and incredibly gorgeous Amazon princess (Gail Gadot), with that same golden lasso and even some new super powers and golden armor. But the lengthy sequel (2 hours and 31 minutes) didn't bring back the magic of the original.
The opening scenes set on the island of Themyscira. Princess Diana's country of origin, are the best part of the film. Which is weird, since Gadot isn't even in those scenes. Lilly Aspell fiercely portrays young Diana, who's competing in a dazzling, death-defying race against older Amazons. Flash forward to 1984, where Gadot as Diana has come into her full powers. Sadly, we don't get to see as much of those astonishing displays or power. After watching her conquer those evil monsters in WWI, I was eager for more of the same.
There are long stretches of no action in WW1984. The main bad guy (greedy oil baron Maxwell Lord played by Pedro Pascal) is more a clown-like caricature than an enemy to be feared. Lord may have been a symbol of '80s excess, but he still didn't seem like a worthy opponent for our super heroine.
Wonder Woman Hides at Smithsonian
Diana works at the Smithsonian, and keeps her Wonder Woman identity secret. But when called to action, she easily rescues some terrified humans from Lord's very inept criminal gang at a shopping mall. Among their loot she finds an ancient artifact that can apparently grant any wish.
Diana and her timid, awkward colleague Barbara Minerva both make a wish. .Minerva wishes to be more like her graceful, self-confident friend Diana. She is surprised and thrilled to receive superhuman powers as well. Barbara relishes her new catlike abilities as Cheetah, and sides with Lord in order to keep her new powers. While Cheetah proves to be a slightly more frightening adversary than Lord, she was much more fun to watch before her transformation.
Lonely Diana wishes for her lost love, Steve Trevor (Chris Pine), who sacrificed his life so Diana could save humanity in WWI. Wonder Woman learns the truth of the adage, be careful what you wish for. Trevor's return and their joyful reunion marks the start of her losing her powers, as she gradually becomes weaker.
There are some humorous moments as a wide-eyed Steve reacts to modern inventions and technology (astronauts, escalators, stealth airplanes, radar). He even puts on a fashion show, trying on a variety of clothes worn by well-dressed men in the '80s. This part of the film is bittersweet. While it's very poignant to see these two star-crossed lovers together again, the audience knows it can't last. It's no surprise that Diana finally has to choose between keeping Steve by her side and (once again) saving the world.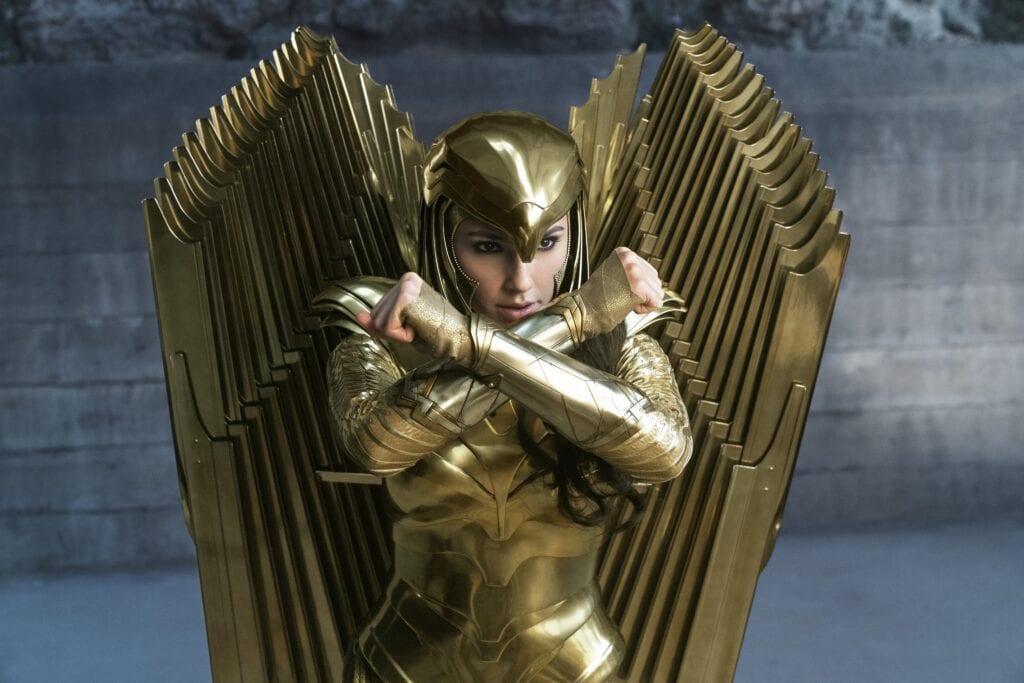 Wonder Woman 1984 Creatives
"Wonder Woman 1984" is written by Patty Jenkins, Geoff Johnson, and David Callaham; and directed by Patty Jenkins. Along with Aspell, Gadot, Pine, Wiig, and Pascal, the film features Robin Wright as Antiope, Connie Nielsen as Hippolyta, Amr Waked as Emir Said Bin Abydos; Kristoffer Polaha; and Natasha Rothwell. (Stay through the final credits to catch a glimpse of Lynda Carter (television's original Wonder Woman). She makes a cameo as an ancient Amazon goddess called Asteria.
Produced by Charles Roven, Deborah Snyder, Zack Snyder, Patty Jenkins, Gal Gadot, and Stephen Jones, the action/adventure/fantasy film is rated PG-13 for violence and action sequences, and runs 2 hours 31 minutes. Produced by DC Comics, Warner Bros., DC Entertainment, Atlas Entertainment, and The Stone Quarry. Both theatrical release and streaming release were Dec. 25.
Angelika Film Center Dallas
The Angelika Film Center Dallas is offering private screening packages for up to 30 guests. Book a private Wonder Woman 1984 screening between now and January 3, 20201, and get free popcorn.
"We all need an escape from 2020's reality," said Adam Conway, the Angelika's local event and promotion manager. "Wonder Woman 1984, an authentic popcorn blockbuster, will give our guests a few hours of pure fun. Knowing this movie is meant to be shared on the big screen, we are offering our guests a way to enjoy the movie with a smaller private group."
For information about booking a private screening for 30 people at the Angelika Film Center Dallas, visit angelikafilmcenter.com/dallas.