You're Never Too Far Gone
Just over two years ago Lauren Tenny of Red Oak's life almost came to an end by her own doing. Instead, she survived the car wreck she was in intentionally. Now, at age 19, she spends her days working to prevent others from making the same attempt at suicide she did.
Tenny uses her own experience in speeches and has even made a film in an effort to discourage suicide attempts, encouraging people to seek out any and all positives in their life and clutch them.
"My whole message is that you are never too far gone for Jesus to come and save you," Tenny said. "If you were like me at one point and you feel the pain is unbearable and you don't see how you're going to make it out, just always remember that God's word says he will never give us more than we can handle."
Tenny forgot that, though, when she let a failed romance with a young man, she thought she was going to marry, become the reason she drove her car into a guard rail and subsequently a tree in an attempt at suicide. They had been dating four years before the relationship ended, as her life almost did as well.
"I was so sad and didn't know my self-worth. I placed my happiness in this boy," she said. "I had also stopped taking my bipolar medicine, which really helped with suicidal thoughts."
Tenny speaks to audiences of young and old alike. She tells them her story and listens to theirs.
'Always A Reason To Fight To Live'
She tells them of the painful details of that day when she almost left this world, of the flashbacks she still gets. And, she reminds them that no matter what, there is always a reason to fight to live. Something she wants them to realize before coming to the brink of death like she did.
I remember being upside down bleeding out because I was scalped on my forehead, so I was bleeding out really bad, on top of having a lacerated spleen and liver, internal bleeding, a terrible broken ankle, a slashed open knee with a broken patella, a broken collarbone, an arm that was slashed up and had shards of glass in it, and broken ribs," she described. "So, I'm upside down bleeding out in the car, hanging there, and I start praying and calling on the name of Jesus, and I keep telling him how much I need him and how I don't want to die.
"The first responder on the scene came up after about five minutes of me being there alone, and it turns out she's a local nurse. She held my hand and prayed with me and got me help. She also had a towel in her car to stop the bleeding on my forehead. So, if she hadn't been there, I would've definitely bled out for sure before Careflight and paramedics got there."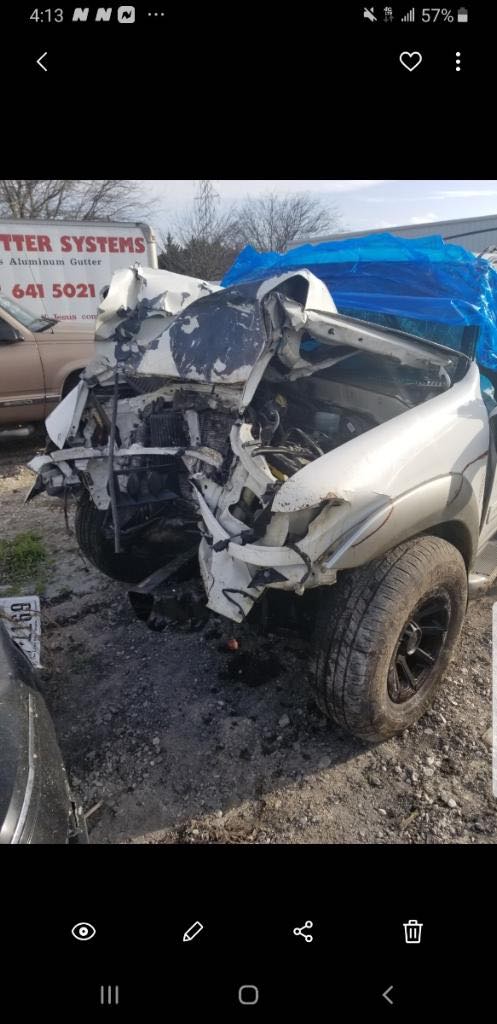 "The Impact of the Miracle"
When her parents arrived at the hospital, they were greeted by a chaplain. Yes, she was that badly injured.
But she survived, and she said it was during that time she received a vision that her near fatal mistake should serve as a springboard to helping others. Told it was a miracle she survived, much less not having brain damage or some other permanent damage, she began her public ministry she calls "The Impact of the Miracle."
She's also been interviewed on several shows that can be found on YouTube, she said. Her film bears the same title as her ministry. It is part of her pursuit of a degree in digital media arts from Southwestern Assemblies of God in Waxahachie.
The film received much positive response upon a preview, she said. It's also being released on all her social media platforms (@laurentenny).
A Real Issue That Needs To Be Addressed
"People have started to see suicide and mental illness through a different light by viewing my preview to my film. People don't see it as crazy, but a very real issue in America that needs to be recognized," she said. "The one thing I want people to understand and truly see from this film, is that suicide shouldn't be swept under the rug anymore. It is the number two killer in America, and it happens every single day to our family, friends, and coworkers. It's time to take a stand and let people know that it's real and help is available."
Tenny said most suicides are the result of people believing they had no one to turn to, something she said led to her own attempt.
"I know if one out of the two people would have answered the phone call before I attempted, I would probably have never attempted," she said. "When a human being is so depressed, they can't see if they will live to see tomorrow's sunrise, it's a scary thing and we don't want to be left alone in that state of mind."
She also said mental illness, behind the vast majority of suicide attempts, doesn't care what age a person is. It can happen to anyone at any given time.
"Certain events can happen in one's life to drive them over the edge no matter what age group," she said.
Tenny estimates her work, though in a short time, has touched hundreds, perhaps even thousands of lives with her testimony. She also loves being able to use her creativity in filming. She's editing her story to make the film as genuine as possible – and as impactful as it can be.
As for her own life now?
"My life now is completely different from before I had my attempt. I learned to work on myself, fix the things about myself I didn't like, and learned my true value and worth through it all," she said. "I have a completely different perspective on life, and honestly, I am in love with life now and excited to be alive because I know God has me here for a reason. My relationships with my family have improved a ton and we are closer than ever."
She also has plans to become a successful movie producer, telling more impactful stories in larger films.
"I know now my life is worth living," she said.
So is yours and everyone else's, she wants folks to know.