Standing For Change In Red Oak
Red Oak- On Tuesday, Desiree Benson got home from work and told her husband to get dressed, we're going out. But instead of heading to get a bite to eat, they stood on a busy corner in Red Oak. Their mission, show Red Oak its possible to protest peacefully.
Desiree posted on her Facebook page, "We have to show our kids you are allowed to stand for what you believe in and you can do so without being violent or disrespectful. You can stand for something even if your the only one in the whole town standing for it."
And from there the Red Oak group has grown from two to many others including children, standing together, peacefully for change. Desiree says, "My dad was a hippie and our town is STILLLLL segregated by a fence in the cemetery. I learned the peaceful side from him and my mom. It feels amazing to be able to organize something that actually had a turn out that was nothing but positive!"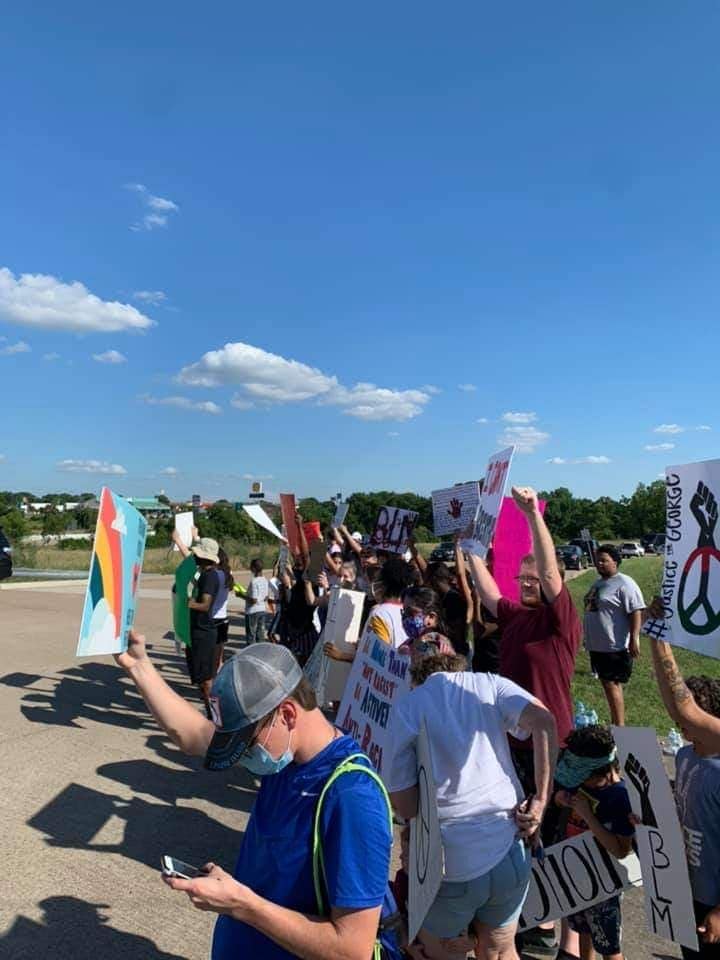 Be The Change
Today, Benson and her husband stood alongside others with signs on the corner of I-35 in Red Oak. Some wore masks, some held signs, but everyone was respectful and peaceful. Tomorrow the group will meet in front of Little Caesars Pizza on Ovilla Rd. at 5 PM, to stand up for change without violence. Anyone is welcome to join the group, but come in peace.
Desiree says, "We won't stop until we're heard. This is more than JUST George Floyd. This is for racial injustice throughout the whole system from arrest, to trial, to sentencing. We demand our voice be heard. We are tired."
There are other protests across the best southwest area this week. Mansfield has a protest scheduled for 2 PM on Friday at Mansfield High School. In Midlothian peaceful protesters have been sitting on the corner of 287 & 663 in the early evening. But if you decide to protest, remember social distancing is still recommended!
If you're organizing or attending a peaceful protest and want to submit photos or tell your story, email us editor@focusdailynews.com. Also, just $10 gets you an annual subscription to our e-edition and allows us to keep sharing local news with you.