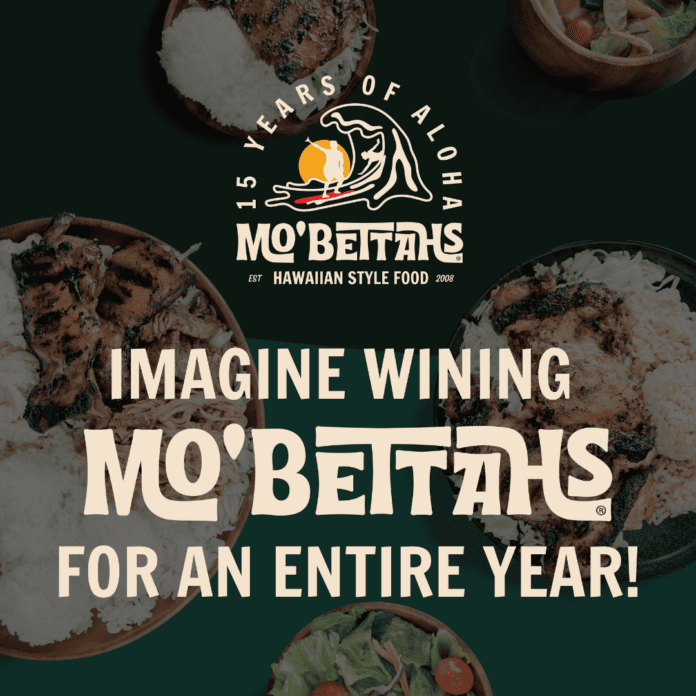 LEHI, Utah(July 11, 2023) – For more than a decade, guests have been enjoying Authentic Hawaiian Food and Experiences across the country, courtesy of Mo' Bettahs. And in honor of 15 Years of Aloha, the popular Hawaiian-style concept is throwing quite the luau for its ohana throughout July.
With lots of FUN giveaways lined up to celebrate the landmark anniversary, guests will have the chance to win cool prizes this month, such as Mo' Bettahs-branded swag, a custom Ghost Longboard, a Weber Grill, a supply of Aloha Shoyu Sauce and so much more, leading up to the grand prize for 15 lucky fans – FREE Mo' Bettahs for a year.
"As we continue to grow and thrive at Mo' Bettahs, we also want to ensure that we are staying true to our roots that have allowed us to serve up only the best Hawaiian-style food and experiences for the last 15 years," said Savory Fund CEO Rob Ertmann. "We hope these giveaways showcase how much our fans mean to us and let them know that we look forward to many more years of sharing a mix of flavors and spirit while continuing to foster a sense of 'ohana(family) every time they stop by."
For a chance at winning weekly prizes as well as the grand prize, guests can enter Mo' Bettahs 15 Years of Aloha giveaways in-store, online across social media or through the brand's Makana Rewards Program. Entries for the giveaway will be accepted through Wednesday, July 12 with winners announced on July 31 through Mo' Bettahs' social media. To sign up for Makana Rewards, visit mobettahs.com/app.
In addition to the giveaway, Mo' Bettahs is also commemorating its 15th anniversary by hosting a special invitation-only party at Thanksgiving Point Electric Park in Lehi, Utah on Wednesday, July 19. It will also be celebrating the anniversary in style with a grand opening of its new restaurant in Saratoga Springs, Utah on Tuesday, July 14 – the 44th Mo' Bettahs systemwide.
Mo' Bettahs immerses its guests in the island culture by serving authentic Hawaiian-style food, using only the finest ingredients. Enjoy Hawaiian staples like the renowned plate lunch that comes with a choice of meat – grilled teriyaki chicken or steak, kalua pig, pulehu chicken, katsu chicken or shrimp tempura – with the brand's one-of-a-kind macaroni salad and steamed rice.
To learn more about Mo' Bettahs or to view the full menu, visit mobettahs.com.
About Mo' Bettahs Hawaiian Style Food
Mo' Bettahs was founded in Bountiful, Utah in 2008 by Kimo and Kalani Mack with a goal of providing guests with an authentic Hawaiian island barbeque experience, just like they enjoyed while growing up in 'Oahu, Hawaii. Mo' Bettahs serves the plate lunch with an authentic Hawaiian experience, with items like freshly grilled teriyaki chicken and steak, kalua pig, deep-fried katsu chicken, homemade macaroni salad and steamed rice. Since partnering with Savory Restaurant Fund, Mo' Bettahs has grown to43 locations in Utah, Idaho, Oklahoma, Texas, Missouri, and Kansas. Mo' Bettahs has plans to spread the aloha spirit to more communities through continued expansion in the coming months and years. Mo' Bettahs offers dine-in, takeout and catering. For more information, visit Mo' Bettahs' website or follow on Instagram, FacebookTwitter.
About Savory Fund
Savory Fund is an innovative private equity firm that combines over $700 million in assets under management with a growth playbook and expertise that has been developed over 15 years of operating in the restaurant industry. Savory partners with high-potential, profitable, emerging restaurant brands, to deliver financial capital, industry expertise, growth and revenue opportunities, profitability enhancements and new location development. The Savory team contributes directly to all aspects of growth and replication by using a proven playbook and methodology. Founder involvement in the expansion of a brand is a central theme of the Savory approach as founders carry the tribal knowledge around the uniqueness that has energized early success and is essential to future growth. The Savory Fund has invested in 10 brands: Swig, R&R BBQ, Pincho, Via 313 Pizzeria, The Crack Shack, Mo' Bettahs Hawaiian Style Food, 86 Repairs, Saigon Hustle, Hash Kitchen, and The Sicilian Butcher. For more information, visit SavoryFund.com.