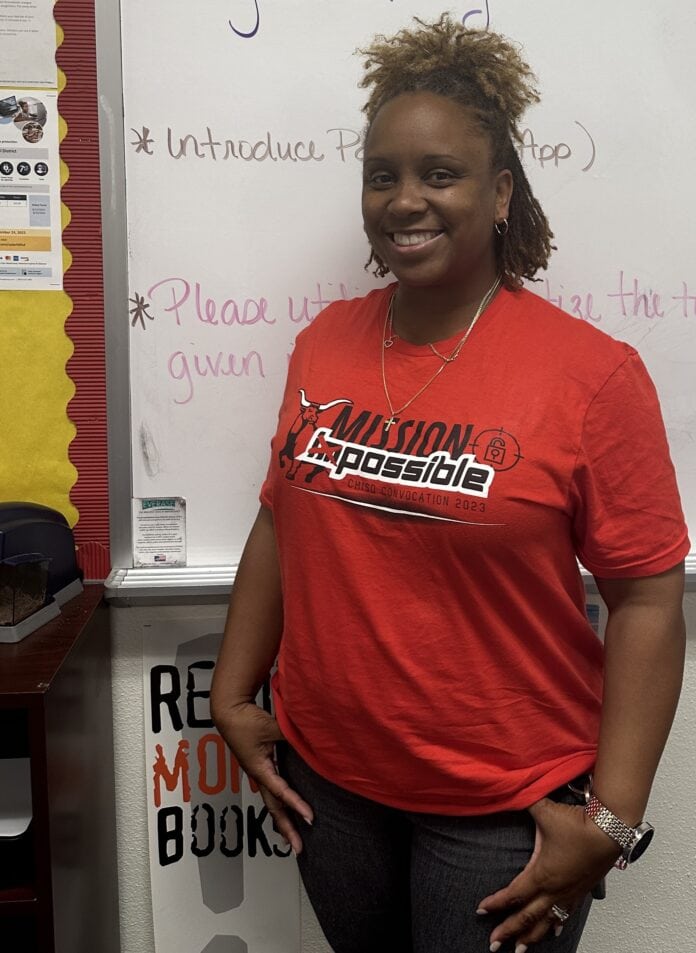 (CEDAR HILL, TEXAS) "And now, teaching seven sections of English IV, a first-year teacher from Indiana Wesleyan University…Mistee "Mama Salt" Salter!!!"
It wasn't a real announcement inside a packed stadium the way her two youngest sons, Kaidon and Kylan, have received over the years on the football field.
But Salter deserves every bit of recognition, after a long and winding journey that has led her to Cedar Hill High School, where she's a member of the "Grow Your Own" Program.
Last week, she was surprised by Cedar Hill High School Principal Lee Joffre, Associate Principal Idol Mallard and Assistant Principal Dr. Trevena Nelson, who honored her as "CHHS Educator of the Week."
"We select people based on teaching strategies that we see in class," Joffre said. "We also discuss people who have a positive impact on the culture of the campus."
"Grow Your Own" is a Cedar Hill ISD Program that started last year. It gives CHISD paraprofessionals and guest teachers the opportunity to earn a teaching credential and/or a Bachelor's Degree, while serving as the teacher of record in the classroom.
"As the mother of five children, I have always struggled with putting myself first – I've always put the kids first," Salter said. "One of my weaknesses is self-care, but now, my kids and husband are holding me accountable."
Salter and her husband, Kenneth Sr., have been together since 1996. They became first time grandparents to a baby boy last year – the son of their oldest son, Kenneth Jr., who works for FedEx.
Salter was a teenage mother when she had the first of her five children. She took classes at Dallas College and dreamed of someday completing college.
The path to that dream was started by the late, great TyShayla "Shay" Whittaker, who was beginning her first year as CHHS Principal in 2021.
A chance meeting between Whittaker and Salter led to encouragement to apply as a guest teacher.
"Mrs. Whittaker saw something in me that I didn't even see in myself," said Salter, who watched Whittaker's oldest son as a Right At School (After School Program) Teacher.
After two years as a guest teacher, Salter applied for the "Grow Your Own" Program, and she now teaches seniors in English IV.
"I get to pour into their lives and give back to the scholars," said Salter, who works to make "Beowulf" relatable to her scholars.
Salter's all-time favorite books are "To Kill A Mockingbird" and "Of Mice And Men." Her oldest, Khiyah, daughter teaches in Dallas. Salter will graduate with a Bachelor's Degree from Indiana Wesleyan in 2025 – when Kaidon – the starting quarterback for Liberty University in Virginia – earns his Master's Degree.
"I might have trouble making it across the stage because I'll be crying so much," Salter said.
Her youngest son, Kylan, graduated from Cedar Hill last year. Since he attends Texas Christian University – where he's redshirting this fall on the football team – he's able to make the trip back to Cedar Hill to visit his parents.
The couple's youngest child, Kenlei, is a 15-year-old Junior Varsity Volleyball Player at CHHS.
"Our kids keep us going – we love watching them play," Salter said. "They're a part of us."
Over Labor Day Weekend, the Salters drove 18 hours from Cedar Hill to Lynchburg, Virginia to watch Kaidon lead Liberty to a season-opening victory over Bowling Green. The following week, they returned to Liberty – but this time flew to Raleigh, N.C. and drove nearly three hours to the Liberty campus. There, they watched Kaidon score four touchdowns as the Flames extinguished New Mexico State.
This weekend, they'll fly to Buffalo, New York for Kaidon's first road game of the season.
BEING GRATEFUL
On the morning of January 16, 2021, the Salters were heading to AT&T Stadium in Arlington to watch Kaidon lead the Longhorns into the 2020 UIL Class 6A Division II State Championship Game. The season had been delayed due to the COVID-19 Pandemic, and thus, the championship game was taking place during mid-January, instead of pre-Christmas.
In its fifth State Championship Game appearance, Cedar Hill had a disappointing finale to an otherwise remarkable season.
Kaidon had graduated from CHHS at semester, and the following day, the family made the 13-hour-drive to Knoxville, Tennessee. Kaidon was committed to the UT Volunteers and was enrolling in January to begin classes and to participate in spring practice.
Upon their arrival in Knoxville, the Salters learned that Jeremy Pruitt – the coach who had recruited Kaidon – was fired.
Then, the whole family contracted COVID-19, except for Mrs. Salter. The kids faced mild symptoms and recovered quickly.
But Kenneth Sr. went to the hospital where he was placed on a ventilator.
"A three day trip turned into a five month trip," Salter said.
There were close calls where the Salters almost lost Kenneth Sr. to COVID-19.
Salter said hospital staff said they'd call her when something changed. However, she refused to leave Knoxville and her husband, who was in a medically-induced coma for three months. Salter eventually rented an apartment in the eastern Tennessee city, and her two youngest children (Kylan and Kenlei) took their CHISD classes virtually.
She couldn't see her husband up close, but she prayed and she texted him.
"I would still text his phone, knowing that when he woke up, he'd read it," Salter said. "I was journaling every day and writing how my days went. We wouldn't have made it through without our church family back home and from generous people who saw us on the news. We saw God work through strangers."
Salter hopes to eventually earn her Master's Degree. Wherever this career takes her, she knows how much her experience in Tennessee shaped the Salters, and her individually.
"Faith really carried me through those long five months," Salter said. "I'm happy for my kids because the experience showed them who God is. They fed off how I was responding to the situation. That experience was our lesson and our blessing. Tennessee saved my husband's life."