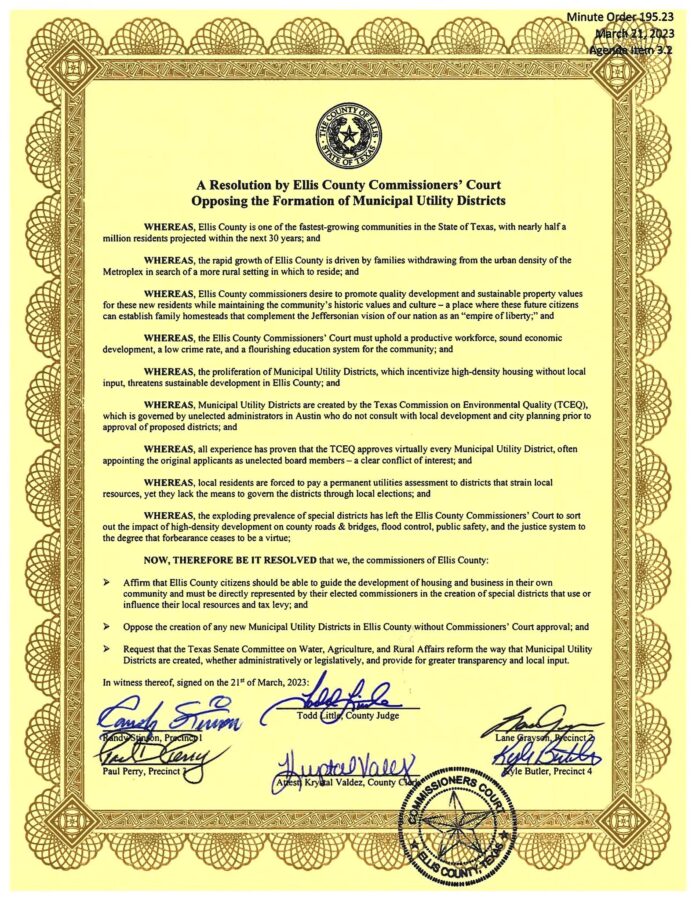 MIDLOTHIAN – The Midlothian City Council voted unanimously at a recent city council meeting to oppose special districts that include Municipal Utility Districts in the City of Midlothian and its extraterritorial jurisdiction.
Midlothian City Manager Chris Dick said the city had recently "been hit with several petitions for Municipal Utility Districts in the area" and he said even more have been submitted in Ellis County. Several other jurisdictions in the area including Red Oak have also been tapped for MUDs, according to Dick.
In Texas, a Municipal Utilities District or MUD is a political entity that provides utility services like water, sewage, and drainage under authorization from the Texas Commission for Environmental Quality (TCEQ).
Dick added that if the resolution to oppose these districts passed it would enable the city to reach out to state representatives and appropriate committees at the state level to determine what can be done to regain control in the area in regard to these districts.
While Dick said there are some created districts that does allow the city to have a voice, Municipal Utility Districts do not.
For those uncertain of the impact of MUDs in the area, this includes the creation of "special districts" that effect a city and county's infrastructure and environment with increased wastewater and drainage runoff, flooding, school overcrowding, crime and other strains on services due to the high-density developments.
The City Council's vote opposing the formation of such districts by a developer, of all special districts, is a nod toward the city voicing that it does not want MUDs in the City of Midlothian or its extraterritorial jurisdiction, without City Council consent.
Midlothian Councilmember Place 6 Hud Hartson said the Ellis County Commissioners had already passed a resolution against MUDs. He also said he had talked to dozens of citizens in both Midlothian and Ellis County about MUDs and he added "not one citizen I talked to spoke out in support of MUDs"
Place 1 councilmember Wayne Sibley said that was also true of the citizens he had talked with as well.
Midlothian Passes Resolution Opposing MUDs
The Resolution passed by the city council calls for allowing the city government and county government to have the appropriate authority to regulate growth in their respective cities and counties. It stated that special districts have been improperly used by certain developers to avoid compliance with city and county infrastructure plans while also creating a taxing authority within their jurisdiction that increases property taxes and allows for high-density development.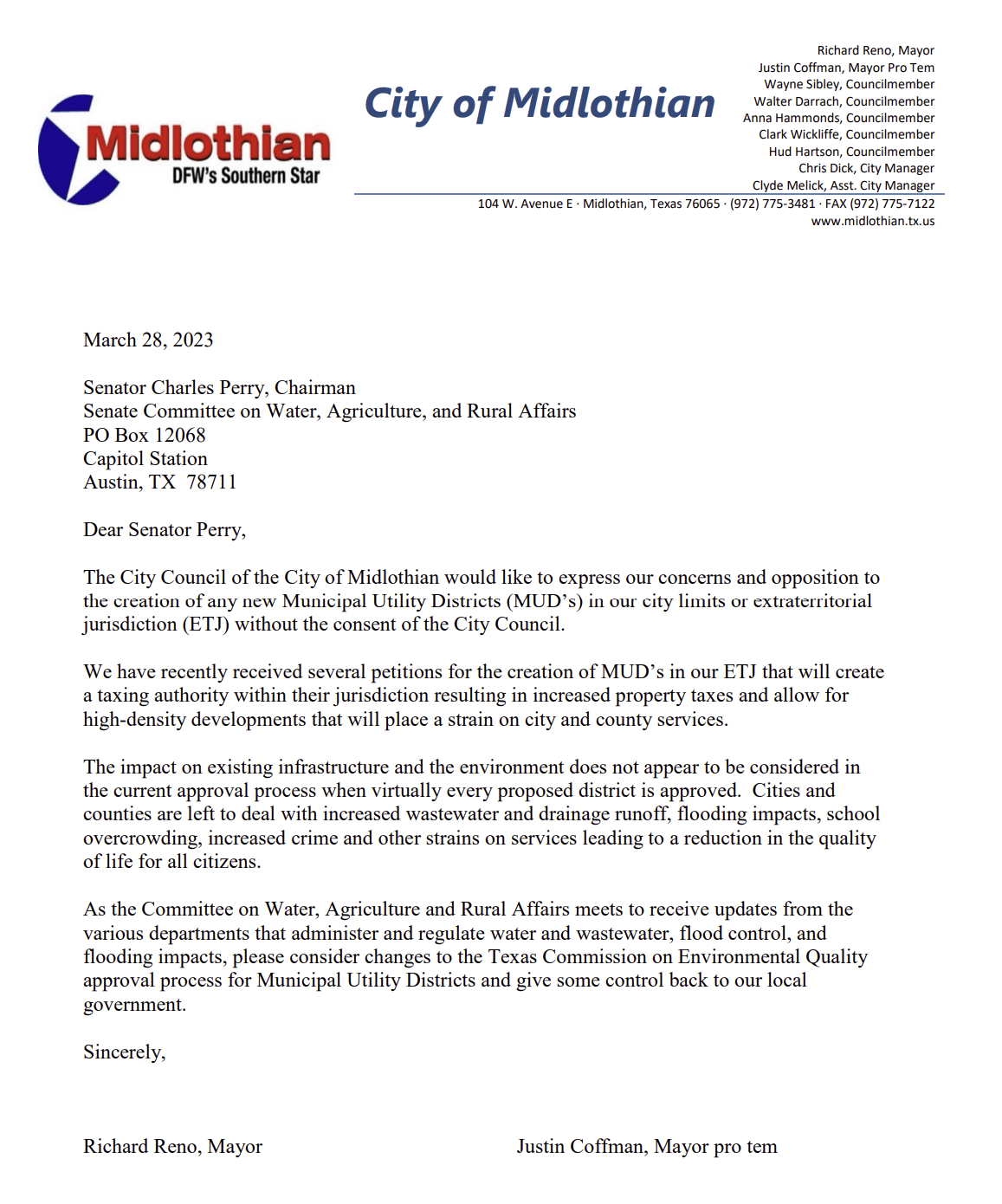 At the moment it appears MUDs are automatically approved by the Texas Commission on Environmental Quality (TCEQ).
Last week Ellis County Judge Todd Little eluded to that fact that MUDs are governed by a board of directors appointed by TCEQ administrators in Austin, who often include the original MUD applicants as board members. Little said this is a practice that he considers to be a conflict of interest.
On March 21st, Ellis County commissioners adopted a resolution opposing the creation of any new Municipal Utility Districts (MUD's) without local approval. MUD's are special taxing districts that impose assessments against local properties to provide water & utilities coverage, but they often strain local resources and infrastructure because they are not required to seek local input prior to being created by the Texas Commission on Environmental Quality (TCEQ).
"This is about our ability to maintain the quality of life our citizens enjoy," said County Judge Todd Little. "Our rural heritage, our infrastructure, and our water resources are all impacted by the proliferation of Municipal Utility Districts. Commissioners support sound housing and economic development for the benefit of our taxpayers."
The resolution requests that legislative action be taken to ensure greater transparency and local control in the process used to create Municipal Utility Districts
To that end, along with the approved resolution by the City Council opposing MUDs, there was also a draft letter approved to be sent to the TCEQ Legislative Committee in regard to Midllothian's opposition.