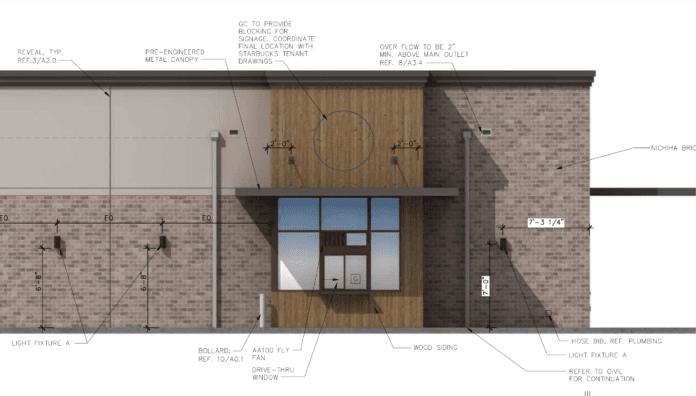 LANCASTER –If you love sweet tea and fried chicken, you'll be happy to know Bojangles is getting closer to opening. Bojangles is located on I35 in the former Chicken Express location. Their signage is already in place and they are completing their finish-out.
Coffee lovers in Lancaster are one step closer to having a Starbucks in the city next to the Neighborhood Walmart on Belt Line.
A public hearing held last week outlined the exceptions the developer was requesting to build the coffee shop in the Mills Branch Overlay District at 1360 West Belt Line Road.
The Starbucks will be a 2,140 square-foot facility and four of the five exceptions were approved with the traffic exception being reworked and coming back to council for approval.
The first exception was the Mills Branch Overlay standard that allows for four parking spaces for every 1000-square-feet of facility constructed. Based on the proposed 2,140 square foot facility the developer would be allowed 10 spots. Starbucks was requesting 28 parking spaces thereby exceeding the Mills Branch Overlay standards.
From an architectural and site design standard, the request was to alter the standard roof, which was approved. The developer also requested an altered storefront, and it was noted a canopy would be included in the design, which does fit with the standards of the Mills Branch Overlay District.
Another exception was the particulars on the drive-through. The exception to the general design standard was from 500 feet to a 168-foot reduction. It was noted this does limit the future develop to the east of the location.
As well, it was noted the developer conducted a traffic impact analysis and the results of the study determined that widening Belt Line Road along the frontage of the property would be required to make the least amount of impact.
Staff recommended the driveway have right in and right out access at this Starbucks location.
A Starbucks representative spoke and explained the exceptions needed and said it was understood that future road plans could change the driveway configuration.
A motion was made to approve the exceptions with the traffic consideration for the right in and right out in the ordinance to reflect necessary future changes. In the end it was determined this item would be returned to council with more consideration in regard to the movement of traffic and the allowance of what turn lanes will impact traffic and in what way
The final motion for approval will be discussed and decided at next week's Lancaster City Council meeting.