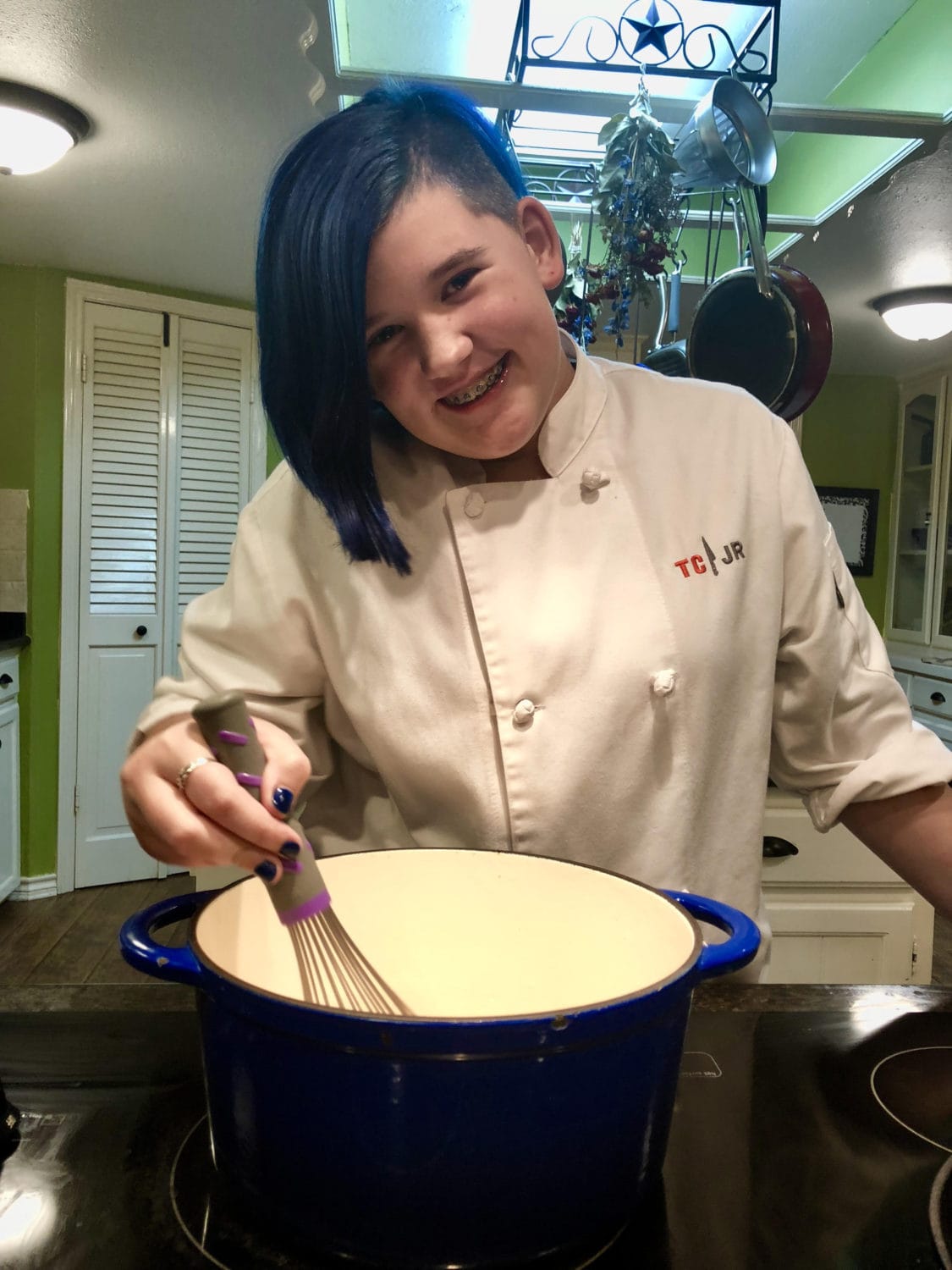 Mills Family Is Full Of Talent
Midlothian residents Sean and Kim Mills, proud parents of three talented daughters, know how lucky they are to have a celebrity chef in the family. Chef Kenzie Mills, a finalist on Universal Kids "Top Chef Jr.," plans to cook Thanksgiving dinner for her extended family again this year.
Chef Kenzie is 12 years old, and is home-schooled along with 14-year-old twin sisters Aly and Lexie Mills. Aly is a budding entrepreneur who enjoys debating and plans to help Kenzie market her special BBQ sauce. Lexi is a singer/songwriter trained in voice who plays piano, is learning guitar, and auditioned for The Voice this summer. All three girls are Taekwondo black belts.
The Mills family moved last year from San Antonio to a rural area of Midlothian, where their acreage includes a barn and outdoor grill. Sean is a Navy veteran now working as Director of Consulting, North America Central for MarkLogic enterprise NoSQL database software.
Far from a temperamental chef, Kenzie seems to love having her family around in the kitchen, although she usually assigns them chores. For the Thanksgiving dinner, her mom says, "We are all her sous chefs then."
The following menu will be served at the Mills home Thanksgiving Day. Chef Kenzie has graciously shared several recipes with Focus Daily News readers. Even those of us who don't have a celebrity chef in residence can still amaze our friends and family with these easy recipes.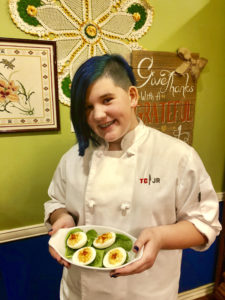 Chef Kenzie Mills Thanksgiving Menu:
Smoked #15-17 turkey
Homemade dressing
Turkey gravy
Green bean casserole
Sweet Potato casserole
Broccoli cheese rice casserole
Deviled Eggs
Deviled Eggs recipe
6 eggs
1/3 mayo
1 tbsp spicy brown mustard
1 tbsp sweet relish
1/2 tbsp Lawry's Salad Supreme (plus a pinch per egg for topping)
Pinch of salt and pepper
1. Hard boil eggs, opt using egg timer*
2. Cool in ice bath, shell, rinse, dry and half eggs
3. Remove yolks and combine with all other ingredients
4. Blend in mini food processor, with immersion blender or mash/blend with fork until creamy and smooth
5. Fill eggs with a tsp of filling and top with a pinch of Lawry's Salad Supreme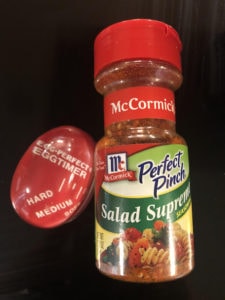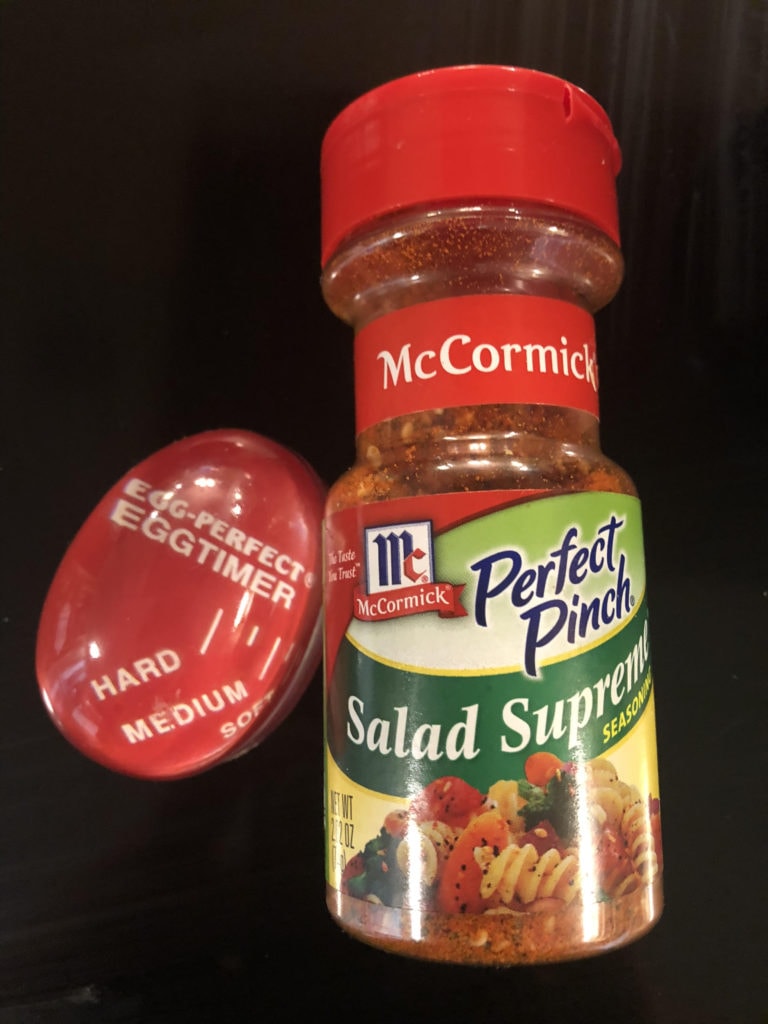 *recommended kitchen gadget especially on a busy day like Thanksgiving. Also pictured Lawry's Salad Supreme
Green Bean Casserole
28oz can cut green beans, canned
3 cubes chicken bouillon
6 oz can of French fried onions
1/2 c of milk
1 c of shredded mild cheddar cheese
Cream of Leek and Celery soup:
1 c milk
1/4 flour
1/4 butter
1/2 small onion, diced
2 cloves garlic, finely minced
3/4 c chicken broth
1/4 leeks, finely minced
1/4 celery, finely minced
1. Preheat oven to 350°
2. Empty green beans into pan, add an additional can full of water into pan and bouillon cubes
3. Boil on high until water reduces out of green beans, meanwhile make cream of leek and celery soup*
*a. Melt butter in a pan and sauté onion and garlic until translucent, then whisk flour in to make a roux.
b. Slowly whisk in milk and chicken broth until smooth
c. Add in leeks and celery
d. Stir over med-high heat until leeks and celery are soft and soup is creamy
4. Drain any remaining water from green beans and put in 2.5 at casserole dish, stir in homemade cream of leek and celery soup, 1/2 c of milk, and 1/2 of the French fried onions
5. Cover and bake in oven for 25 min
6. Removed, spread shredded cheese on top and remaining drench fried onions and return to oven uncovered for 5 min or until cheese melts.
For those who have followed Kenzie's appearances on Chopped Jr., she just returned from a trip to Orlando, Florida where she appeared at three media events plus a rehearsal. She was thrilled to meet Derek Hough from "Dancing with the Stars" and "World of Dance," and managed to "speed through the parks for part of a day." Chef Kenzie was especially happy that her Shepherd's Pie Bites were a big hit.
Locally, Kenzie was a stagiaire at Mo and Hari's Bistro in Midlothian, and then Grimaldi's Pizza in Cedar Hill. In June, she staged at Ocean Prime under Executive Chef Sonny and looks forward to learning more this December.