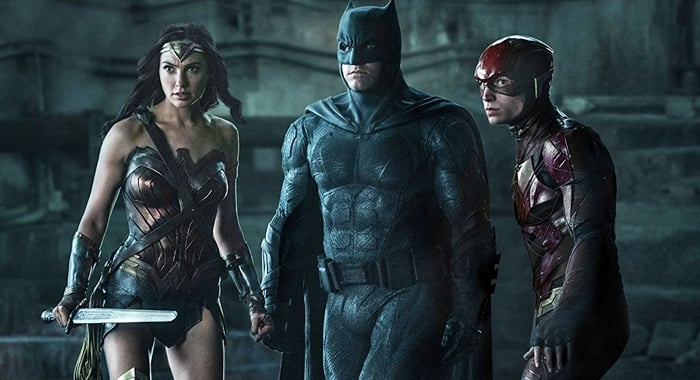 Justice League Brings Your Favorite Superheroes Together
Even super heroes work better as a team, according to The Justice League, Warner Bros. Pictures' newest Marvel Universe adventure. Following the tragic death of Clark Kent/Superman (Henry Cavill) in 2016's Batman v Superman, Bruce Wayne/Batman (Ben Afleck) is riddled with guilt over losing Superman.
Batman and new ally Diane Prince/Wonder Woman (Gal Gadot) are desperately trying to assemble a team of super heroes to save the world from super villain Steppenwolf (Ciaran Hinds). Luckily for our planet's future, they recruit teenage whiz Barry Allen/The Flash (Ezra Miller), Arthur Curry/Aquaman (Jason Momoa), and Victor Stone/Cyborg (Ray Fisher) to the cause.
Good performances by Afleck and Gadot are amplified by the new team, with Miller especially endearing as the nerdy, vulnerable Flash. As for Aquaman, the hunky Momoa already has his own feature film coming to the big screen in 2018…great news for female viewers.
The film is confusing in many places, which may have been the result of having two directors. Zack Snyder had to leave during the production due to a family emergency, so Joss Whedon was brought in to finish the shoot. The screenplay is credited to Chris Terrio and Whedon. The film runs 110 minutes, and there is a feeling that some scenes were cut to keep it under the 2 hour limit.
Action Packed Fun
But fans of Marvel's meta-humans who flock to the box office this weekend to see The Justice League won't be disappointed. While the film has its shortcomings, mostly caused by the confusing plot, it also has more than enough fun, comradery and action scenes to satisfy fans. There are even a few surprisingly touching moments in the film.
Also featured in the movie are Amy Adams as Lois Lane, Diane Lane as Martha Kent, Connie Nielsen and Queen Hippolyta, and Jeremy Irons as Alfred Pennyworth. The Justice League is rated PG-13 for sci-fi violence and action. It opens wide in local theaters Friday, Nov. 17.
Special note: We saw an advance screening at the plush Look Cinemas, hosted by Park Place Motors to promote the fact three Mercedes vehicles are prominently featured in the film. The venue's comfortable recliner seats with table tops elevate enjoying popcorn, soda and a movie to a whole new level!