Chef Kenzie Earns Spot on Chopped Junior Season Finale
MIDLOTHIAN—Chef Kenzie Mills wowed the judges at The Food Network's Chopped Junior competition which aired March 15. The Midlothian sixth-grader won one of the coveted "Kid Judge" slots and will appear on an episode airing March 29 on Food Network. The tables will turn during the season finale. The regular professional chef judges will compete against each other and the winners of the last four Chopped Junior tournament winners will determine their fates.
As the executive chef, she directed the staff and prepped dishes, which included slicing all the veggies and whipping the cream. She also made all the dough and BBQ from scratch by herself. Over 80 friends and family members turned out to cheer the 11-year-old chef to victory.
The competition with three other young chefs was fierce.
Kenzie's dad says, "She was anxious, but a combination of her competition experience with martial arts and her love of the kitchen allowed her to focus and perform under the lights."
She took home a cash prize of $10,000, and plans to save the bulk of her winnings to pay for culinary school at the CIA (Culinary Institute of America). She does want to set some aside to treat her family to some gourmet dinners on their vacation travels this year.
Kenzie is home schooled and lives with her parents, Sean and Kim Mills, and twin 13-year-old sisters Aly and Lexi in Midlothian. Aside from cooking, her hobbies include training in martial arts where she is a second degree black belt in Taekwondo). She also likes cycling, archery, swimming, dancing, and gaming with her sisters.
Her dad says "she especially enjoys our new country living on seven acres, where she is able to smoke briskets and grill steaks outside."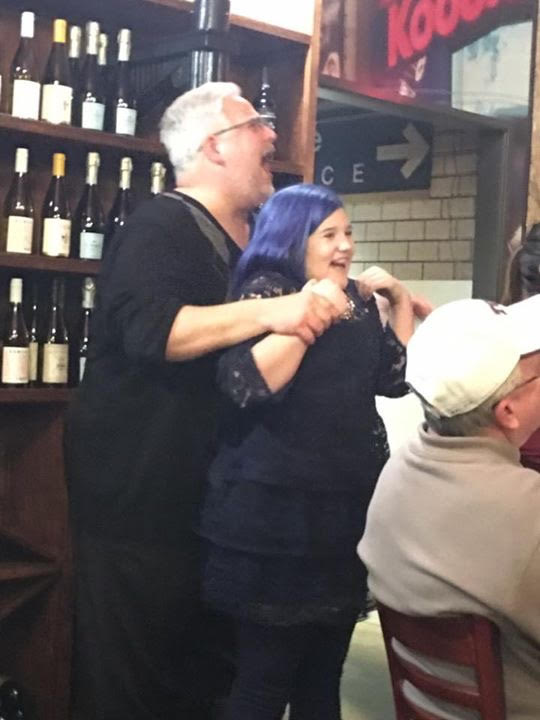 Kenzie Mills Plans to Attend Culinary Institute of America
Kenzie would like to travel before attending the CIA. At the culinary institution she hope to learn traditional techniques from around the world. She would eventually like to open a NYC restaurant bringing international food with a Texas twist to the Big Apple. Kenzie calls her cuisine style "Texan Comfort"- BBQ, Tex-Mex and southern comfort.
Kenzie's parents said, "We are incredibly proud that Kenzie can pursue her dreams. We support her in every way we can, and are thrilled we can share in her culinary production, which thankfully results in amazing food!"
Kenzie's BBQ Cuisine Reigns Supreme
Here are a few excerpts showing some of the exciting ups and downs of the competition. These were compiled from the March 15 video that aired on the Food Network.
"I finally have my time to shine," Kenzie says, excited to see Texas-style barbecue sauce in the entree basket. She cuts her wild boar strip loin into chops and covers them in a dry rub before placing them on the grill. Then she finishes them with the sauce. Judge Chris Santos calls the pork his favorite of the round and praises Kenzie for embracing the barbecue sauce.
"I go to check on my cake to see if it's done, and it's raw," says Kenzie, who made the batter using the Kansas City barbecue sauce. After some additional time in the oven, it's still not fully baked, but she has no choice but to assemble her trifles.
"This is an odd concoction, made up from a very odd basket, that is oddly delicious," says Judge Chris. Judge Maneet points out that Kenzie's ratios in her cake kept it from baking.
Finally, it is official. Kenzie has earned the second spot at the judges' table in the finale.
"I'm really, really, really excited to be a judge," she says.
"It's hard to be objective as a judge," says Judge Alex of the duty. "This judging panel needs some young blood."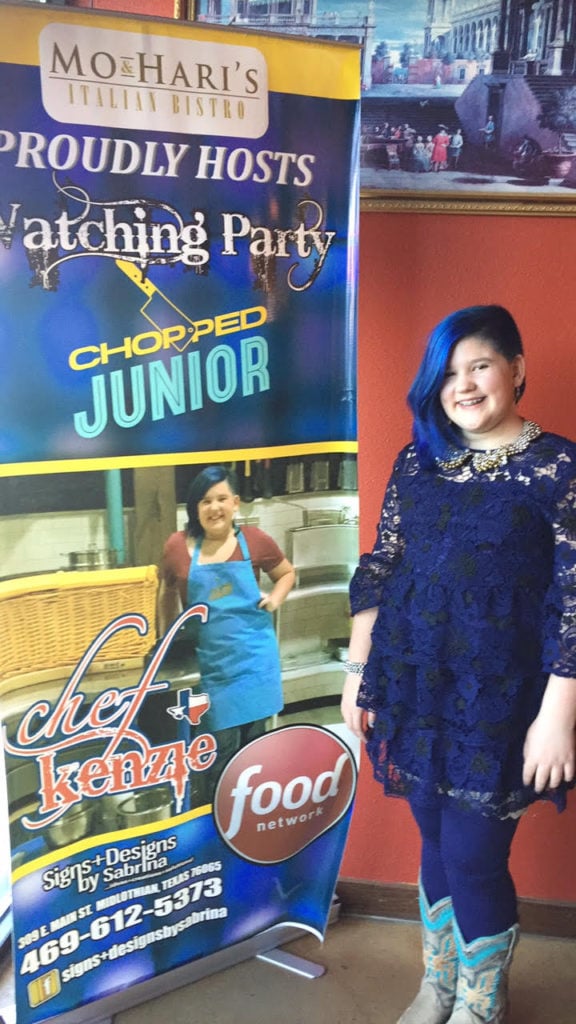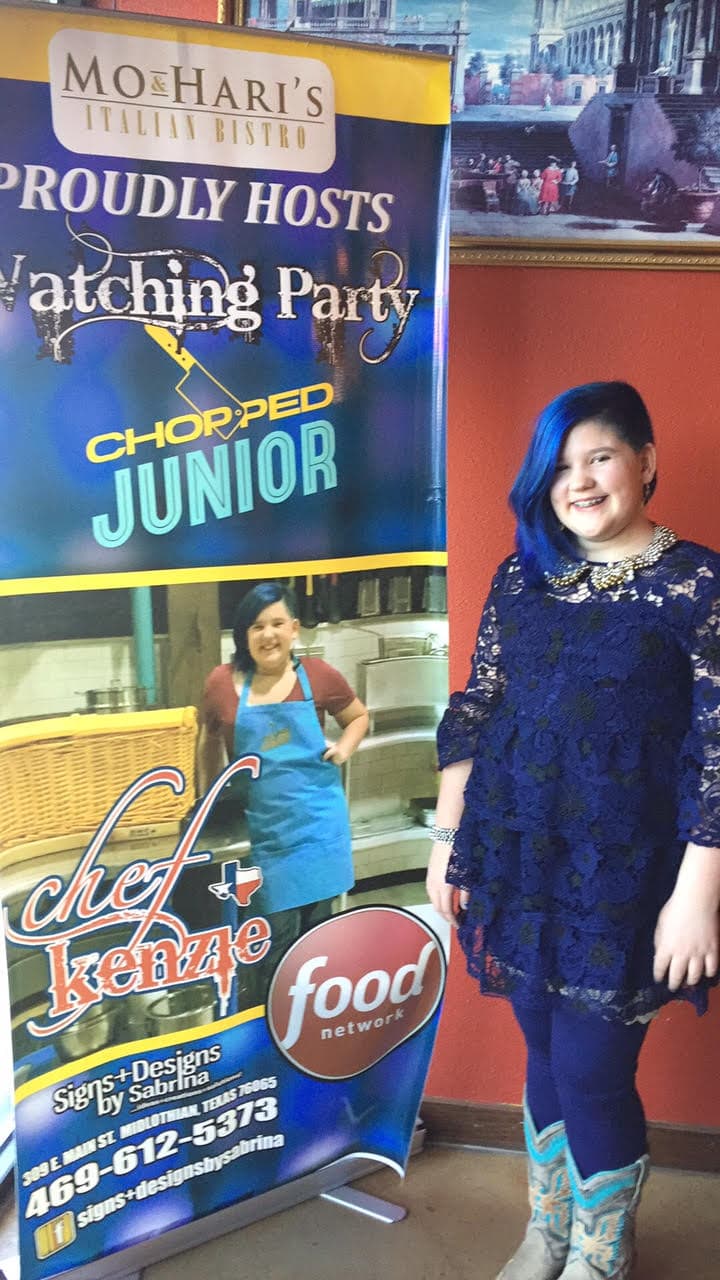 March 29 Finale: Chopped Junior Winners Judge Professional Judges
The "Make Me A Judge" tournament was filmed at Food Network studio kitchens all in one week. The three young chefs who won their episodes were: Burger champ – Nikki (aired 3/8); Barbeque champ- Kenzie (aired 3/15); and Baking champ – Joshy (aired 3/22). They will be the junior judges for the regular Chopped Junior judges/professional chefs: Amanda Freitag, Alex Guarnaschelli, Marcus Samuelsson, and Chris Santos.
The four professional chefs will compete for $25,000 for charity. Then they will be judged by the junior winners – flipping the script. This is the first ever tournament of the type for kids or adults. At the same time, this the first ever tournament for Chopped Junior.
The "Make Me a Judge" finale will air on The Food Network at 7 p.m. CST March 29. The Mills family and friends are holding a Watch Party at Houlihan's in Arlington. As one of the first restaurants to embrace Kenzie's dream by letting her into a commercial kitchen, Houlihan's had asked for the opportunity to host her party.