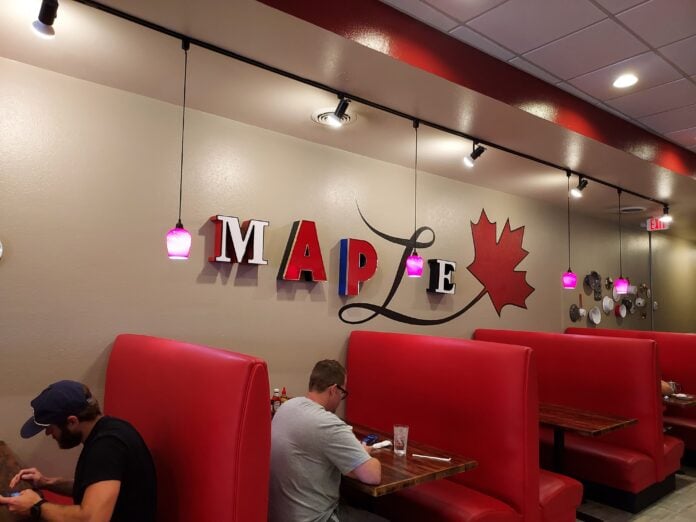 Maple Leaf Diner in North Dallas is the perfect place to celebrate Canada Day July 1. Even if you aren't planning to celebrate Canada Day, the popular diner– owned and operated by Canadian transplant Mike Delaurier– is a great place for lunch or dinner any day of the year.
My friend Julie and I had breakfast there last week, and I was delighted with my Canadian Eggs Benedict ($12.99). The difference between "ordinary" Eggs Benedict and the Canadian version, Delaurier says, is he uses real Canadian peameal bacon. It's sliced thicker and has a great flavor that gives the breakfast dish an extra dimension.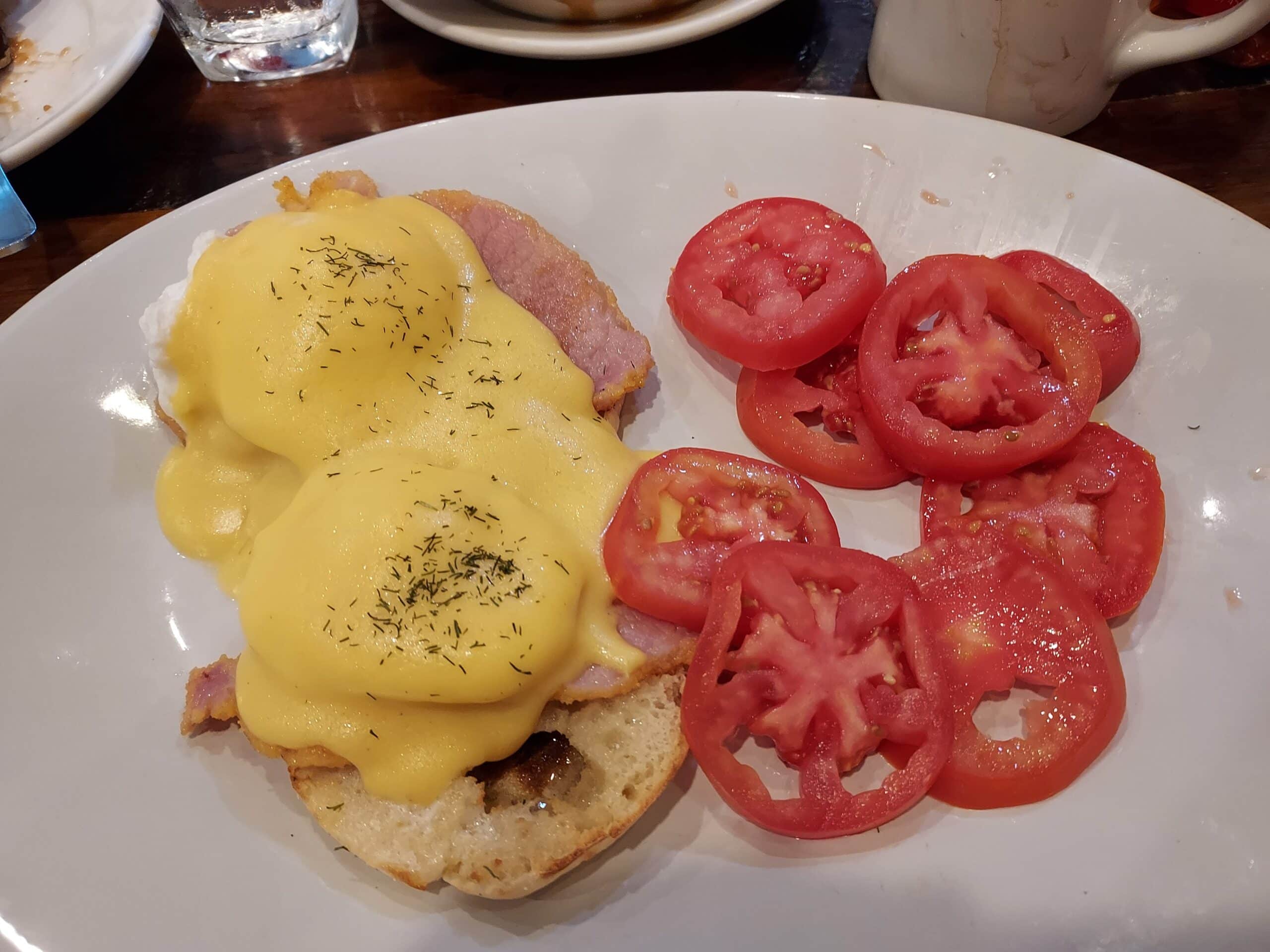 Maple Leaf Diner
The diner also offers Southern Eggs Benedict with biscuit, sausage patties, scrambled eggs, and white gravy. Lox Benedict & Latkes is also on the menu, featuring English muffin with smoked salmon, two poached eggs, hollandaise and fresh dill, with two potato latkes and fresh fruit for $16.50.
I was especially curious about poutine, a dish that didn't sound like something I might like. Delaurier says that poutine is ubiquitous in Canada, where versions of the staple can be found at convenience stores and service stations as well as restaurants. We ordered a small appetizer serving ($5.49), and it was actually delicious. Hand cut fries are covered with cheese curds, topped with brown gravy, and cooked into a soggy-looking mess that tastes a lot better than it looks.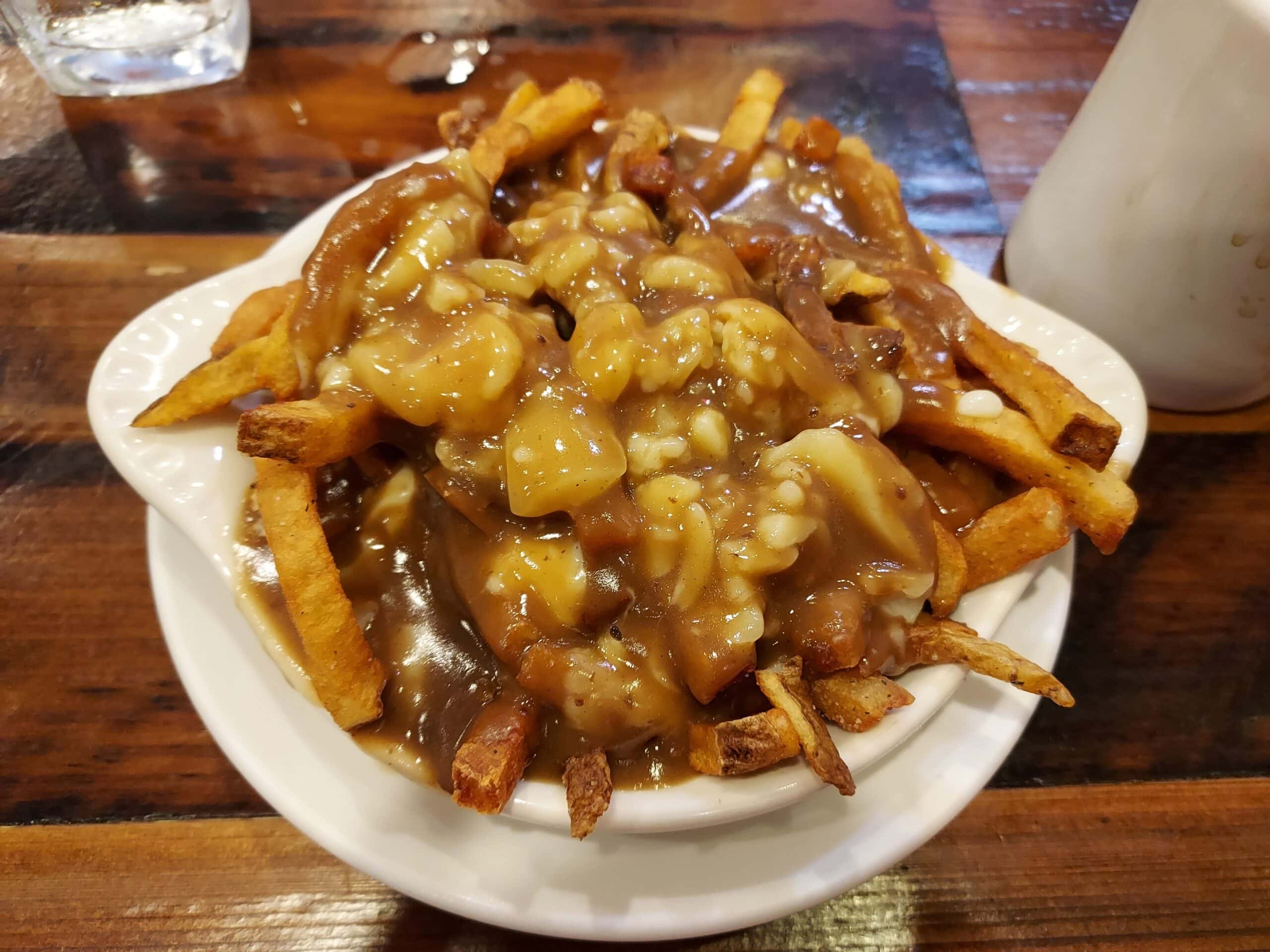 Chicken, Bacon & Waffles
Delaurier says the most popular item on the menu is the chicken, bacon and waffles ($15.99). We saw several servers carrying this artistically arranged sculpture of fried chicken, bacon, Belgian-style waffles, strawberries, whipped cream, and cream puffs. Maple Leaf's breakfast delicacy was even mentioned in the Paula Deen Magazine.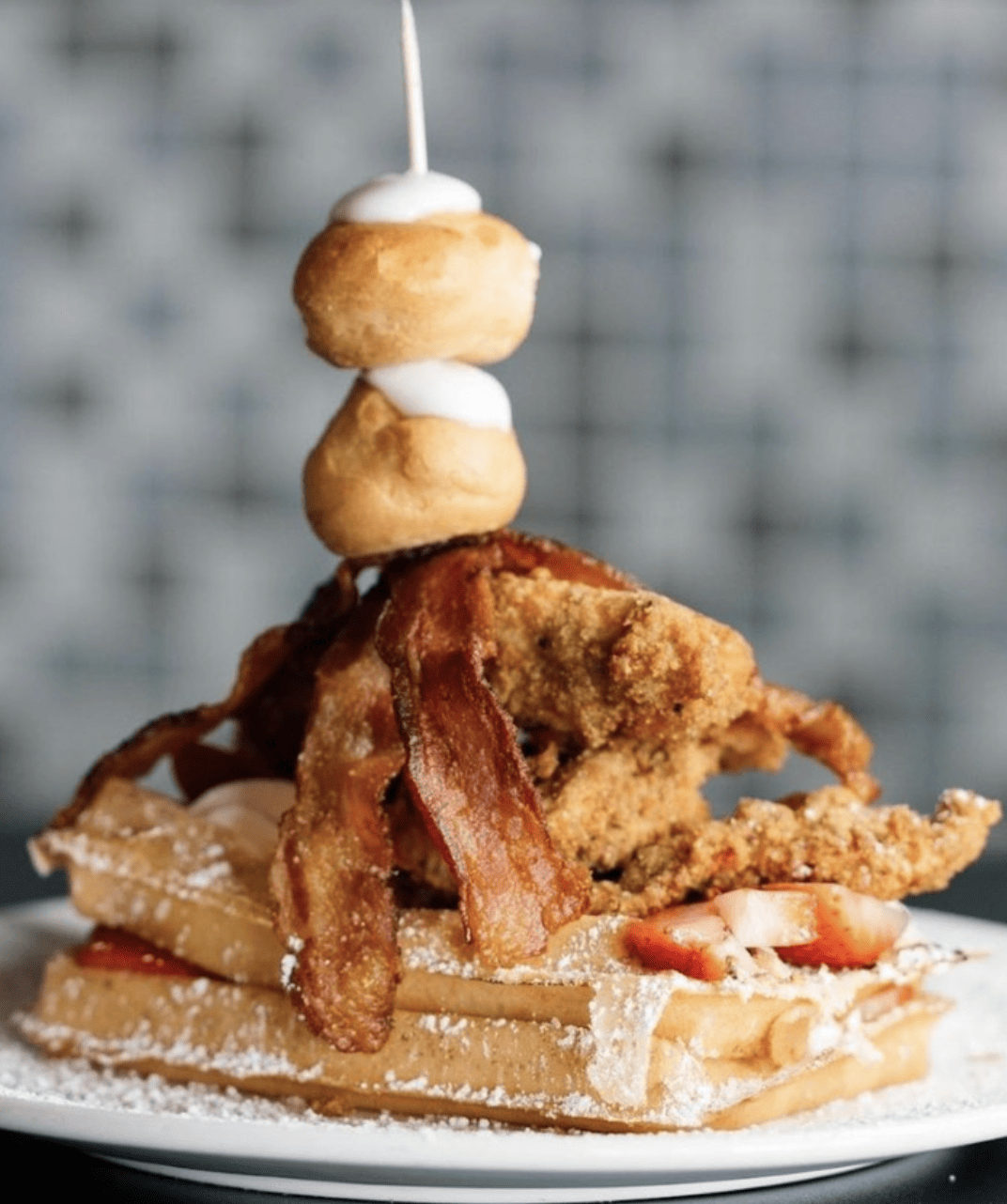 Another of Delaurier's dishes, Chicken Fried Steak Poutine, was featured on the Travel Channel's Food Paradise. Hand-cut French fries, cheese curds, chicken fried steak, smothered in roast gravy and sprinkled with chives, $17.99. There's also a Southern Poutine version (hand-cut French fries, cheese curds, smothered in white gravy, topped with chicken fried chicken breast and chives, $12.49).
Made from Scratch Bakery Items
No one leaves Maple Leaf Diner empty handed, since their tantalizing displays of house-made Canadian bakery items are too hard to resist. These treats range from apricot pecan stuffed cookies ($1.10 each) to butter tarts (sold out when we were there), to cream pies ($25.99). I brought home a blueberry scone that was so good, just wish I had a whole box of those!
Maple Leaf Diner was opened by Canadian transplant and entrepreneur Mike Delaurier in 2015. After marrying a Dallas girl, and moving here from Windsor, Ontario, Delaurier missed the Canadian comfort foods he grew up with but couldn't find in Dallas. He had worked through high school at his family's restaurant in Canada, where he started working as a line cook at 14. During that time he "fell in love with the art of running a restaurant" and learned "an appreciation for the hard work required for the industry."
Maple Leaf Diner Front & Back Room Customers
Delaurier says many of his employees have been with the diner since its beginning, and most for at least six years. Even during Covid shutdowns, he was fortunate to keep them on the team.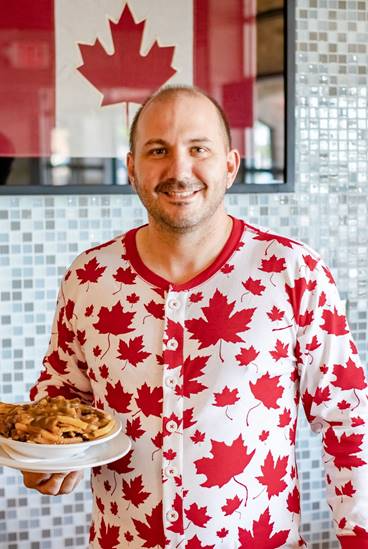 "At Maple Leaf Diner, we strive to please front room and back room customers," Delaurier says. "Our diners are the front room customers and our employees are the backroom customers, and they are equally important. Maple Leaf Diner's employees are the backbone of the business. Beyond the poutine, the welcoming and friendly atmosphere makes Maple Leaf Diner a place that diners keep coming back for more, even when there is a wait."
Celebrate Canada Day
Saturday, July 1, Maple Leaf Diner is hosting a day-long celebration to honor its Canadian roots and bring a taste of home to the Dallas community. In celebration, the diner will serve its Canadian favorites such as poutines, pierogis, and butter tarts and will be open all day from 7 a.m. – 7 p.m. The first 50 guests that order from the special Canada menu will receive a free t-shirt at 7 a.m. and the first 100 will get a free t-shirt at 3:30 p.m.
Most of the year, Maple Leaf Diner is open from 7 a.m. to 2:30 p.m. M-F, and 7 a.m. to 4 p.m. Sat.-Sun. For more information, please visit mldiner.com or call 214-434-1626.