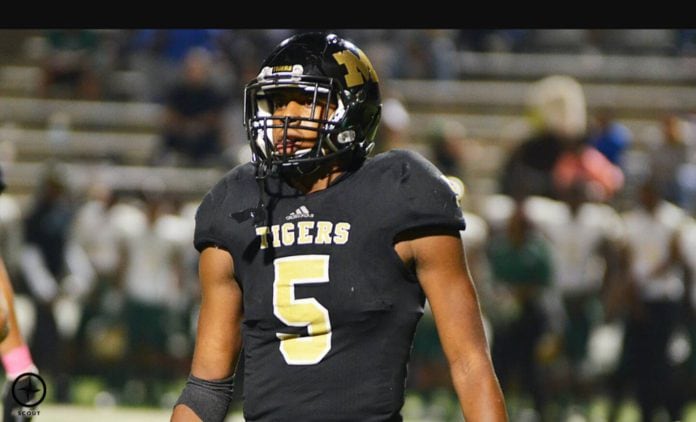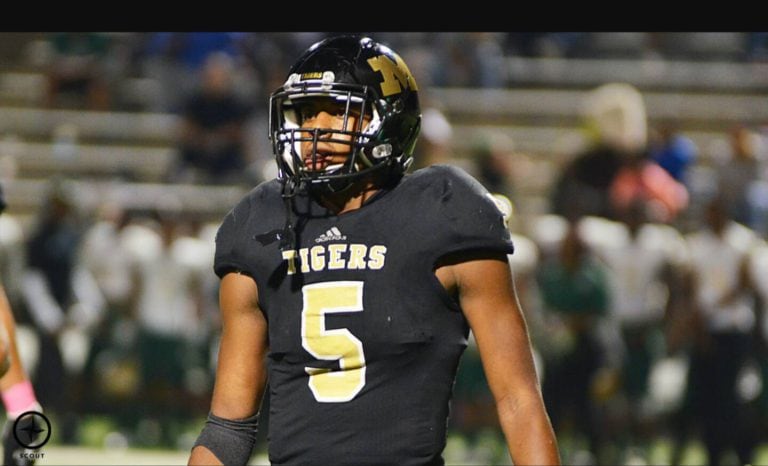 Built Ford Tough Player of the Week
MANSFIELD—For the second-straight season, Mansfield senior running back Kennedy Brooks has been named Built Ford Tough Player of the Week.
Brooks won the Class 6A honor after rushing for 263 yards and three touchdowns (44, 22, 1) in the Tigers 43-14 win over Arlington on Friday, September 30, 2016.
The win means the Tigers are 3-2 overall but, more importantly, 2-0 in the district. With the outcome still in doubt early, the 6-0, 195-pound Brooks tallied all three of his rushing touchdowns (44, 22 and 1 yards) in the first half and finished with 263 yards on 27 carries.
It was Kennedy Brooks' 19th-consecutive game with 100 or more yards rushing and 14th of 200 or more in that span.
Head Coach Daniel Maberry explains, "I've never seen a running back with his vision and patience. He allows the play to develop and then he just goes."
In its eleventh consecutive year, Ford Motor Company's Player of the Week program is again honoring six outstanding student-athletes each week of the 2016 regular season, recognizing one player in each of the state's six athletic classifications.
Winners are chosen for athletic achievements, outstanding scholarship as well as community involvement. These players are the embodiment of Ford's Go Further commitment. Brooks won the award last year in Week 7 after rushing for 282 yards and two touchdowns in a 35-21 win over DeSoto.
"Kennedy is an unbelievable kid. He always has a big smile on his face and is the first player to help his teammates," says Coach Maberry. "Unlike most running backs, he combines speed, vision, and patience. His acceleration after hitting the hole is just unbelievable."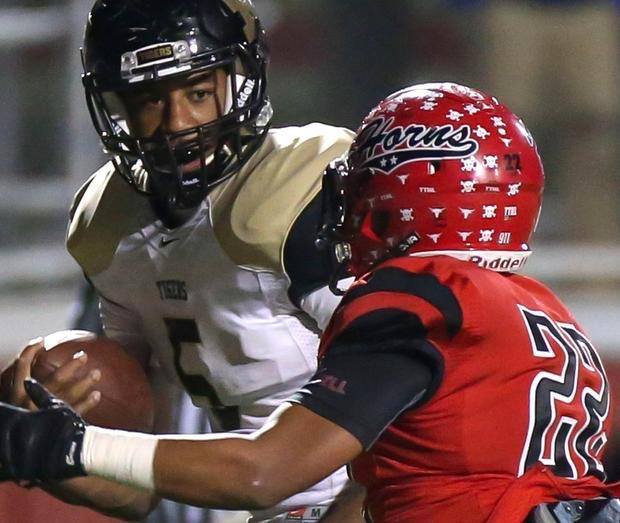 Kennedy Brooks Commits to University of Oklahoma
Brooks, who leads area teams with 1,199 yards and 15 touchdowns, committed to Oklahoma on Monday.
The commitment has been called by many analysts a slap in the face to the Southeastern Conference (SEC). Brooks fielded multiple offers from powerhouse schools, including Tennessee, Texas A&M, and Texas. 247Sports had considered his commitment to come down to Wisconsin and Arkansas, but at the end of the day, Brooks chose the Sooners.
The commitment is another big gain for Oklahoma, who currently ranks fifth in the recruiting rankings. The Sooners now have 20 commitments for their 2017 class.
Brooks, an A/B student, is widely considered a top-25 recruit in the Class of 2017. His football talents are honed on the powerlifting team and on the track, where he ran a leg on both the 4×100 (third place at states last spring) and 4×200 (second place) relay teams. He also volunteers in the community and reads to local elementary school children.
Mansfield Tigers are 2-0 in District 4-6A and 3-2 overall. The Tigers play Arlington Martin at Cravens Field, 7:30 p.m. this Friday.