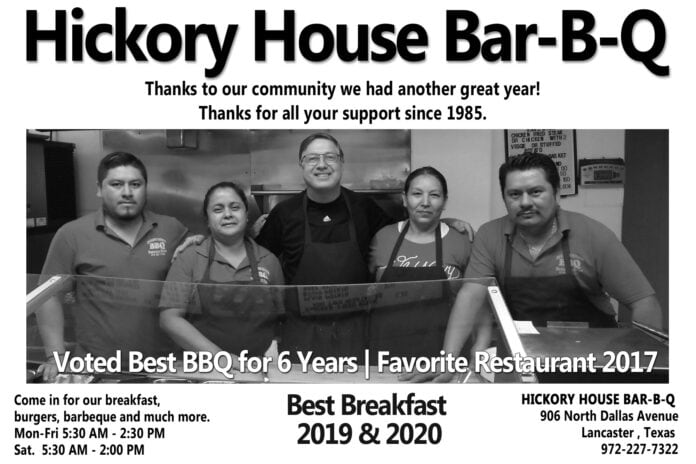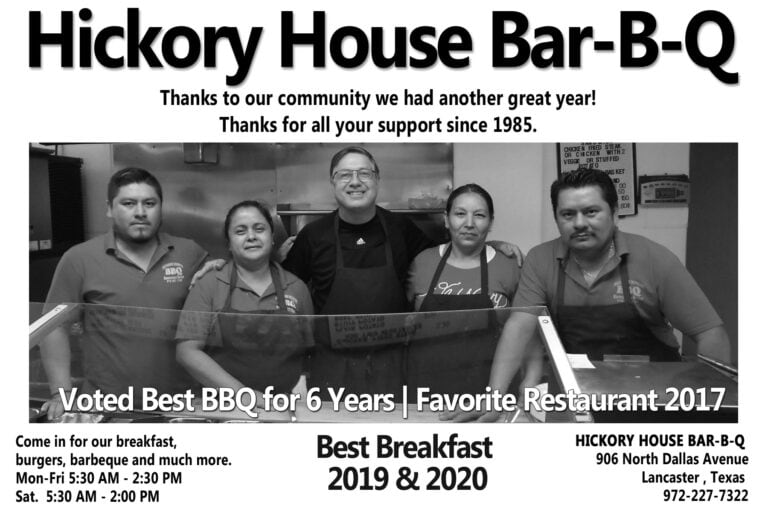 2020 Readers Choice Best BBQ- Hickory House
Mike Showalter has a lot to be proud of at the helm of Lancaster's popular Hickory House restaurant.
The restaurant has been awarded a variety of Reader's Choice awards over the years. They've been voted Best BBQ in Lancaster for six years, Best Breakfast in 2019 and 2020 and in 2017 Hickory House won Favorite Restaurant.
"We have got a great relationship with our customers," Showalter said when asked his secret. "We treat everyone the same. We joke with them; we have fun with them, and we make them feel at home when they are here. Everybody is welcome no matter who you are."
Showalter has owned Hickory House since 2008. "I worked for a gentleman named Ray Parker and started here in the early 80s," Lewis explained. "We basically created a great father and son working environment when I started here. So, he needed me, and I needed him. He knew a lot of things I didn't know, and I knew a lot of things he didn't know, and we combined them so now here we are. Hickory House is successful."
Kickstarting Breakfast at Hickory House
Mr. Showalter grew up in Lancaster, went to school in Wilmer-Hutchins and graduated in 1985. He said he started out at Waffle House and brought that experience to Hickory House with Johnny Ray Parker. Parker, he said "had no experience in the breakfast industry". I kickstarted that into a whole new level" and that is what Lewis said paved the way for him to become the next man up.
"He [Parker] awarded me by making me the person I am today and I now offer a friendly greeting with a smile when people walk in the door," Lewis added.
"We don't meet a stranger. That is our story. There is not much to say other than treat people the way you want to be treated when you go out to eat yourself. I mean if you want something a certain way, expect customers will want the same thing you want. So that is how I view my system here."
Showalter said he does not like backed up drive-thru's because he doesn't want to wait when he is in a drive-thru. So he makes sure customers are quickly taken care of in his line.
Former Lancaster resident Andrea Pylant who said she still drives 20 miles to eat at Hickory House and added "The food is good; I think it is very reasonable priced so that people can afford to go there often. He gives a good quality meal for an excellent price. It is a neighborhood breakfast place where people gather in the morning to start there day off with good food and friendships."
When is the best time to go you might ask? Anytime from 7 a.m. to 2 p.m. for breakfast or lunch.
Ask About The "Brad" Special
And then you want to know what is the best item on the menu? "Well," Showalter said, "My breakfast items. I created the Mike's special and it is three biscuits opened up with sausage on top with gravy, two eggs and cheddar cheese. It is pretty good."
Showalter also said you might also want to try another favorite.
"I have a good 'ol farmer who comes around here named Brad Justice. He would come in and say Mike would you fix me something to eat.
So I would fix him some grilled potatoes with onions, a half order of ham, two bacons and one sausage and a couple of eggs. The customers said, "hey can I get that?", so I put Brad on the menu board and now we have a Brad Breakfast and that is popular. Everything else is the traditional stuff you can get anywhere, but we try to cook it better than the other people, so you will come back tomorrow and want another one so that is what we try to do."
Showalter credited the restaurant's great environment with the customers and people as his success.
"People come from all over to eat breakfast and lunch with us," he concluded.
"It is amazing how well it has turned out and even through the pandemic we still to be moving right along. We made the adjustments according to the procedures and things are still rocking and rolling. In any field you are in you are going to have some people who don't agree with things you do. As long as we get the 95% of the people who are happy, then we will continue to move forward and be successful for years to come."