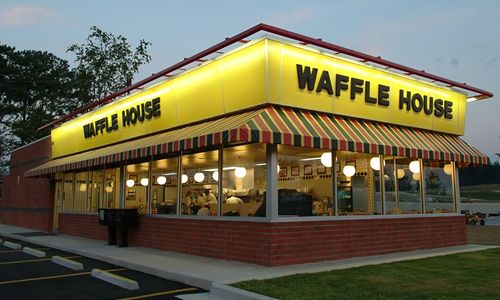 Gunman Shot By Customer During DeSoto Waffle House Robbery
DESOTO—Local detectives are continuing to investigate the strange circumstances surrounding the DeSoto Waffle House robbery on Thursday. According to reports, the suspect armed with an AK-47 assault rifle sustained life threatening injuries after being shot by a customer who he had robbed just minutes earlier at the Waffle House located near the intersection of Interstate 35 East and Wintergreen Road.
The suspect now identified as Antoine Devon Cooper, 25, remains on life support at a local hospital.
Officers interviewed patrons and complainants who advised the suspect entered the business, armed with an AK-47 rifle, and robbed numerous customers as well as the establishment.
Officers also learned that one of the customers that were robbed was a Handgun License holder and armed with a pistol. This customer advised that his wife was enroute to the location and would arrive shortly.
The suspect exited the restaurant and proceeded to the parking lot, followed by the customer/handgun holder.
The customer advised that he feared the suspect would harm his wife when she arrived or return to the store and harm customers or employees.
The customer then called out to the suspect, who turned to face the customer, while pointing the rifle in the customer's direction.
The customer then shot the suspect several times. Police said the customer was not arrested. DeSoto Detectives advised the investigation continues and will be referred to the Grand Jury.