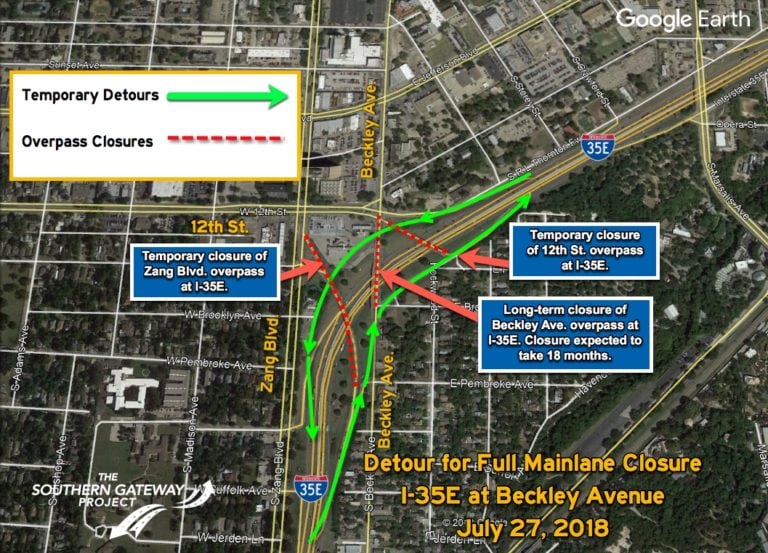 All lanes of north and southbound I-35E at Beckley Avenue will be closed this weekend, July 27 through July 30, for bridge removal of the Beckley Avenue overpass.
The mainlane closure will begin at 9 p.m. on Friday, July 27 and will last until 5 a.m. on Monday, July 30. North and southbound I-35E traffic will be diverted to temporary detours in both directions to avoid the full mainlane closure. Drivers will be able to re-enter the mainlanes using entrance ramps after the closure. The Zang Boulevard and 12th Street overpasses at I-35E will also be temporarily closed during this time for safety.
Drivers should expect delays and plan their commutes in advance during the mainlane closures. Construction activities and lane closures are subject to change due to weather or other unforeseen circumstances.
Due to the full reconstruction of the Beckley Avenue overpass at I-35E as part of The Southern Gateway project, there is a long-term closure of Beckley Avenue at I-35E that began July 20, and will last about eighteen months. Beckley Avenue traffic will use Zang Boulevard, Clarendon Avenue and 12th Street as detours throughout the duration of the Beckley Avenue overpass construction.
In addition, there is a permanent closure of the Zang Boulevard exit ramp from southbound I-35E that also began July 20.
The public can stay up-to-date on construction progress, lane closures and traffic changes by signing up for text alerts by sending the message "The Southern Gateway" to 31996.