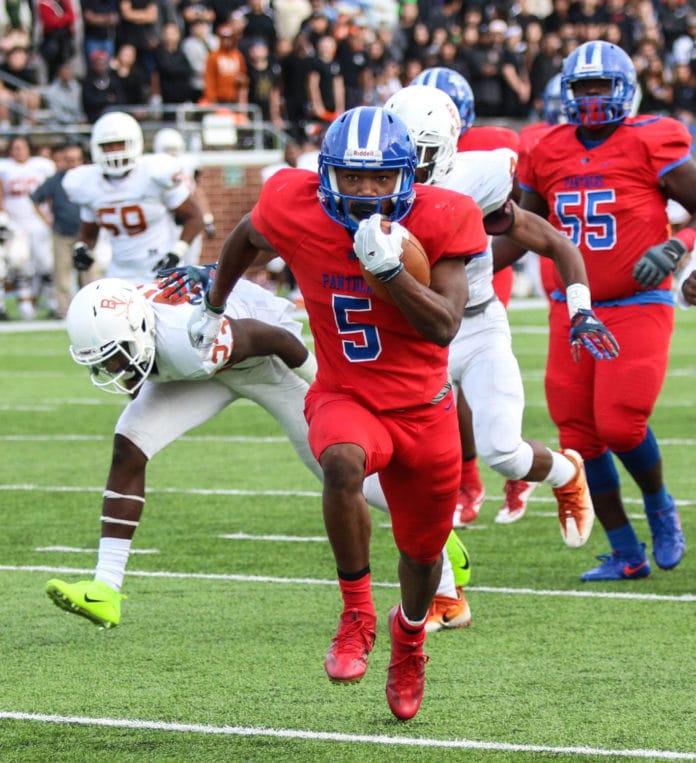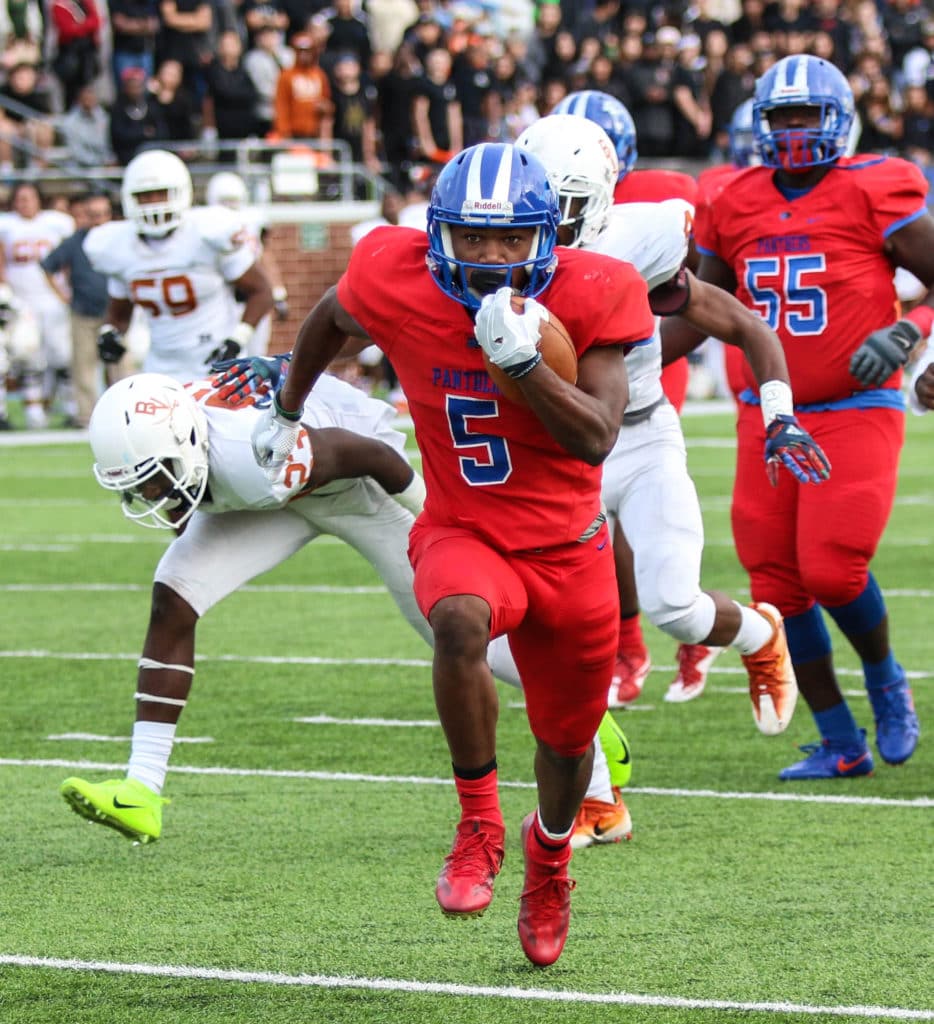 MANSFIELD—It took the Duncanville Panthers a while to get rolling Friday against Arlington Bowie at Vernon Newsom Stadium.
"We just have to believe in ourselves, then get it done," said Duncanville Head Coach Reginald Samples before the game.
Duncanville scored their first touchdown with 4:03 left in the first quarter with the Panthers trailing 14-0. Tre Siggers ran from his own 49 to the Bowie 5-yard line. On the next play, Siggers took it in for pay dirt. Josh Delgado's extra point was good. Duncanville had come back to cut the lead to only one TD and PAT.
Bowie tacked on another score with 29 seconds left in the quarter, on an 8-yard pass from quarterback Donoven Davenport to Kobe Daniels.
At the end of the first quarter, Bowie led 21-7.
Duncanville only scored once in the second quarter via a 20-yard field goal by Josh Delgado. At halftime the score was Bowie 21, Duncanville 10.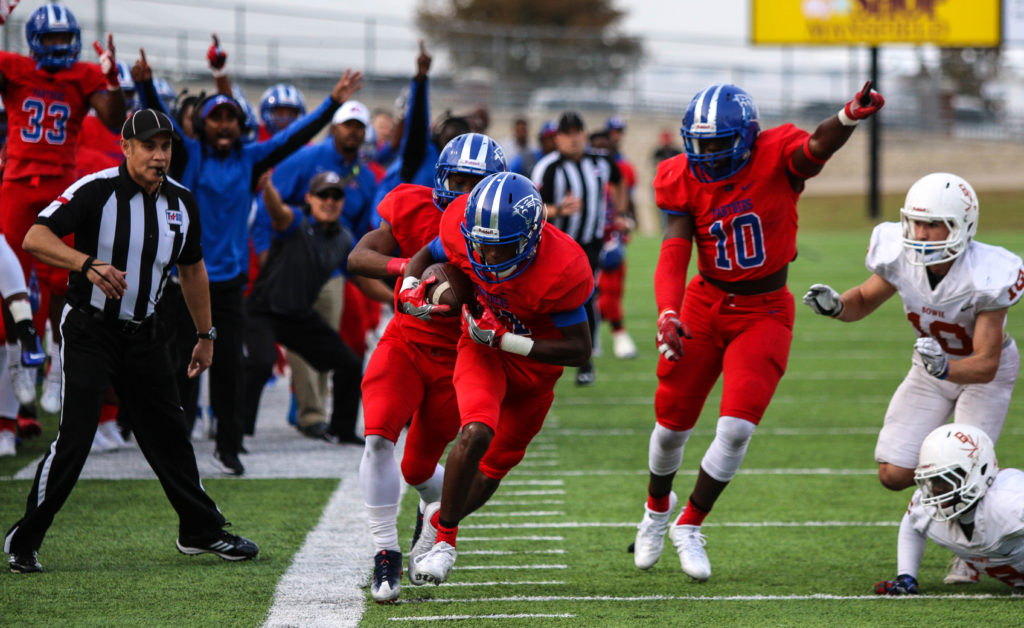 Resurging in the Second Half
Duncanville scored in the third quarter on a 32-yard run by Tre Siggers. PAT by Delgado was good. The third period ended with the Bowie lead cut to 21-17.
Siggers scored quickly in the fourth giving Duncanville a 24-21 lead for the first time.
An outstanding defensive line and super deep backs kept Bowie off balance and off the scoreboard until 9:07 was left in the game. Bowie scored on a 7-yard run by Davenport. But the PAT was blocked and run back by Panther James Johnson. It cut Bowie's lead to 27-26 with the clock ticking.
Duncanville scored their final touchdown with 4:09 left in the game on a Tre Siggers 14-yard romp. PAT by Delgado failed.
Siggers finished the game with 16 carries for 138-yards and four touchdowns.
Even though Bowie attempted to come back in the closing minutes of the game, the Panther defense was just too strong. Duncanville won 32-27.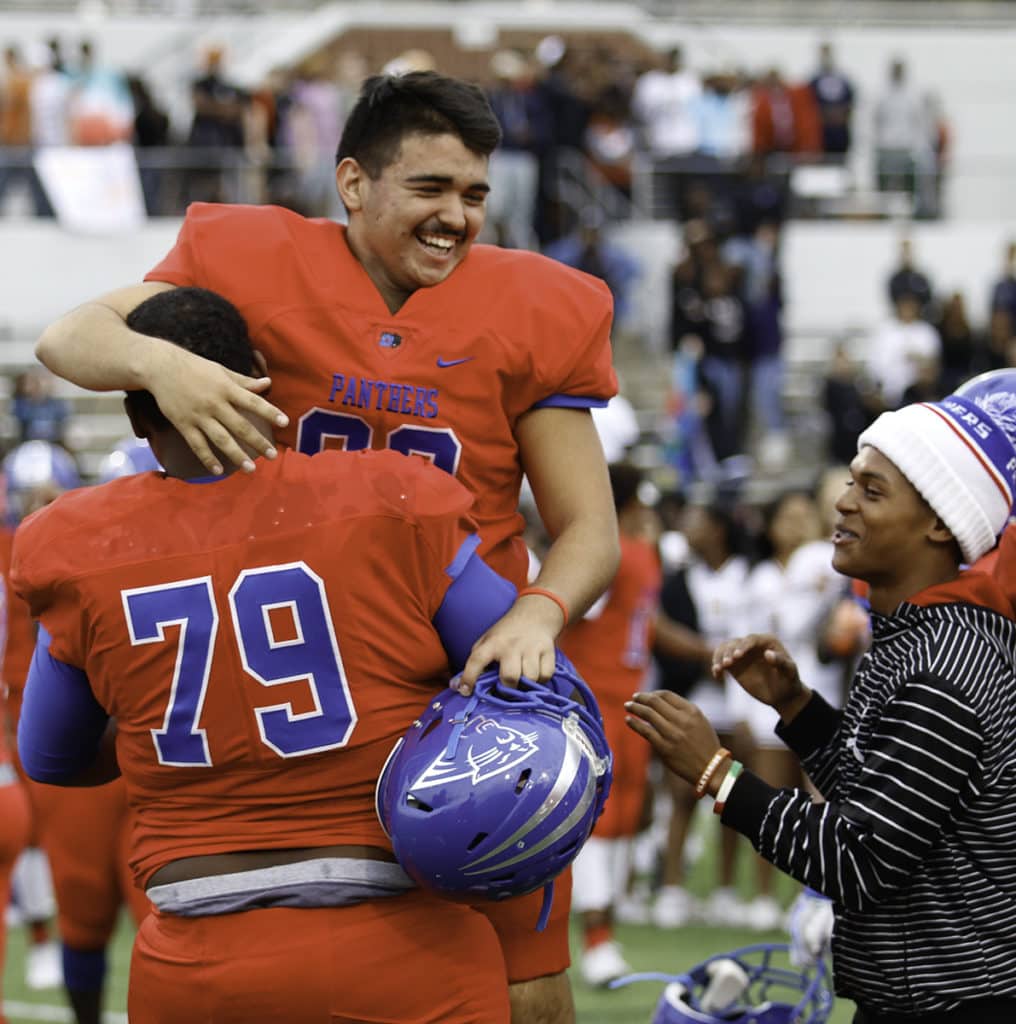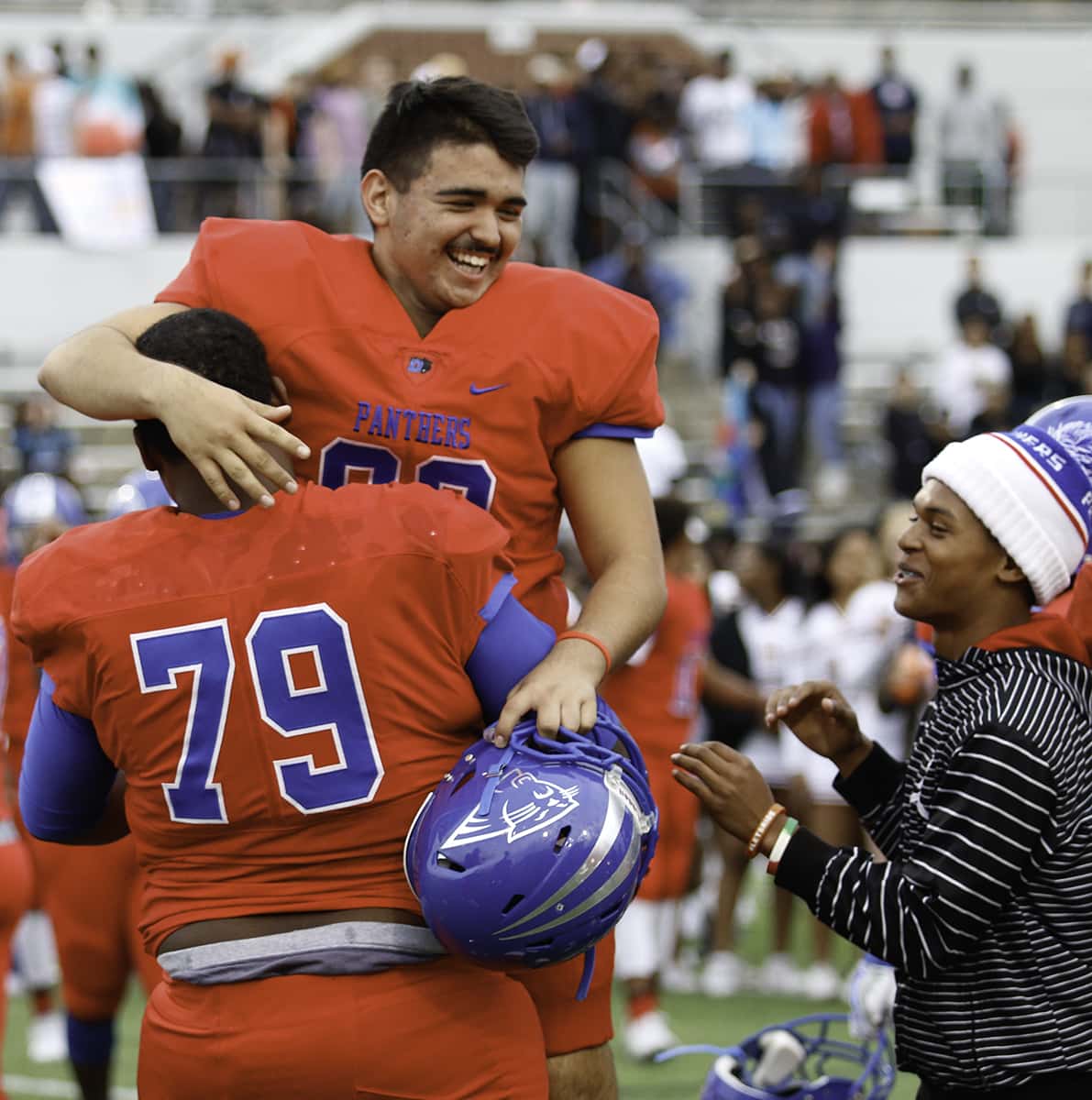 The Comeback Win
When asked after the game about Siggers, Samples said, "He is the heart of the game. Whether he is playing offense or on defense, he is a great player."
Before the game, Samples described Bowie as, "A well balanced team, with a strong quarterback with a rifle arm, and a defense that can shut you down quick. And they never, ever give up, even when they get behind."
Bowie (10-3), is a team that is used to coming from behind, having trailed 7 opponents at some point in their last 10 victories. But they couldn't do it this time against Duncanville. While the Panthers have blown away several of their opponents, it was them who came from behind to claim the victory Friday night.
Samples used both of his quarterbacks in the game. Trezan Connley completed 12 of 18 for 106-yards, while Jalan McLin had 6 carries for 44 yards.
Defensive back Eli Jones and defensive end Marcus Mosley shut down the passing lanes and any possible successful sweeps as defensive tackles Xavier Frazier and Javion Adams shut down any holes in the interior line. Bowie coughed up the ball twice and lost it both times.
Bowie had only 59 yards rushing for the game. Duncanville had 297 total offensive yards.
However, penalties were deadly for Duncanville. They had 12, costing them 105 yards in momentum and field position.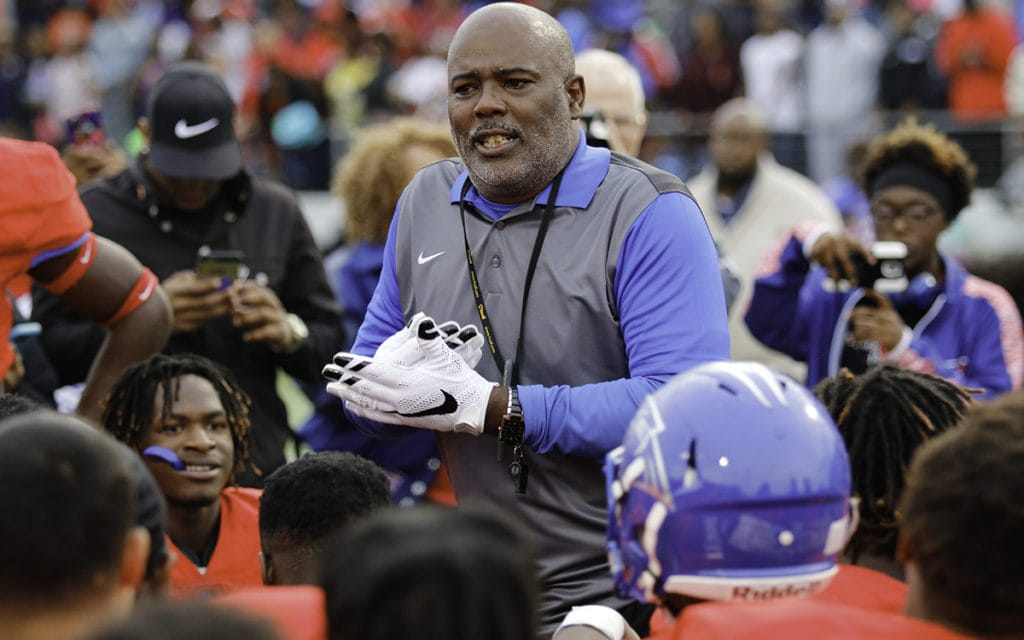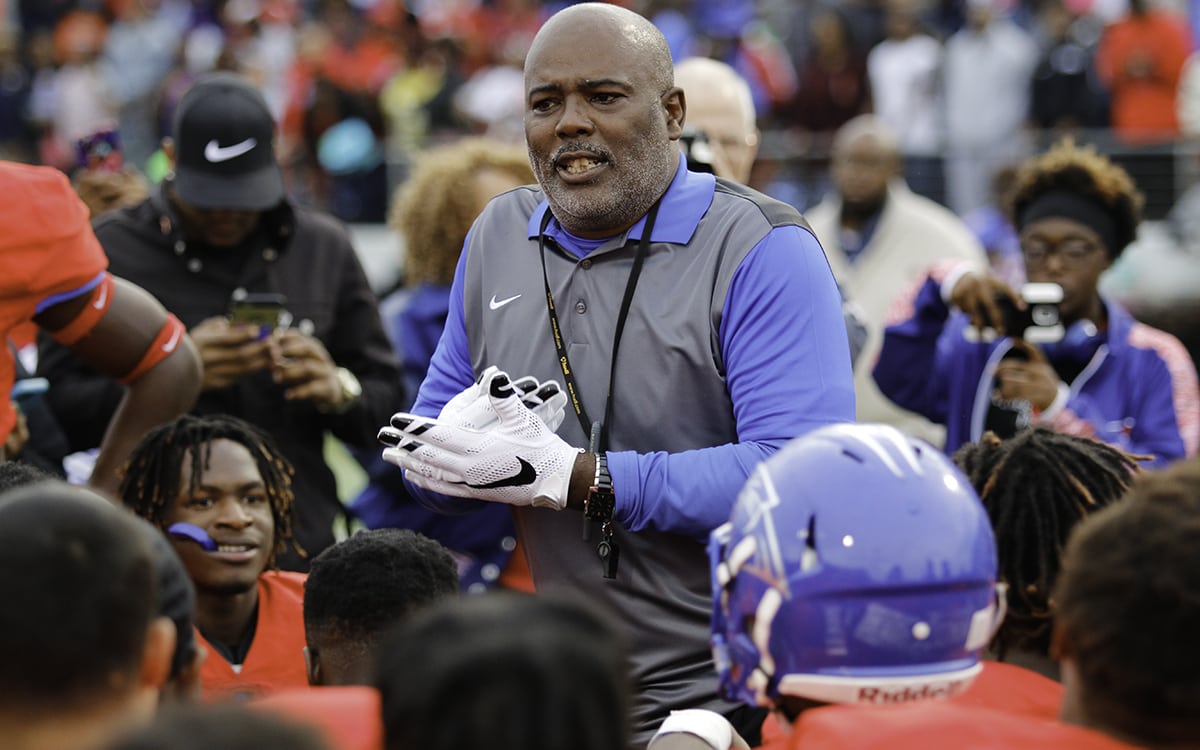 Panthers To Face Allen in Quarterfinal Round of Playoffs
Duncanville (11-2) will play Saturday at AT&T Stadium at 2 p.m. against Allen. Allen has won its last 71 games.
Samples played Allen before, back in 2014, when he coached at Skyline. His team lost 52-34 in that state semifinal game.
Sometime during this season, I asked Samples what his philosophy would be if he ever had to play Allen again. Without hesitation he said, "Never look back and not too far ahead. Live in the moment-and plan for it."