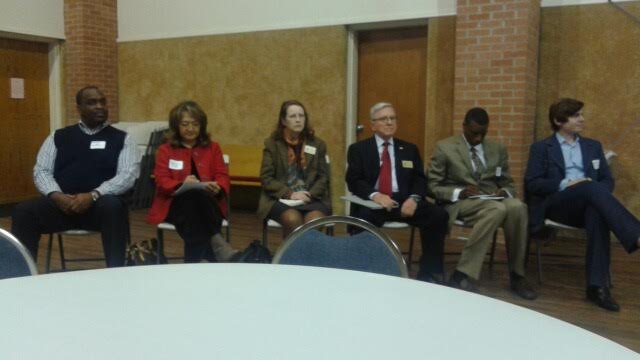 Duncanville City Council Candidates Shared Their Visions With Residents At Forum
Six Duncanville City Council candidates spoke at a Duncanville United "Meet the Candidates" forum Sunday, March 5. Over 60 people attended the forum hosted by the state-registered GPAC at the First Christian Church in Duncanville.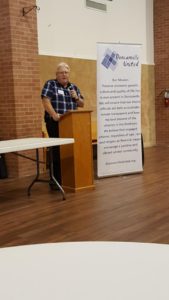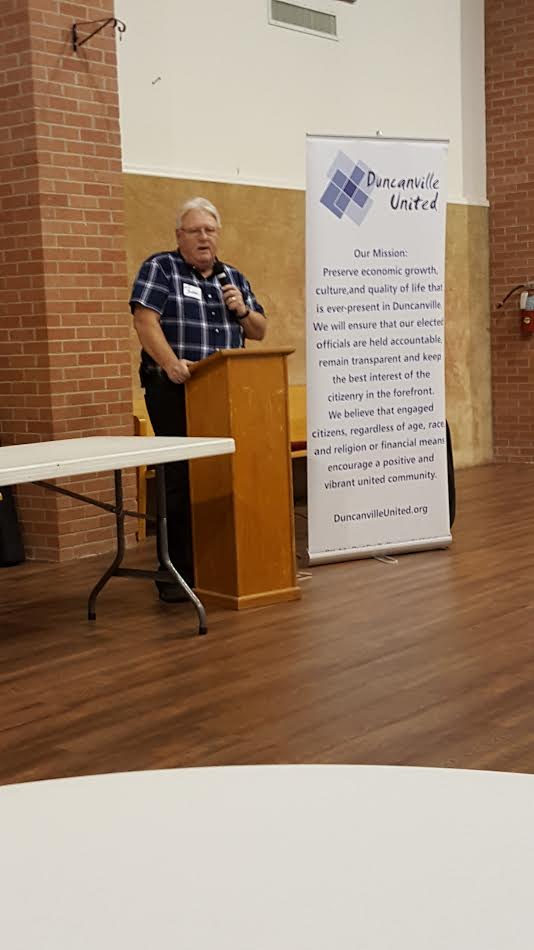 Jeff Burton, President of Duncanville United, said the free forum was "open to the public", and all candidates that have filed have been invited to attend. Each candidate was given five minutes to address the audience to communicate their qualifications, experience, and vision for the advancement of the City of Duncanville. This is not a forum or a debate, but a chance for the public to come and meet, listen, and then talk with the candidates.
Duncanville United members provided a pot-luck social time immediately after the candidates made their presentations. During the social, citizens could interact and ask questions of the candidates.
District 1 challenger Matthew Jones said, like many of his relatives, he had always been interested in politics. His uncle is Chief of the Cherokee Nation in Oklahoma. Mr. Jones said his primary agenda is to bring more technology to Duncanville. He cited the city of Georgetown as an example of what is possible. Implementing renewable energy sources and adding charging stations for electronic vehicles have brought their residents' electricity charges to nine cents per KW, he said.
District 1 incumbent Dennis Schwartz, a 44-year resident of Duncanville who served from 1984-2010 as the city's Public Works Director, said he hopes to continue the work he started as a member of the Planning and Zoning Commission in 2010. Mr. Schwartz said improving the infrastructure is still our greatest need. The councilman said his background and experience enable him to better understand how city planning works and how to build consensus on the council.
District 3 incumbent Leslie Thomas does not have an opponent for the May 6 election, but she addressed the forum to discuss her future plans. She is focused primarily on continuing to improve the city's infrastructure, and announced she has appointed former City Councilman Grady Smith to the planning committee. The councilwoman also said she still plans to go door to door to meet with her constituents even though she's not opposed.
Ms. Frances Rizzo, an eleven year resident of Duncanville who grew up in West Dallas, is running for District 5 council seat. A single mom who raised four children, she said her main focus will be to work on family values. A PHD candidate at the University of North Texas, Ms. Rizzo is active in her church and the Dallas County Democratic Party. She would like to see more Town Hall meetings and forums similar to the one March 5, in order to get input from local citizens.
District 5 incumbent Johnette Jameson sent her regrets, stating she had a family event to attend and could not be present at the forum.
Council Members Not Running But Attending the Forum Were Mayor Pro-Tem Stephen Rutherford and Councilman At Large Patrick Henry
Mayor Pro-Tem Stephen Rutherford, District 2, attended the forum. City Councilman at Large Patrick Harvey was also in the audience, but is not running for re-election. Two candidates for his position, Todd H. Durant and Patrick LeBlanc, were both present at the forum.
Mr. Durant, his wife and son have lived in Duncanville 12 years. With Fidelity Investments the past 15 years, he worked for Microsoft for 19 years, traveling to many parts of the U.S. Having lived in both District I and District V, he is currently serving on the Planning and Zoning Commission. He is also active with the Urban League. He said that fostering better and faster communications between the City Council, staff and the public will result in faster solutions to problems.
Mr. LeBlanc is a graduate of Dallas Baptist University and holds a Master's Degree from Southwest Baptist Seminary. He has served as the Chaplain for Duncanville High School's football team since 2008. He and his wife have three sons and three grandchildren. The candidate stressed the importance of unity and harmony on the council. He has worked to get more fathers involved with their kids, and believes the best way to lead is by example.