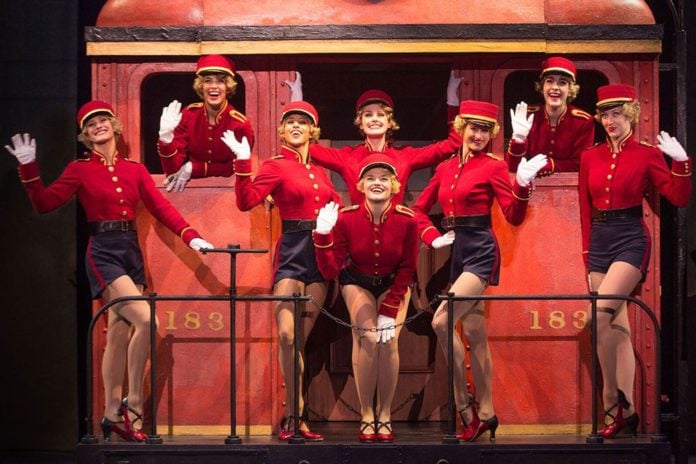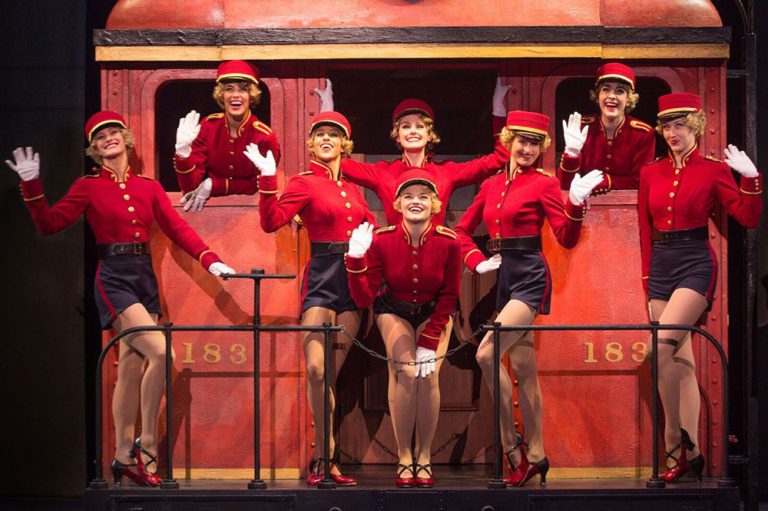 The national tour of BULLETS OVER BROADWAY, the musical comedy written by
Woody Allen
and based on the screenplay by Allen and Douglas McGrath for the 1994 film, is onstage June 14-26 at the Music Hall at Fair Park.
Following his work on the Broadway production of BULLETS OVER BROADWAY, originally directed and choreographed by five-time Tony Award® winner Susan Stroman, the tour is helmed by director Jeff Whiting.The creative team also includes Jason Ardizzone-West (scenic design), six-time Tony Award® winner William Ivey Long's original Broadway costumes coordinated by James Halliday, Carolyn Wong (tour lighting design and adaption, based on the original Broadway lighting design by Donald Holder), Shannon Slaton (sound design) and Bernie Ardia (wig and hair design) with Glen Kelly (music arranger, adaption and additional lyrics), Andy Einhorn (vocal arranger), Doug Besterman (orchestrations) and Robbie Cowan (music director and conductor).BULLETS OVER BROADWAY features existing music of the period, including "Tain't Nobody's Biz-ness If I Do," "Let's Misbehave," I'm Sitting On Top Of The World" and "Runnin' Wild." playwright who needs someone to back his next show.
A mobster who needs some way to please his showgirl girlfriend. This could be the start of a beautiful friendship – or a brand new musical comedy. Loaded with big laughs, colorful characters and the songs that made the 20s roar, BULLETS OVER BROADWAY brings musical comedy back with a bang.
Hailed by Time Magazine as, "Musical Theatre Gold!" and described as "A Fun Machine from Start to Finish!" by The New Yorker, BULLETS OVER BROADWAY tells the story of an aspiring young playwright newly arrived on Broadway in 1920's New York who is forced to cast a mobster's talentless girlfriend in his latest drama in order to get it produced.
BULLETS OVER BROADWAY features Michael Williams as "David Shayne," Emma Stratton as "Helen Sinclair," Jeff Brooks as "Cheech," Bradley Allan Zarr as "Warner Purcell," Michael Corvino as "Nick Valenti," Hannah Rose DeFlumeri as "Ellen," Rick Grossman as "Julian Marx," Jemma Jane as "Olive Neal" and Rachel Bahler as "Eden Brent."
Also featured are Blaire Baker, Mary Callahan, Jake Corcoran, Elizabeth Dugas, Carissa Fiorillo, Patrick Graver, Andrew Hendrick, Lainee Hunter, Justin Jutras, Ryan Kanfer, Brian Martin, Conor McGiffin, Corinne Munsch, Kaylee Olson, Joey Ortolani, Kelly Peterson, Lexie Plath, and Ian Saunders.
The original production of BULLETS OVER BROADWAY premiered on Broadway at the St. James Theatre. The production received six Tony-Award® nominations, including Best Book of a Musical and Best Choreography.
In an initiative to elevate the arts, Dallas Summer Musicals in conjunction with Broadway World DFW and WFAA Channel 8 have partnered up and developed a fun summer series of walk-on roles to give audiences an inside look at the life of an actor. Ron Corning, WFAA Anchor, will transform himself and give viewers a behind the scenes look as he becomes part of the cast in BULLETS OVER BROADWAY.
Single tickets for BULLETS OVER BROADWAY, from $20-$99 (pricing subject to change), are now on sale at DallasSummerMusicals.org, by phone at 1.800.514.ETIX (3849) and at The Box Office, 5959 Royal Lane, Suite 542 in Dallas. Groups of 10 or more receive a 15% discount, priority seating, and many more benefits. Please call 214.426.GROUP (4768) or email Groups@DallasSummerMusicals.org.