DESOTO—Thursday morning DeSoto motorists filled local gas stations to capacity as news of possible gas shortages made its way around social media. Theories spiraled from reports of major oil refineries shut down as a result of heavy damage from Hurricane Harvey.
"This is crazy," mumbled one elderly DeSoto resident. Clearly irritated by the 20 minute wait at the QuickTrip located at Belt Line Road and Interstate 35. "It just doesn't make any sense."
Other motorists drove to DeSoto to get gas after finding their neighborhood pumps dry. Some even filled containers expecting even more shortages as the three-day Labor Day holiday approaches.
However there isn't any need for panic at the pump, AAA Texas experts say. While there may be gas shortages throughout the region — they are only expected to be temporary. Thursday morning industry experts discovered that the Corpus Christi refineries survived with little damage.
"We are expecting this shortage to be brief," said AAA Texas Spokesperson Daniel Armbruster. "There is no doubt that [Hurricane] Harvey had some impact on this industry. It will take about a week to get things back up and running. But right now our hearts go out to those affected by this storm."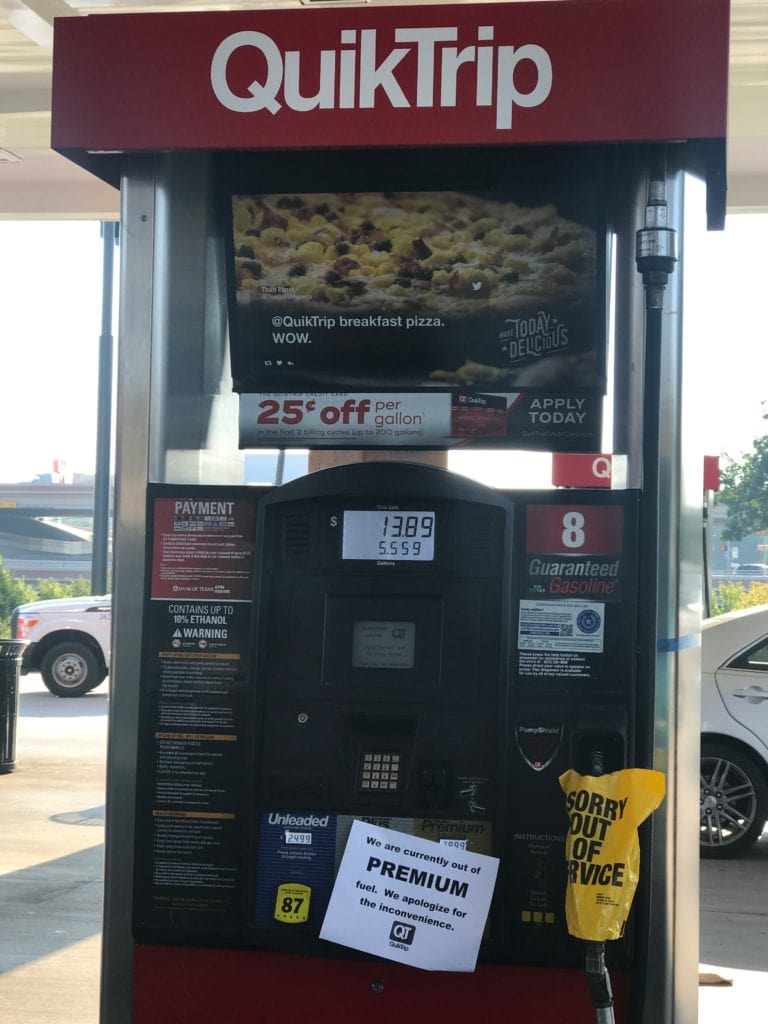 Coast Oil Industry Takes A Hit
Motiva Enterprises' refinery in Port Arthur, the largest in the US, shut down Wednesday as flood waters rose. And on Thursday, Colonial Pipeline, which owns the largest pipeline for gas distribution in the US, planned to shut down its gasoline line because Gulf Coast refiners were unable to process crude oil.
To help with the gasoline shortage, the Energy Department said Thursday it was releasing 500,000 barrels of oil from its Strategic Petroleum Reserve that holds supplies for emergencies.
Energy Department Secretary and Former Texas Governor Rick Perry is scheduled to tour hurricane ravaged parts of South Texas today with other members of the Trump administration first hand.
"The country's gas and oil reserves are at a five year high," said Armbruster."Until there is an firm date on when those refineries are restarted at full capacity gas prices could continue to increase."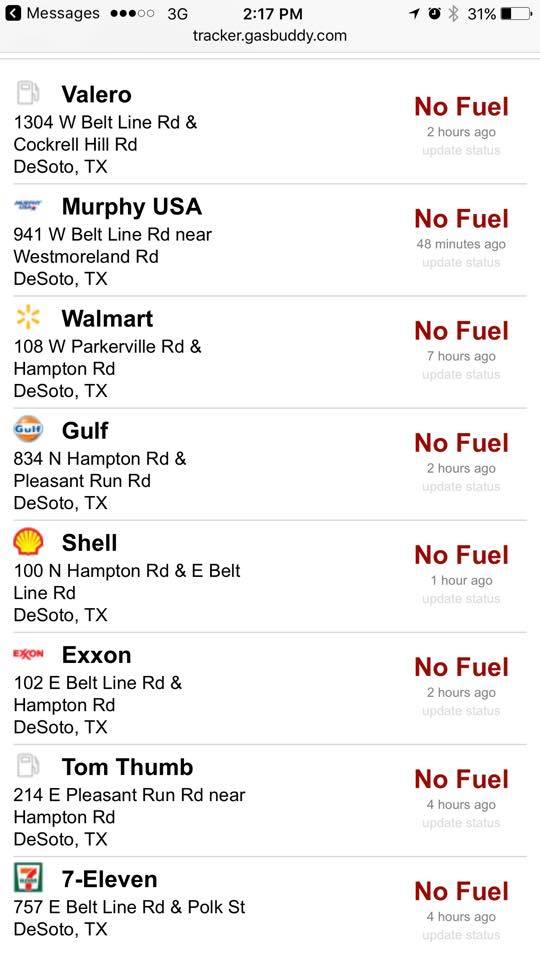 Gas Price Spikes
Since last week gas prices in North Texas have risen .38 cents in some places. Thursday morning in DeSoto just a couple hundred feet could mean a 20 cents difference per gallon. Gulf Gas at Hampton and Pleasant Run Road advertised Regular Unleaded at 2.21 per gallon. The neighboring Tom Thumb gas station had the same Regular Unleaded at 2.47 per gallon.
Despite supply uncertainties and price increases experts remain optimistic about Labor Day travel behaviors. Traditionally the unofficial end of summer and final summer road trip opportunity AAA says automobile travel will increase by 1.4 percent this year, with 29.7 million travelers hitting the road.
"I think we are still expecting increased travel. I think travelers should expect delays and have a well thought out plan before taking to the road."
A number of gas retailers are taking to the internet and social media to provide real time updates on their stations that have gas for vehicle consumption. Other user driven apps like Gas Buddy might be helpful to drivers taking to the open road.
"We are encouraging all drives that are traveling to plan ahead. Check road conditions and map out gas stations that report still having fuel. Also don't allow your gas tank to fall below a quarter of a tank."
For those staying in the city and hoping to avoid fuel-related stress ride sharing apps like Lyft, Uber, UberEats and DoorDash may be a viable alternative.
At presstime Lyft said that there weren't anticipating any driver delays or price increases due to the current gas crisis.
"We're monitoring conditions and staying in close communication with area drivers and city leaders. As always, safety is our top priority," says Lyft Spokesperson Campbell Matthews.