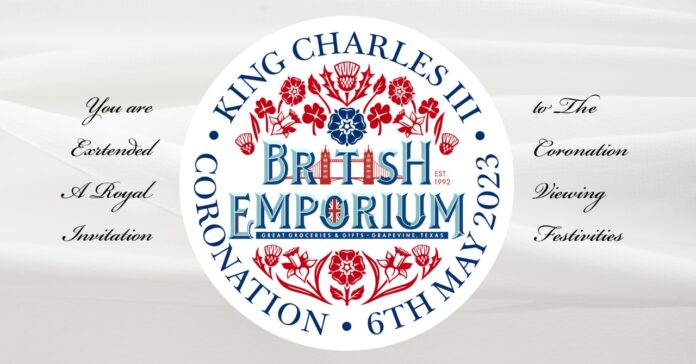 GRAPEVINE, TEXAS :  The Coronation of King Charles III will be at Westminster Abbey on Saturday, May 6. Brits and Anglophiles living in North Texas will be able to celebrate this historic occasion with two different events at the British Emporium in Historic Downtown Grapevine. The store is located at 140 N. Main, Grapevine, Texas 76051.
For over thirty years, the British Emporium has been "the most British spot in the Metroplex" and has long been a gathering spot for important royal celebrations and events. The first event during the Coronation Week will be the "Crowns, Corgis, Cycles, and Car Show" on Sunday, April 30, from 11 a.m. until 3 p.m. Then, on Saturday, May 6, starting very early in the morning at 4 a.m., a Coronation Watch Party will be held in the car park.
Cars and motorcycles have long been a tradition of British culture. So many families in the Dallas/Fort Worth area have one, or more, of these vehicles. This free event is fun for fans to see some of the classics while giving owners an excellent way to display their treasured car or motorbike. Registration for the vehicles is free. However, advance registration is required so a space can be reserved. Interested owners can contact the store at 817-421-2311. Awards will be given for "Best of Show" at 2:30 p.m.
Also, Corgis have become a popular tradition, especially having been the pet of choice for decades for the late Her Majesty the Queen. Corgi owners are encouraged to bring their adorable pets in costume – whether it is something British-themed, Coronation-themed, or something different. The Corgi Parade will be held at 2 p.m. There will be a prize for the best-dressed Corgi and another award for the best-dressed Corgi/Owner Duo.
Attendance and registration for the Crowns, Corgis, Cycles, and Cars event are free. The British Emporium, though, does ask those attending to bring items for the GRACE Grapevine Food Pantry Food "Drive" to help those in need.
On May 6, the Coronation will start at 11 am in London (5 am in Grapevine). It will be preceded by the King's Procession from Buckingham Palace to Westminster Abbey. The watch party event will start as early as 4 am for those wanting to watch the procession. Guests are encouraged to arrive by 5 am not to disturb the Coronation. The event will end once the morning sun comes up after 7 am, and the viewing screen will become challenging to see. The store will be open at that time to purchase commemorative Coronation items. Guests are encouraged to bring their own chairs and dress in their favourite attire as if they were at Westminster Abbey. Fascinators are encouraged.
"This is such a special celebration for His Majesty, for all of the UK, and for Brits and Anglophiles across the globe," said Sheela K. Bailey, owner of the British Emporium. "For most of us, this is the first Coronation of our lifetime. We all want the week to be a fun, memorable celebration fit for a King!"
Bailey is available for any media interested in doing a story on the Coronation from a North Texas perspective. The store is decorated in festive Coronation decorations and would make for a great backdrop.
About the British Emporium
For more than 30 years, The British Emporium has provided British groceries and gifts and hosted community-related events such as royal celebrations, car shows, Doctor Who parties, and meet-and-greets with VIP visitors from Great Britain. Owned by Sheela K. Bailey, the stores are a popular gathering place for ex-pat Brits and Anglophiles alike. The store in Grapevine is located at 140 N. Main St. and is open Mondays – Saturdays, 10 a.m. – 6 p.m.; Sundays, Noon – 5 p.m. p.m. More information about The British Emporium can be found at www.british-emporium.com.
Recommended by D Magazine
"Best of British Award" – UK Telegraph Newspaper
2021 Dallas Morning News Best in DFW Best Multicultural Grocery Store
2021 Dallas Observer Best of Dallas Best British Store