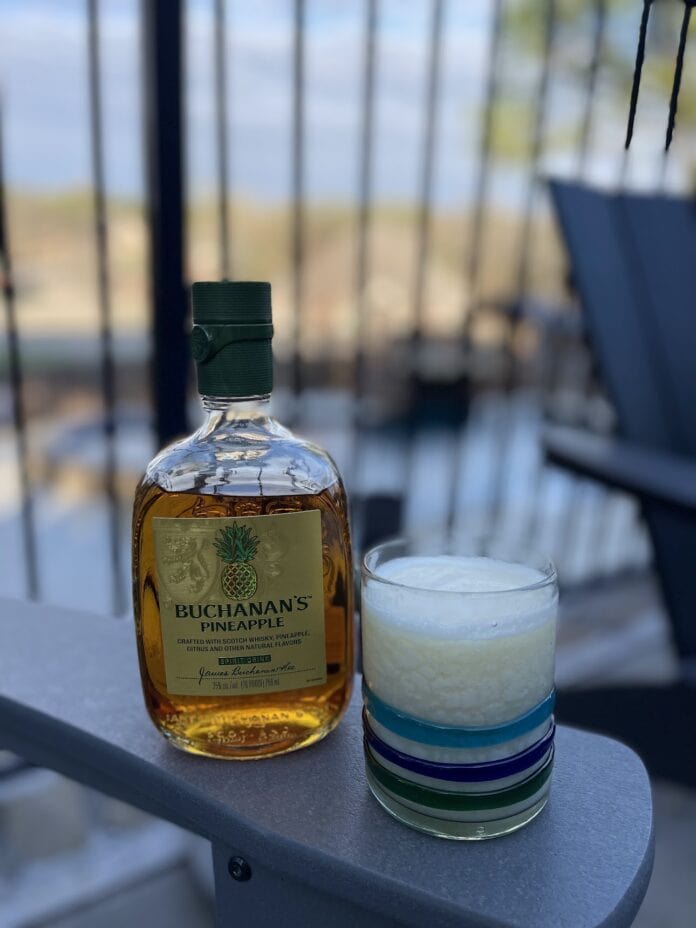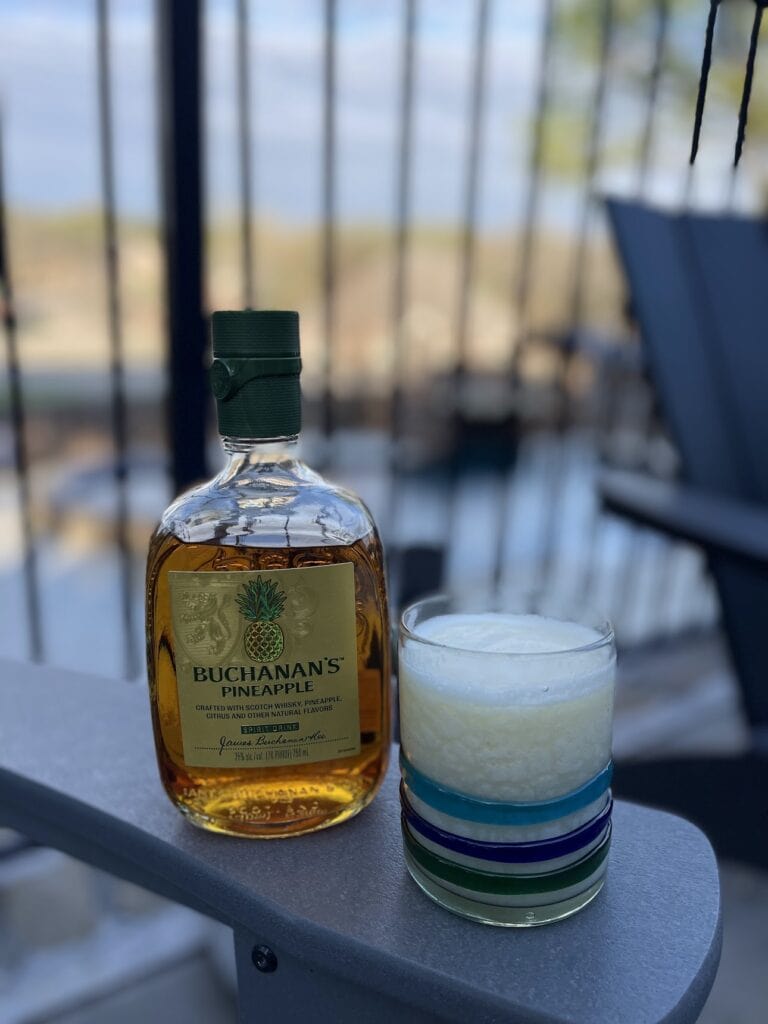 Pina Coladas are one of our favorite warm-weather cocktails, but we've never made them with any spirit other than rum…until now. With a new bottle of Buchanan's pineapple, we tried their Bucha-Colada recipe in our blender and loved the tropical results.
The sweet juicy taste of Buchanan's Pineapple is crafted with Scotch Whisky, pineapple, citrus, and other natural flavors to take you to a warm, brighter place. It's the perfect ingredient for those warm weather cocktails like the Bucha-Colada or Piña Fizz. For the adventurous drinkers that like making frozen concoctions, this would be a great base for popsicles. I'm thinking maybe some frozen mango, pineapple juice and Buchanan's pineapple might make a great frosty treat.
"For years, Buchanan's has been welcomed into the culture and celebrations of the Hispanic American community, often mixed with pineapple juice, resulting in one of our most popular serves, the Buchanita, which helped inspire us to create this new blended whisky flavor," says Joyce He, Director of Buchanan's Whisky. "With Buchanan's Pineapple, we are combining one of the most beloved flavors in Hispanic culture with the same distinct smoothness from the House of Buchanan's people have enjoyed for more than 130 years."
Bucha Colada
Over crushed ice or frozen
Ingredients:
• 1.5 oz Buchanan's Pineapple
• 2 oz Pineapple Juice
• 1 oz Coconut Cream
• 0.75 oz Fresh Lime Juice
Glassware: Highball Glass
Garnish: Lime Wheel, Angostura Bitters Float
Method: Add Buchanan's Pineapple, pineapple juice, coconut cream, lime juice and ice into a shaker, and shake until cold. Pour into highball glass filled with crushed ice, and top with a float of angostura bitters. Garnish with a lime wheel.
Alternatively, make frozen in a blender
Pairing: Guacamole and Tostones
Piña Fizz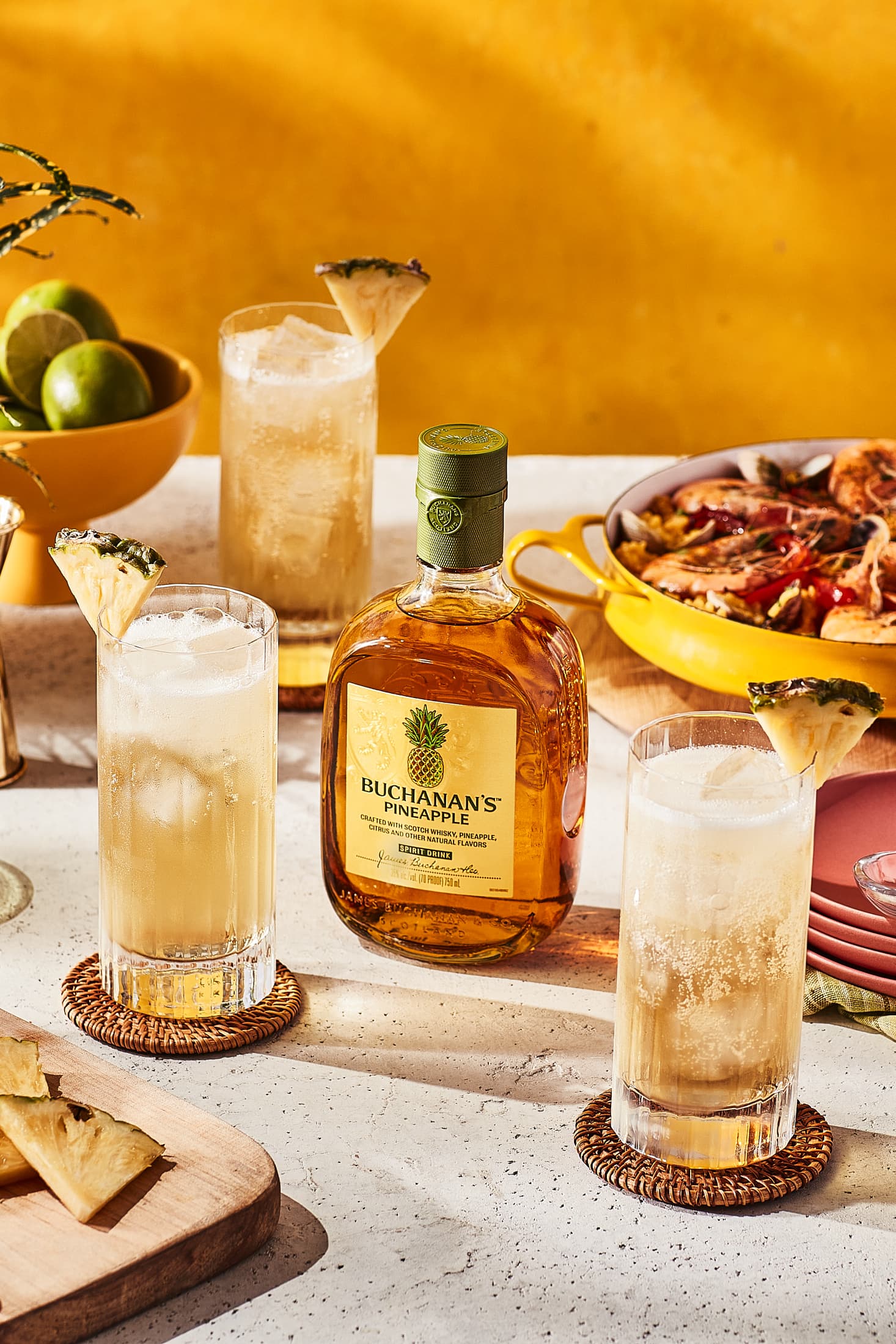 Ingredients:
• 1.5 oz Buchanan's Pineapple
• 4 oz mineral water (Topo Chico)
Glassware: Highball Glass
Garnish: Tajin rime, Lime Wedge
Method: Rim highball glass with Tajin. Pour Buchannan's Pineapple into highball glass over ice and top with mineral water. Garnish with a lime wedge.
Pairing: Shrimp Paella
Buchanan's Pineapple (750ml; 35% ABV) is a permanent addition to the Buchanan's Whisky portfolio and will be available for purchase online and in retail stores nationwide wherever fine spirits are sold with a suggested retail price of $29.99.
We're looking forward to serving these pineapple cocktails around the pool this summer. I also plan to try using the Buchanan pineapple as a marinade on shrimp and chicken when grilling, stay tuned.