Away Takes Customer Feedback & Improves Classic Luggage
Several years ago I noticed the buzz Away luggage was generating, and needing some new luggage that could handle my intense travel, I ordered a bigger carry-on. A few months later, I ordered the Large from the Away. Both bags have been with me from Las Vegas to Miami, Copenhagen to Rome and everywhere in between. I love everything about my Away bags from the design, the laundry bag and how well it rolls.
Today, announced the re-release of their iconic Classic line marking an evolution of their cult-status, original product. Since the brand's inception, Away's signature luggage has played a key role in shaping how travelers express themselves.
This new launch signals Away's dedication to designing luggage that truly meets the changing needs of modern travelers.
The refreshed product line—informed by tens of thousands of interviews, reviews, and direct customer feedback—embodies everything customers know and love about Away, including the modern, stylish visual identity of their signature polycarbonate luggage, with innovative design updates that make every trip more seamless than the last. Available in seven new colors, a new Gloss finish, a new size (the trunk) and with a streamlined silhouette, the refreshed core product line captures the spirit of global exploration, bringing freshness, functionality, and expressiveness to the forefront.
"Since Away was founded in 2015, our mission has been to create the most perfect, most thoughtfully-designed version of everything you need for travel. Our community has been vital to us delivering on this mission: their voices and their feedback are at the core of everything we do. This evolution of our most beloved product is a direct response to their shifting needs, travel habits and style preferences, and it reaffirms our commitment to designing with real travelers in mind," says Away's Co-Founder and CEO Jen Rubio.
Away continues to lead the conversation on product innovation—and what it truly means to be customer-obsessed. Every element of the iconic suitcase has been carefully re-evaluated with the attention to detail and superior materials that the brand has become known for.
Key design updates include:
Redesigned handles that are easier to grip and lift upwards, seamlessly fitting into the shell, enhancing both the aesthetics and functionality of the suitcase
Additional underside grab handle to make it easier to grab and lift (especially from the baggage claim carousel), featuring a wide hand opening with rounded edges for more comfort
Updated trolly system that's more comfortable and stable, further incorporated into the shell for a cleaner and more streamlined appearance
Refreshed, slim 360° spinner wheels to ensure a sleek look and smooth ride
Updated zipper shape that swivels, rotates, and locks more seamlessly
Updated TSA-accepted combination lock that's more integrated into the shell
Refreshed luggage tag, now color matched to the exterior shell, featuring a slimmer profile and reduced hardware for a modern, clean look
Redesigned interior organization, now color matched, featuring three additional pockets and Away's signature compression system now with wider, stronger straps for increased compression
Increased laundry bag size, featuring a new drawstring closure that doubles as a hanger for the bag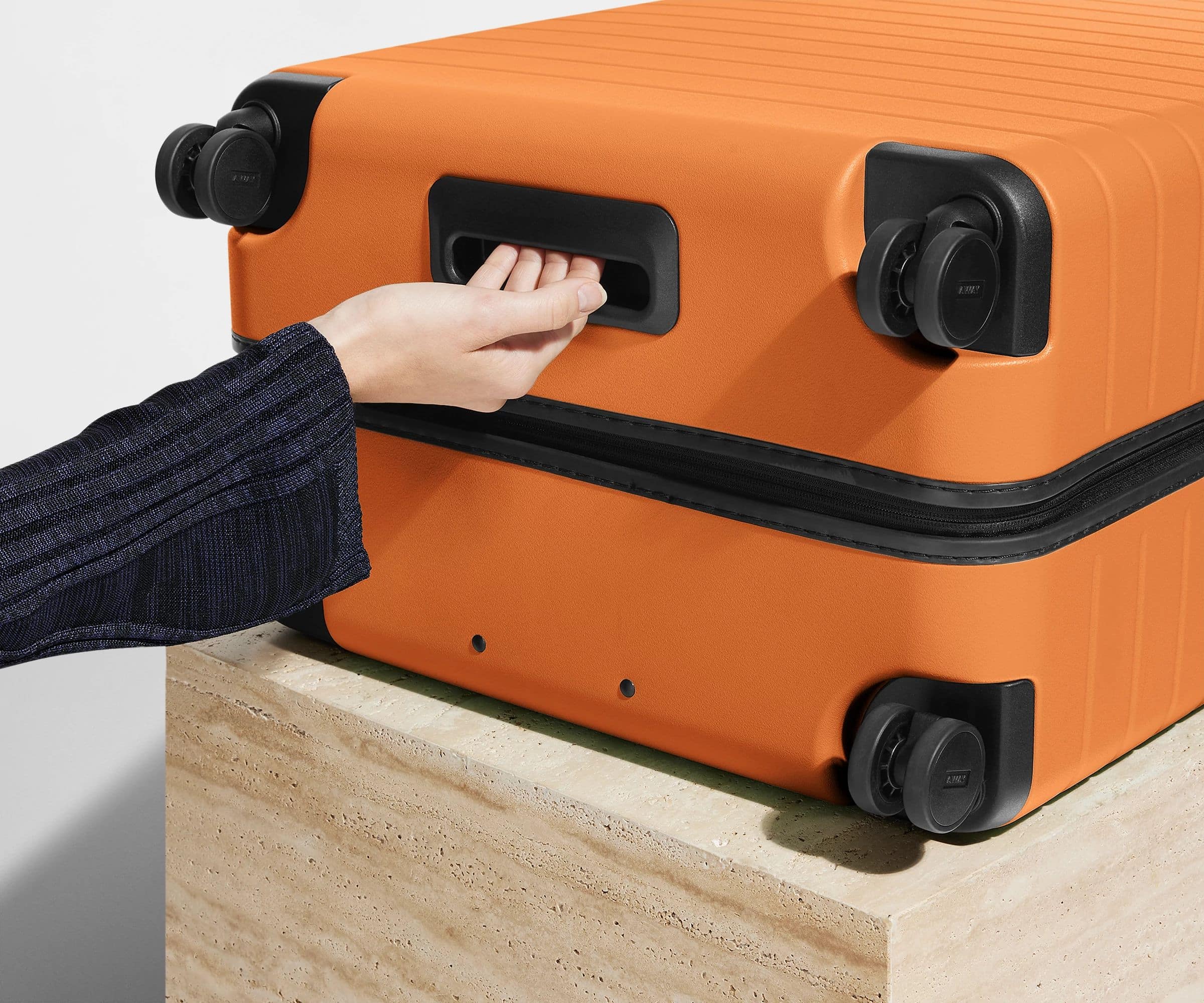 Introducing Seven New Colors
Away's community has always loved color, and the brand continues to innovate its color assortment to meet and set trends. With the re-release of Away's Classic suitcases, the brand unveils seven new colors: Olive, Chili, Persimmon, Seafoam, Salt, Wave, and Garnet. The palette is inspired by the world itself, offering a fresh, relevant, expressive, and approachable selection. Best-selling colors—Black, Navy, and Coast—will continue to be offered.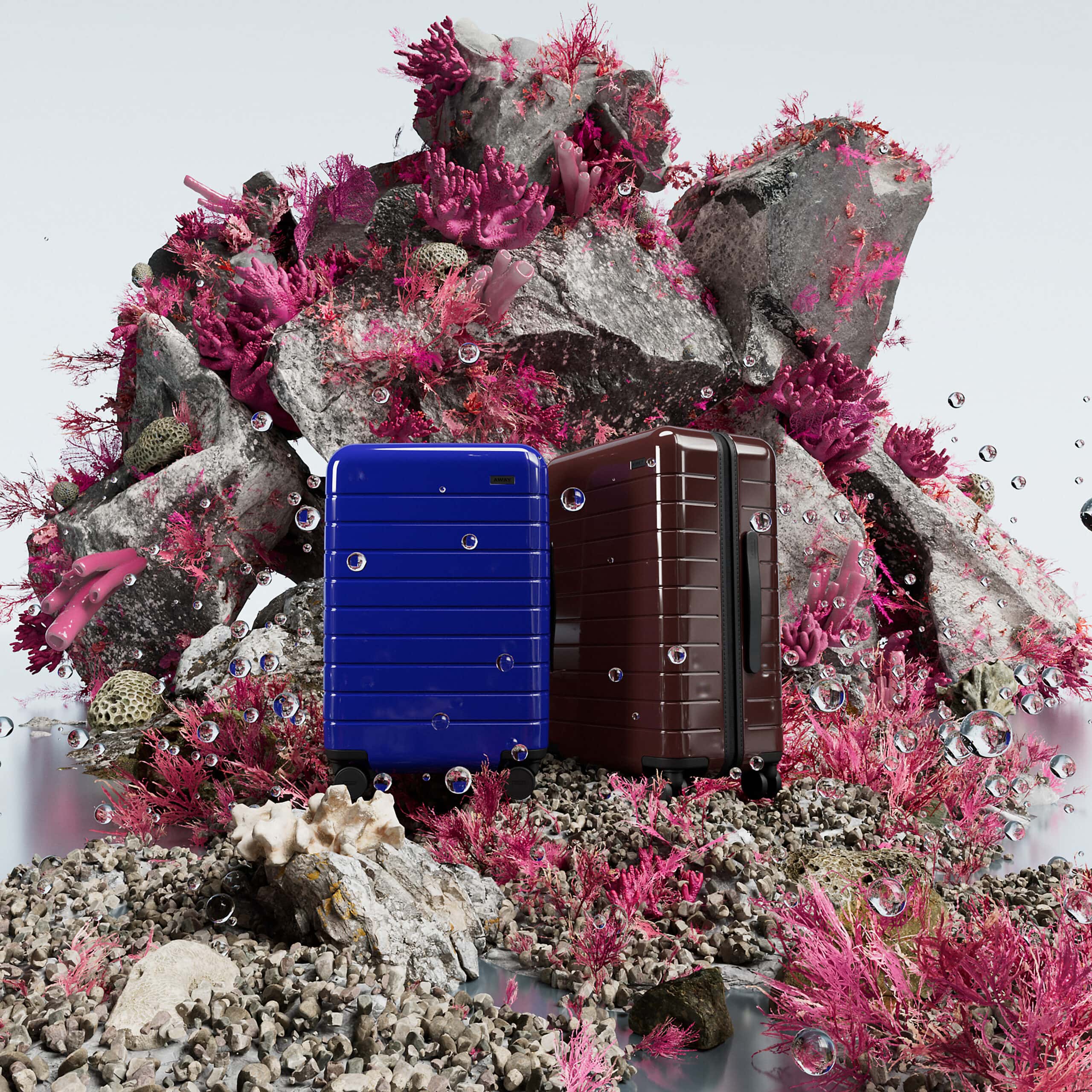 Away is also introducing a new Gloss finish—a customer favorite from past limited editions—to their core collection, adding a bold and sleek dimension to select colors and offering customers even more ways to express their personal style.
Through their new Classic collection, Away is launching their journey into balancing durability with sustainability. Their design team has undertaken a rigorous process to begin their product design process with a sustainability-first lens. Through thoughtful design and manufacturing techniques the brand is taking steps to improve the circularity in their product development process and the impact of their new products. Away has poured over every detail of their best-selling Classic suitcases–and as a result, taken steps to increase the portion of recycled content in many of their components, all while still ensuring that they're providing the same durable and reliable travel companion that their customers know and love.
The Trunk
With this launch, Away expands their luggage offerings, introducing the newest addition to their core collection: The Trunk. A modern take on a timeless silhouette, this checked suitcase is designed with extra capacity, with a slimmer top lid and deeper main compartment for easy access and packing. The Trunk is the ideal solution for longer trips or bulky travel necessities, staying true to Away's commitment to constantly innovate and offer solutions for all packing needs.
All sizes and colors of Away's Classic suitcases will be available at www.awaytravel.com/shop/classic-suitcases and in Away stores across the U.S. and Canada beginning August 1, 2023.
About Away
Away is the original travel lifestyle brand, defining travel for a new generation. The company's mission is to transform travel and inspire people to get away more; rooted in the core belief that the more everyone travels, the better we all become. Away launched in 2016 with one perfectly designed Carry-On and has since revolutionized the travel industry by creating a range of luggage and travel essentials backed by the promise of exceptional quality and customer satisfaction. Away is headquartered in New York City, with teams in London and Toronto, and a global presence that is apparent in every airport. Boasting industry accolades like Fast Company's "World's Most Innovative Companies" and TIME's "Best Inventions," Away is the go-to authority for travelers today. For more information, visit www.awaytravel.com.
Source: Away Press Release