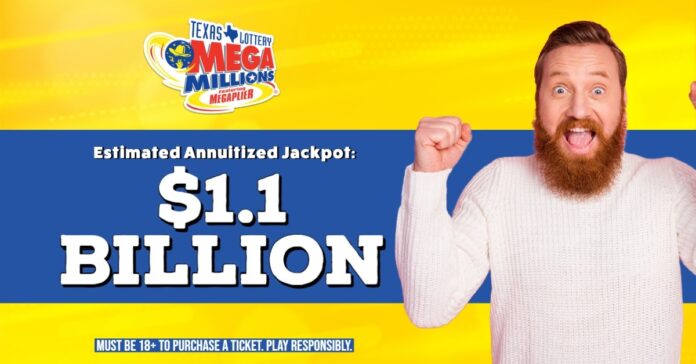 AUSTIN – For the fifth time in game history, a Mega Millions® jackpot run has surged past the billion-dollar mark as the jackpot for the Tuesday, Aug. 1 drawing has been raised to an estimated annuitized $1.1 billion. Tonight's jackpot is now the sixth largest in U.S. lottery history and ranks as the fourth largest in Mega Millions history. The jackpot prize offers a cash value worth an estimated $550.2 million. If there is no jackpot winner for tonight's Mega Millions drawing, the jackpot prize for the Friday, Aug. 4 drawing will roll to an estimated annuitized $1.25 b­­illion.
"The summer of jackpot fever continues into a new month, as Texas Lottery players are excited for the latest chance to play for a jackpot prize worth over $1 billion," said Gary Grief, executive director of the Texas Lottery. "While we're hoping that the lucky winner will be a Texas Lottery player, we want to remind everyone to play responsibly. Also, if it appears that you have the jackpot winning ticket, we encourage you to sign the ticket, put it in a safe place, seek financial and legal advice and call the Texas Lottery to schedule an appointment to claim the prize."
Tuesday's drawing will be the 30th in the current Mega Millions jackpot run since starting as an estimated annuitized $20 million for the April 21 drawing. This is the largest Mega Millions jackpot up for grabs since the Jan. 13 drawing when it reached an estimated annuitized $1.348 billion – the game's second-largest jackpot prize, which was won by an out of state player.
Texas has had 13 Mega Millions jackpot prize winners since it joined the game in 2003. Its most recent winner came in September 2019 when a Leander resident won an estimated annuitized $227 million prize. The claimant chose the cash value option and received $157,091,592 before taxes; the largest prize ever paid out to a single Texas Lottery player.
Since the start of 2023, seven Texas Lottery players have won second-tier Mega Millions prizes of $1 million or larger, including four during the current jackpot run. Most recently, an Anna resident claimed a second-tier prize worth $4 million for the Tuesday, July 25 drawing. Before that, a Dallas resident claimed a $1 million second-tier prize for the June 30 drawing; the ticket was sold in Austin. Prior to that a Houston resident claimed a $3 million prize for the June 16 drawing and a Corpus Christi resident claimed a $1 million prize for the drawing held on May 9.