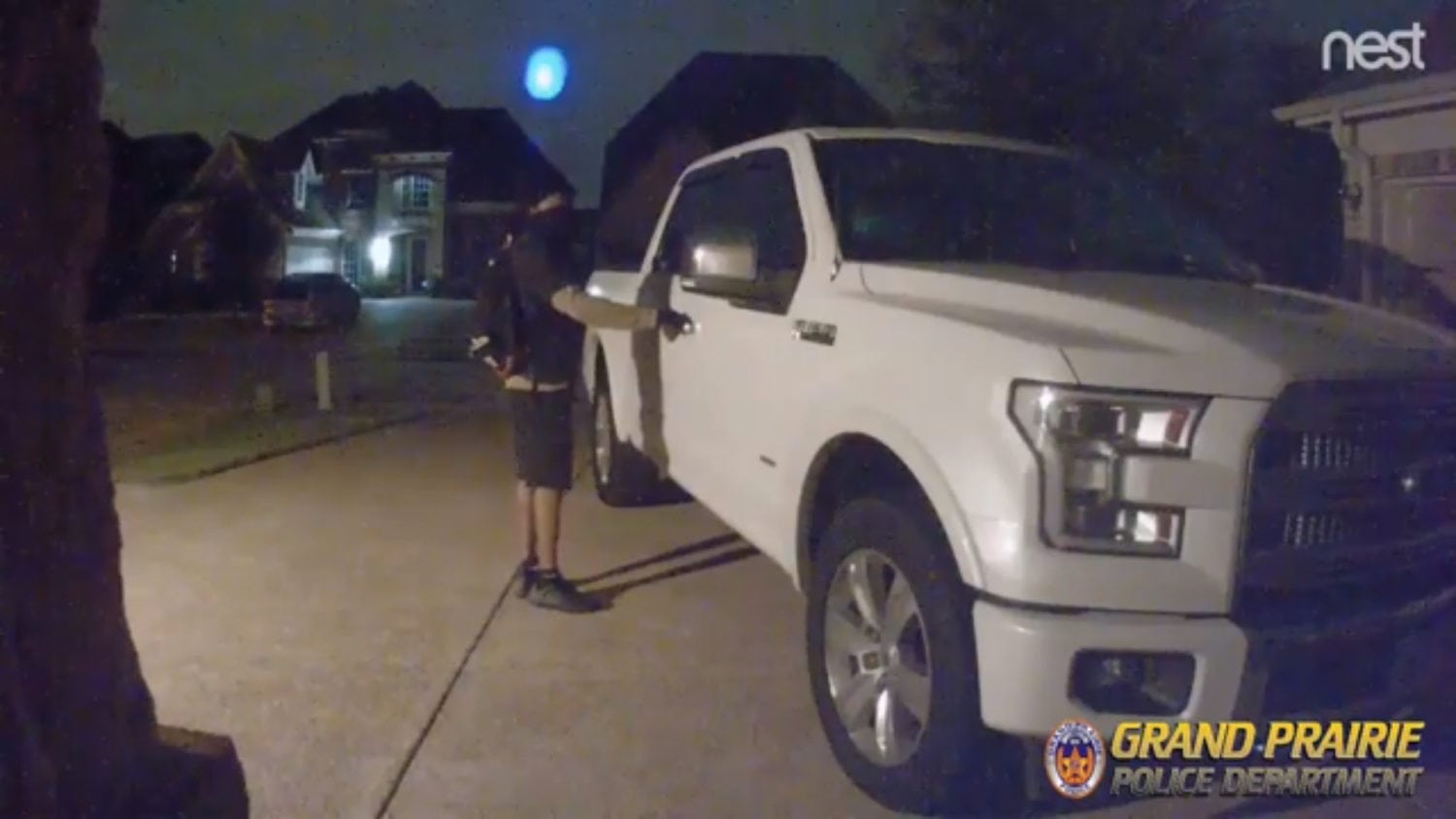 MANSFIELD—Detectives are on the trail of a suspected car thief that opened fire on a homeowner early Tuesday morning.
Patrol officers were called to a home in the 1600 block of Valleywood Trail around 5 a.m. Tuesday morning according to reports. Police say that the resident heard his car alarm going off and went outside to investigate only to find that not only was someone was trying to steal his truck, but the thief was armed.
The suspect fired several shots at the homeowner but missed.
After reviewing the home surveillance video, Mansfield Police now believe that the suspect could be connected to a car burglary in Grand Prairie earlier this month.
Mansfield police set up a large search area and used drones and a helicopter to search for the suspect. He was not located and the search area was deemed clear by 9 a.m.
The search had some impact on the morning commute. However, police communicated with residents in the area asking for understanding and warning them not to approach the suspect.
"If you live near Oliver Nature Park you have probably noticed police activity in the area. We are actively searching for a car burglary suspect in and around the park. The subject is described as a male wearing a striped hoodie carrying a backpack. Please call 911 if you see any suspicious activity. Do not attempt to apprehend the subject. He should be considered armed and dangerous," read a statement from the Mansfield Police Department official Facebook Page.
Grand Prairie Car Burglary Connection
In the Grand Prairie case, the suspect was caught on camera entering an unlocked vehicle in the 6000 block of Seascape Drive. He was wearing dark shoes with Nike ankle socks and had a distinct black backpack with a brown bottom, white reflective stripe, and a square tag.
Police believe a similar backpack was seen in footage from the Mansfield crime.
Grand Prairie police say the suspect has been seen riding a white bike with black wheels.
If you have any information, call Crime Stoppers at (972) 988-TIPS. A cash reward is offered for information leading to an arrest.