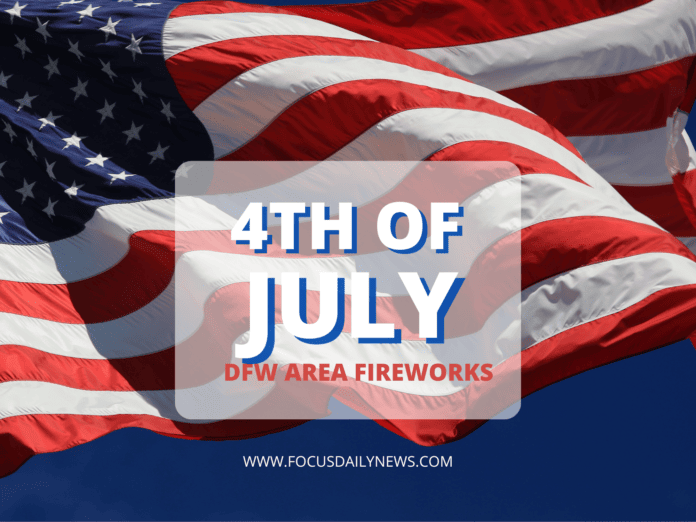 There are so many fun, free ways to enjoy 4th of July fireworks in DFW with friends and family. We have a round-up of cities celebrating the 4th of July with fireworks so you can make plans to celebrate the 4th of July.
Arlington-Light Up Arlington 2023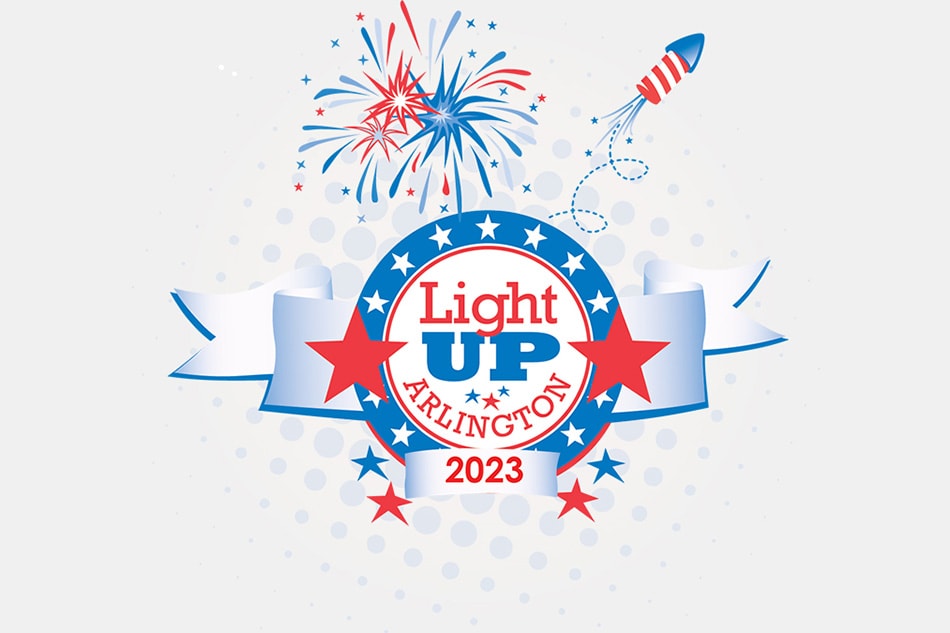 July 3, 2023 Festivities begin at 6 p.m. with fireworks scheduled for 9:50 p.m. Fireworks will be shot from the roof of City Tower, which is located east of City Hall.
Celebrate Independence Day in Downtown Arlington with live music, kid-friendly activities, food trucks and a spectacular firework display on Monday, July 3 followed by a red, white and blue, fun-filled parade the next day.
Festivities, which are free and open to the public, start at 6 p.m. July 3 at Parks and Recreation Department's 15th annual Light Up Arlington. This year's celebration, which encompasses 64 acres surrounding City Hall and the George W. Hawkes Downtown Library, includes some of the top musical acts in the Dallas-Fort Worth region, vendors, food trucks and plenty of kid-friendly fun.
Bands will perform at four stages around Downtown, starting with 6 p.m. concerts outside the Arlington Music Hall and at "Boomtown" outside of the Grease Monkey restaurant, a 6:30 p.m. concert outside of City Tower at 101 S. Mesquite St., and a 7 p.m. concert at Levitt Pavilion Arlington.
The bubble bus will be returning for the little ones at the Downtown Library. Vendors and at least 20 food trucks, featuring a variety of food and desserts, will be in the Downtown Arlington area.
A Children's Entrepreneur Market will be a new addition to this year's festivities. Through the market, kids gain real-world experience in creating goods, packaging them for sale, attracting customers and handling money.
The fireworks display, which lasts about 20 minutes, is scheduled to start at 9:50 p.m. and will be set to music on 95.9 The Ranch FM. Fireworks will be shot from the roof of City Tower, which is located east of City Hall. This year's event is sponsored by Texas Health Arlington Memorial Hospital, Rough Rider's Restoration & General Contracting, Hiley Mazda & Volkswagen, Downtown Arlington, Levitt Pavilion Arlington, Urban Union, and Sutton Frost Cary LLP.
Dallas
Fireworks at Fair Park July 4, 2023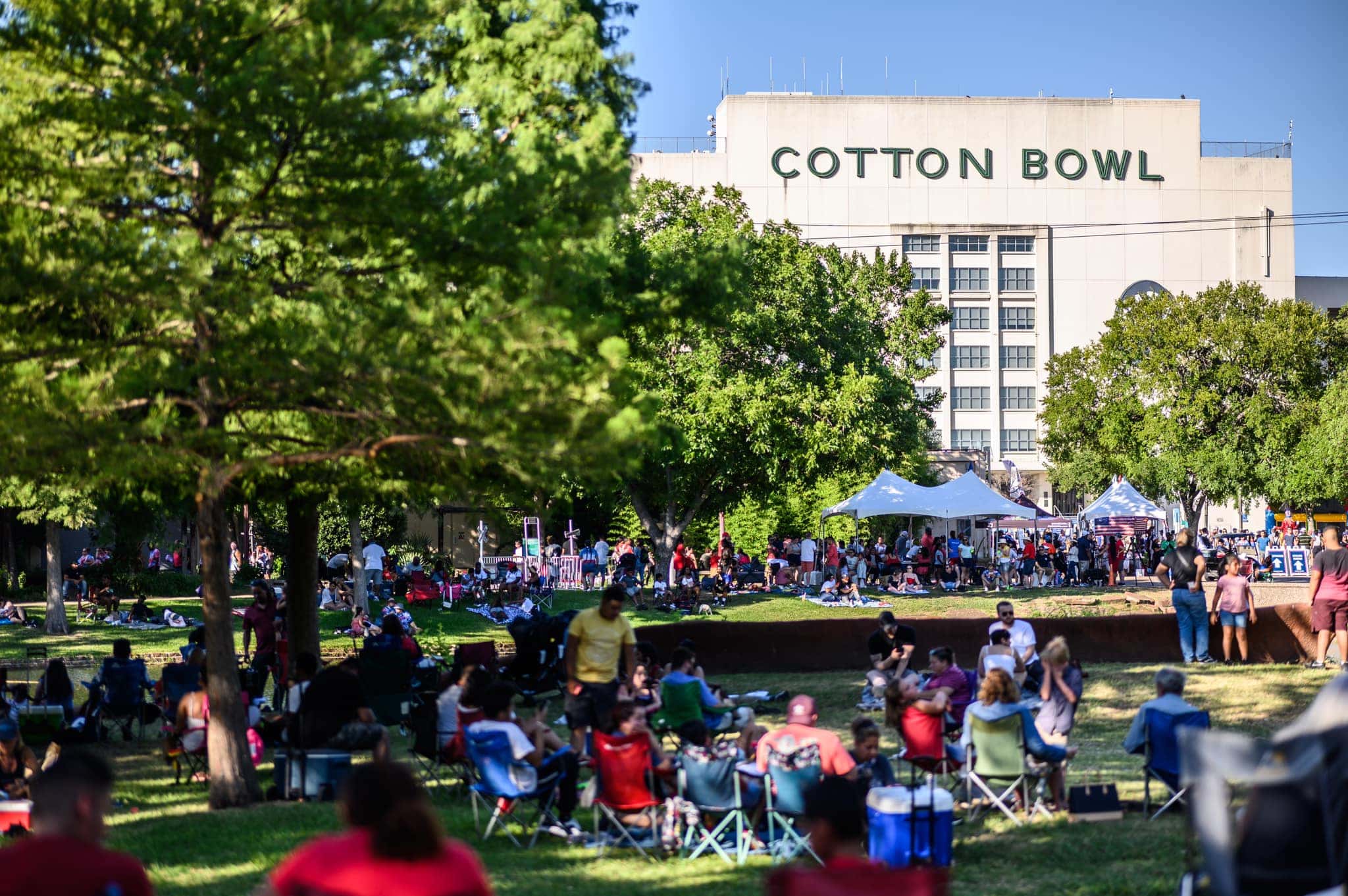 Fair Park Fourth, presented by Regions Bank, returns to Fair Park on Tuesday, July 4, from 4:30 p.m. until 10:00 p.m. for another year of community, fun, and fireworks!
Free and open to the public, Fair Park Fourth will feature hands-on activities for kids, local market vendors, live music, entertainment, food trucks, and other concession offerings. In addition to the fun-filled activations for all, Fair Park Fourth will light the sky with a spectacular firework show. Guests can experience the show from inside the iconic Cotton Bowl Stadium or across Fair Park.
Duncanville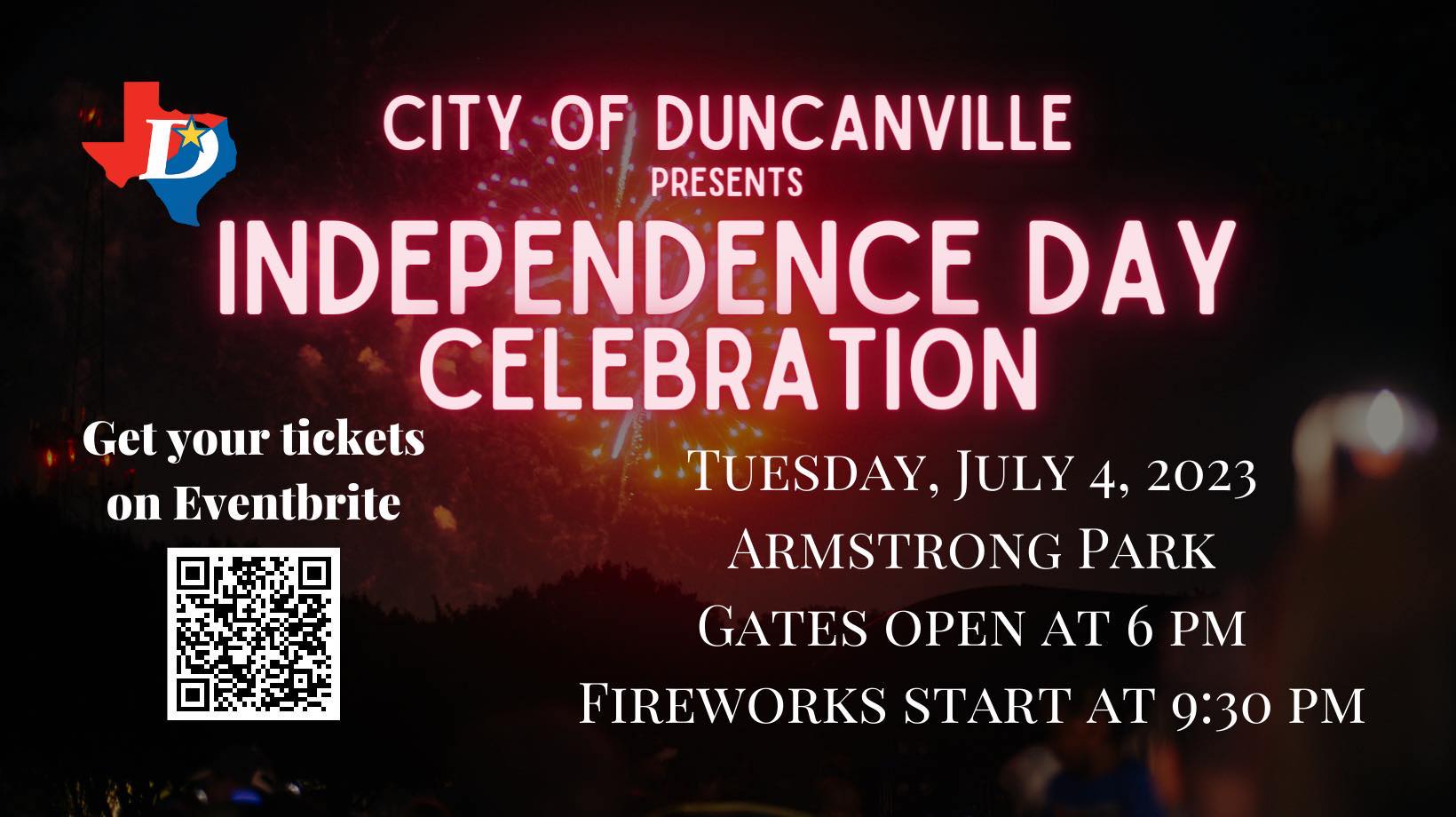 July 4 2023 Independence Day Celebration at Armstrong Park
Tuesday, July 4, at Armstrong Park for this year's Independence Day Celebration! The celebration promises to be a fun-filled evening for the whole family, with plenty of activities and entertainment. There will be vendors selling a variety of goods, as well as bounce houses for the kids to enjoy. Food trucks will also be on hand to satisfy hunger cravings. The band Extended Play will be performing live, adding to the festive atmosphere.
Gates open at 6:00 PM, and the fireworks display will begin at 9:30 PM.
Parade – 9:00 AM
Celebration – 6:00 PM
Fireworks – 9:30 PM
Extended Play is ready for one of the biggest shows of the year as they headline Duncanville's annual July 4th celebration! This is will be a funky good time!
Fort Worth 4th of July Fireworks

Admission is free. Food vendors will be on site offering hamburgers, hot dogs, turkey legs, corn dogs, street tacos, roasted corn, pizza, crawfish and more. For those looking for a sweet treat, snow cones and funnel cakes will also be available!
3:00 PM Parking Lots Open
5:00 PM Gates Open
5:00 – 8:00 PM Kids Activities / Swim Area
6:00 PM Trey & The Tritones on the Waterfront Stage
8:05 PM Coffey Anderson on the Waterfront Stage
9:30 PM Fireworks Show
Grand Prairie
Lone Star Park Fireworks July 3 & 4th
live music on the Courtyard of Champions Stage from 3-9 pm, featuring Vegas stars; and family activities like a petting zoo, pony rides, face painters, airbrush tattoo artists, inflatable slides, obstacle course, and games. Following the last race, is a 20-minutes fireworks show, choreographed to music.
Grapevine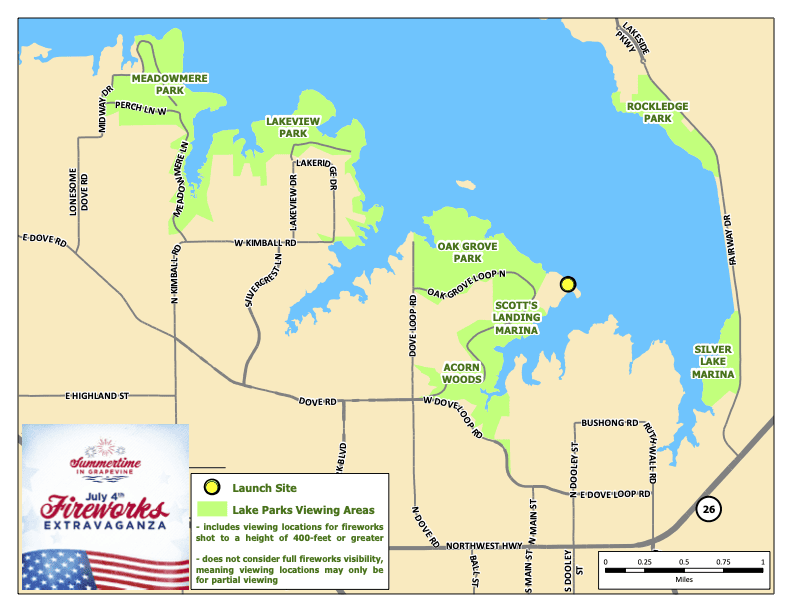 Fireworks begin at 9:30 p.m. on July 4th
Celebrate America's birthday at this year's July 4th Fireworks Extravaganza complete with spectacular fireworks set to patriotic music. Viewing locations include some of Grapevine's lakeside parks and are subject to change.
Oak Grove Park provides the most ample parking and the most places to find your perfect viewing spot! From the baseball fields, to the soccer fields, you can see the fireworks from almost any spot in Oak Grove.
One of the best viewing spots is just off of Oak Grove Loop North, just beyond the fence of the baseball fields.
The Oak Grove Softball Complex parking lot will open for fireworks viewing at 7 p.m., boater traffic only until then. Boat traffic only is allowed at the Dove Loop Ramp. No walk-in traffic allowed.
Lancaster Fireworks July 4 6-9 pm Lancaster Community Park
Join us for our 4th of July Celebration happening on Tuesday, July 4th from 6:00 p.m. – 9:00 p.m. at the Lancaster Community Park.
This event will be filled with Games, Food, and Fireworks that will begin at 9:00 p.m.
Enjoy live Performances from Carl Thomas & Keke Wyatt!! For questions or concerns call: (972)-218-3700.
Mansfield Fireworks Celebration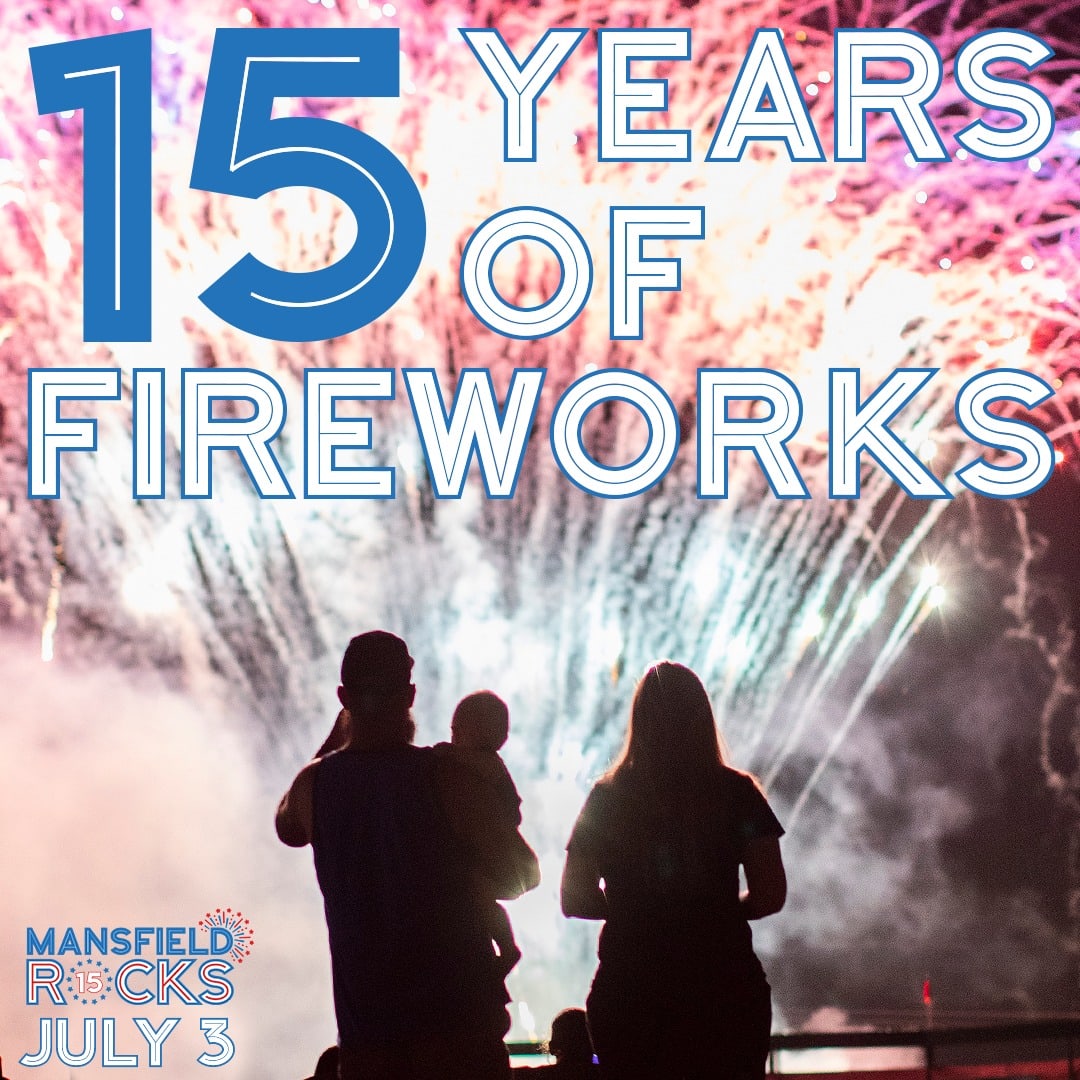 Mansfield Rocks July, 3, 2023 at Big League Dreams and Hawaiian Falls (500 Heritage Pkwy S.)
6:00 p.m. – Gates Open
6:00 to 8:00 p.m. – HANK FM Party Patrol at Hawaiian Falls
TBA – Hula Dancers at Hawaiian Falls
7:00 p.m. – Radio Edit at Big League Dreams
Approximately 8:45 p.m. – National Anthem and City Presentation at Big League Dreams
Approximately 9:00 p.m. – Fireworks
Midlothian 4th of July Fireworks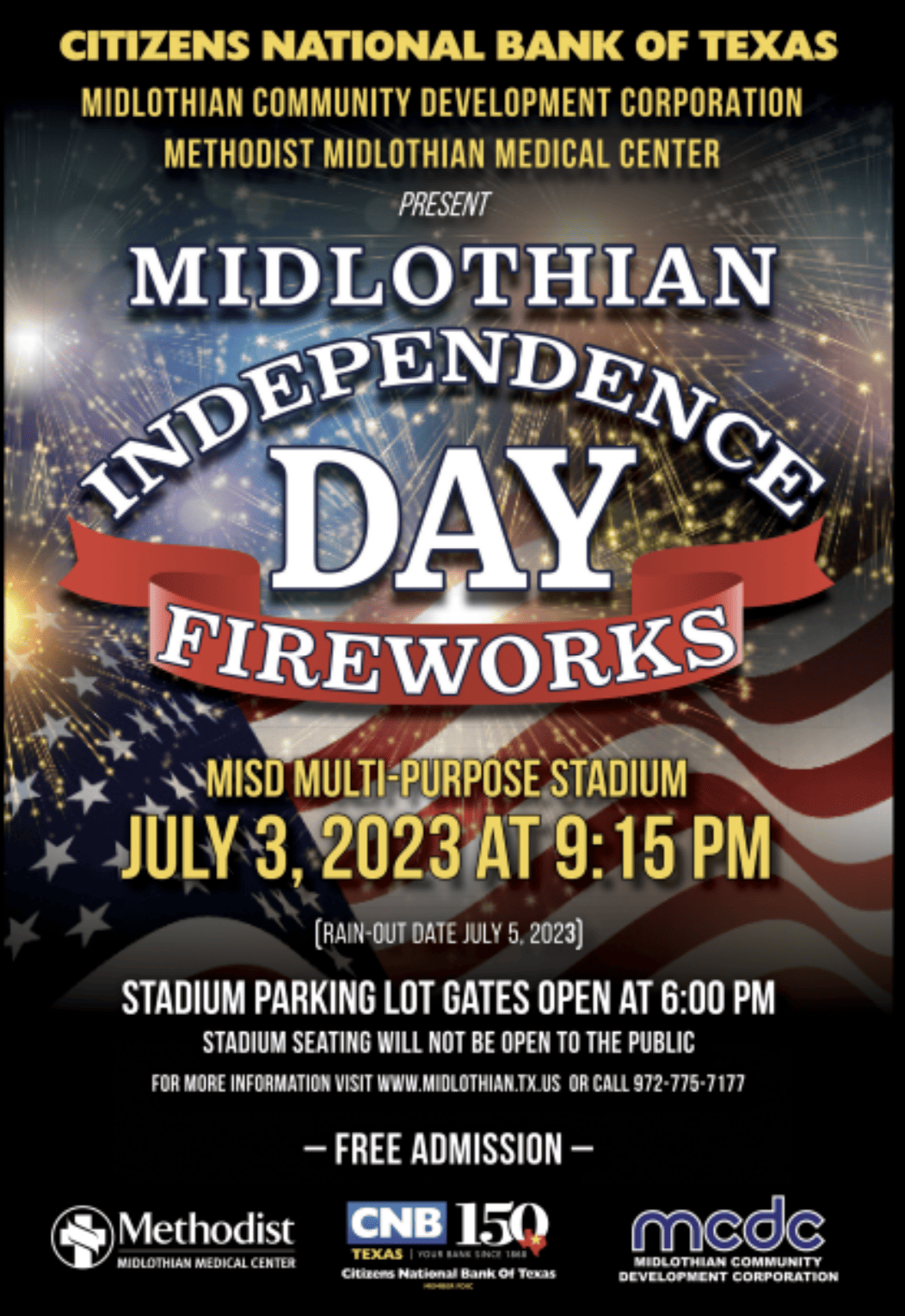 Monday, July 3, 2023 at 9:15 p.m. MISD Multi-purpose stadium
The show is staged in the field near the MISD Multi-purpose stadium and can be viewed from the stadium parking lot and surrounding vicinity. In the event of rain, the Fireworks Show will be postponed till Tuesday, July 5, at 9:15 p.m.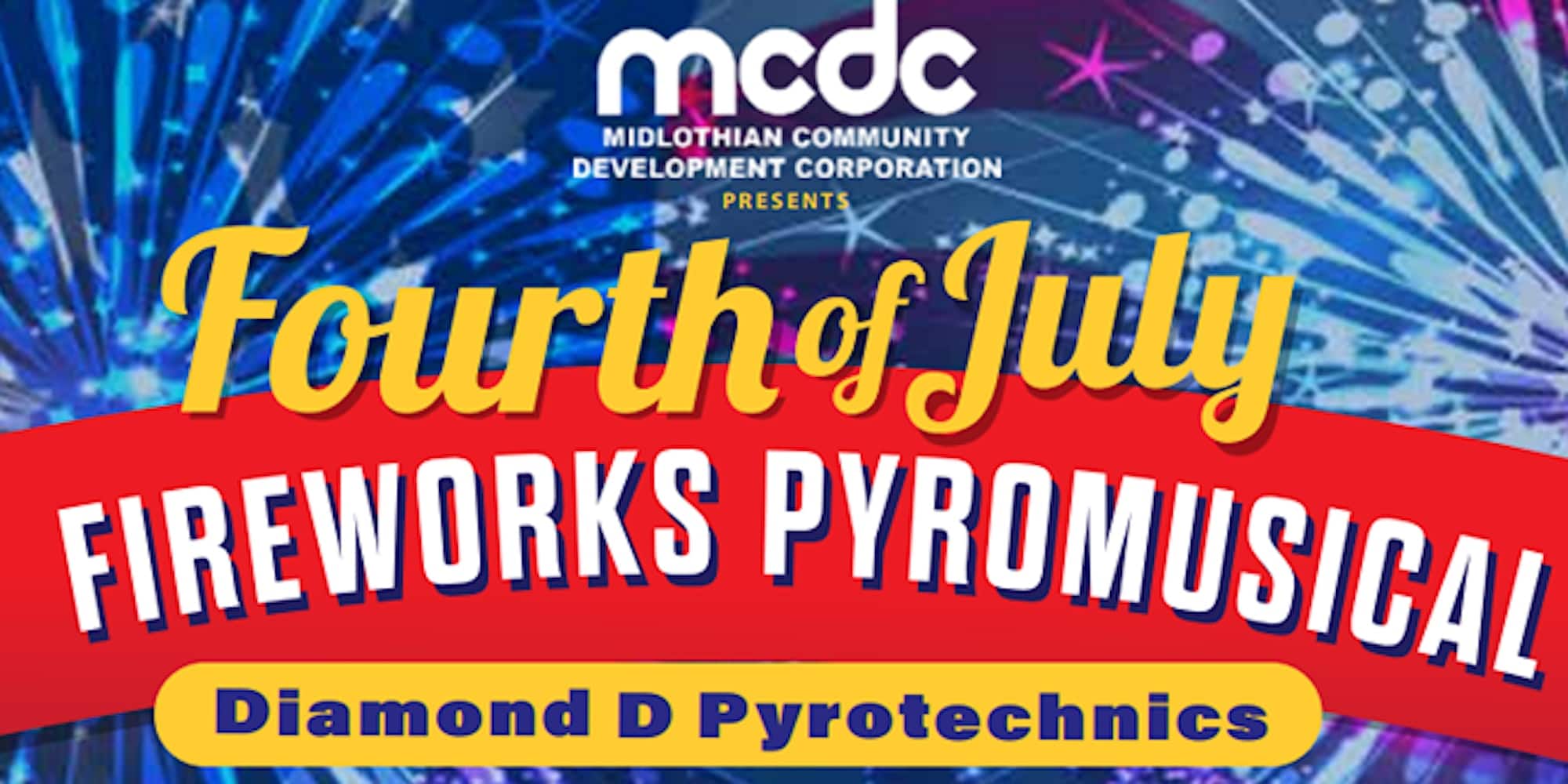 Tickets are $25 per car
Hear The Breckenridge Band live on the big stage.
Hosted by the Midlothian Community Development Corporation and Blaine Stone Lodge. Benefitting the Midlothian Masonic Scholarship Foundation. Sponsored by Texas Ace Heating and Air and Methodist Midlothian
Red Oak 4th of July Fireworks
Featuring a live DJ, bounce houses, mechanical rides, food trucks, freebies, and a spectacular Fireworks Display at Red Oak White & Blue. The City of Red Oak, in partnership with Citizens National Bank of Texas and the Oaks Church, is excited to once again host Red Oak White & Blue. This annual FREE family-friendly event takes place at Oaks Church (777 S I-35). At 9:30 pm a spectacular 15-minute firework display will be shot off behind the Oaks Church.
Onsite parking is available from 6:30 – 9:00 pm. Vehicles will not be allowed to enter the Oaks Church Parking Lots before 6:30 pm or after 9:00 pm. Please plan your arrival time accordingly.
Concrete Parking Lots will be filled first, with grass lots used as overflow if needed. Dedicated concrete parking for those with disabilities is available next to the event grounds. Please ensure your placard is visible so parking attendants can easily direct you to the correct location.
Waxahachie
Monday, July 3 6 p.m.: Crape Myrtle Festival Concert & Fireworks Show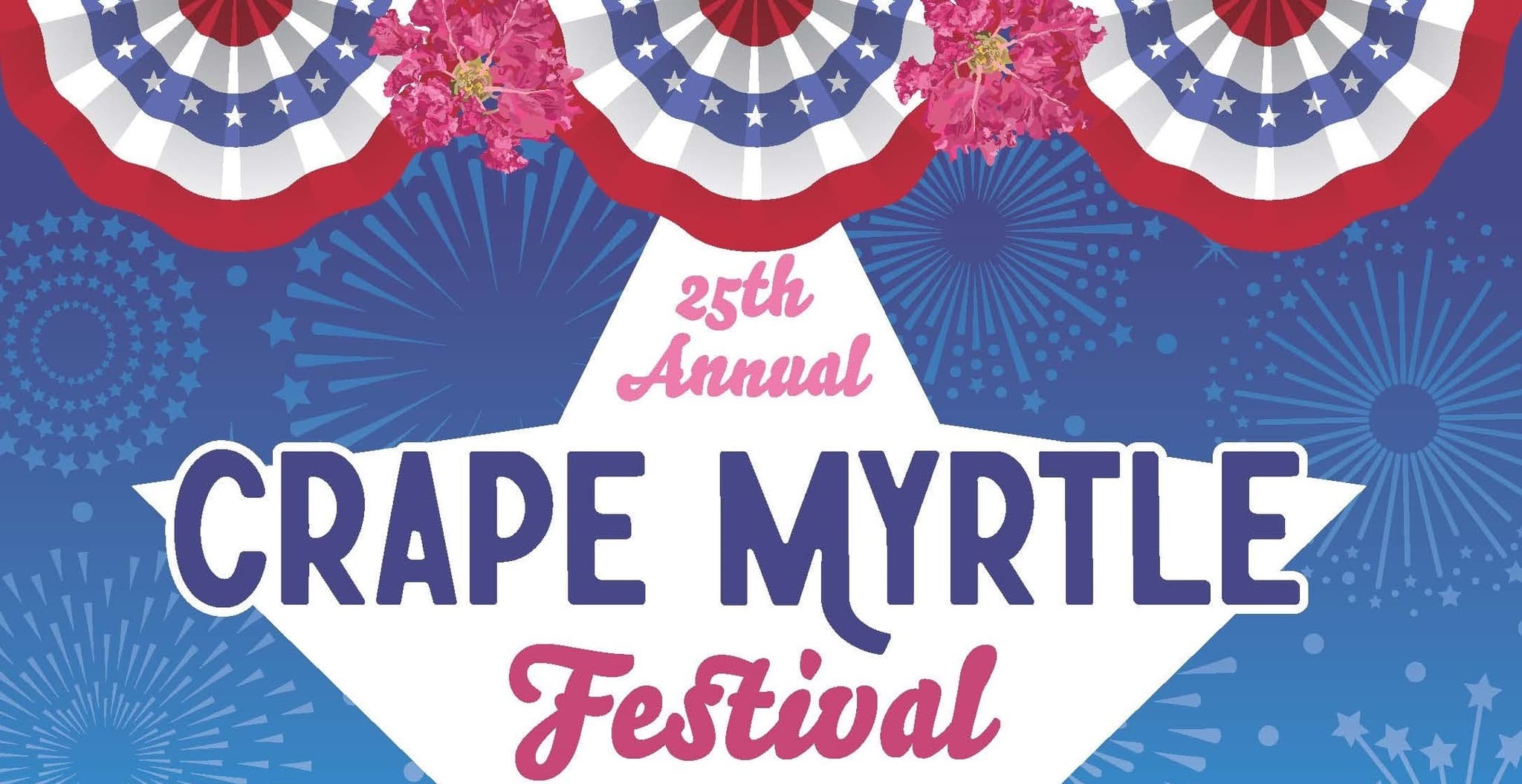 The patriotic celebration will begin on Monday, July 3, at 6 p.m. at the Waxahachie Sports Complex located at 151 Broadhead Rd. Madness Entertainment will entertain the crowd before the concert.
The KID ZONE will offer FREE activities for the children to enjoy at the Waxahachie Sports Complex from 6 pm-9 pm. There will also be a variety of food vendors for families to purchase from in the food court featuring Flavor After Flavor, Lollipops Little Red Wagon, Tommy's Hot Dogs, PaPi's Tacos, Good Directions BBQ, Prickly Boba Tea and Gelu Italian Ice DFW.
Spectacular H-E-B & City of Waxahachie Fireworks Show will also take place on Monday, July 3 at 9:15 pm. Fireworks will be launched at the Waxahachie Sports Complex.
Spectators are encouraged to tune their radio to KBEC 1390 AM/99.1 FM during the fireworks show for a special simulcast of patriotic music choreographed to the fireworks. Lawn chairs, blankets and coolers are allowed at the Waxahachie Sports Complex; however, personal fireworks are prohibited.