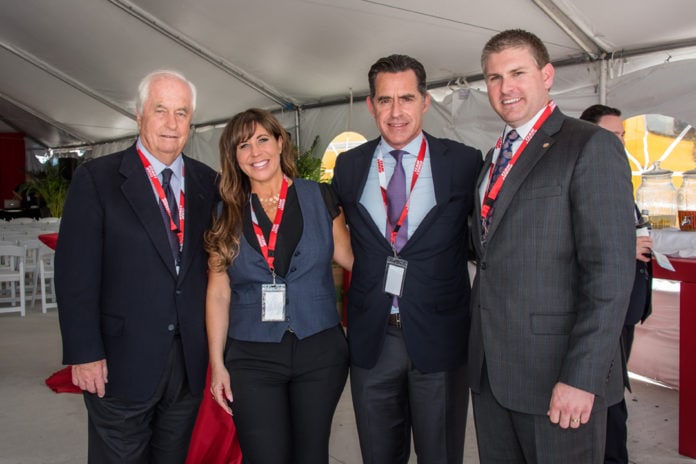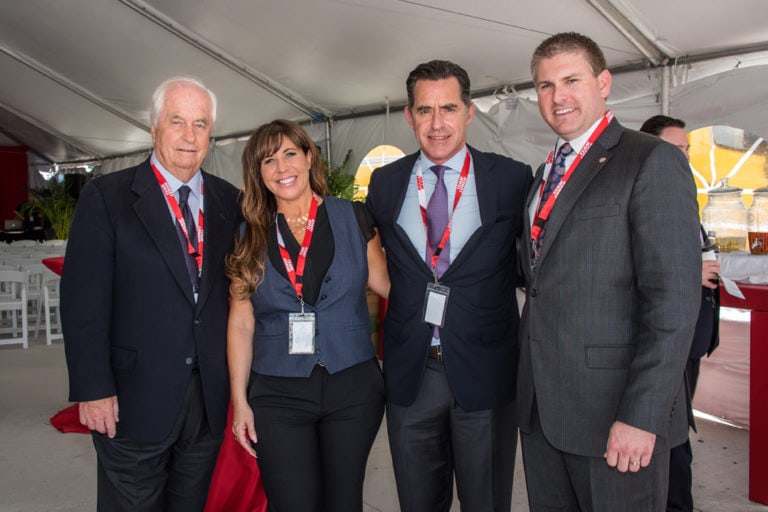 Dallas Welcomes Penske Motor Group
PROSPER, Texas – Penske Motor Group (PMG) marked its expansion into the Dallas market on March 21 with a community kickoff event and steel raising ceremony at the site of its newest dealership, Longo Toyota of Prosper – the first automotive dealership in the Town of Prosper. PMG is celebrating the 50th anniversary of its flagship dealership – Longo Toyota – and Longo's 50th consecutive year as the No. 1 Toyota dealership in the world by opening its first Longo-branded dealership outside of California. Invited guests who attended the event had the opportunity to sign the first steel beam being placed in the Longo Toyota of Prosper building.
During the ceremony, Gulf States Toyota, Toyota Motor North America and Penske Motor Group executives, as well as elected officials were on hand. Special guests in attendance for the event included Roger Penske, Chairman & CEO of Penske Corporation; Bob Carter, President of Toyota Motor Sales, USA; Jack Hollis, Group Vice-President and General Manager of the Toyota Division; and Pete Carey, Group Vice-President at Toyota Financial Services.
Speakers included Town of Prosper Mayor Ray Smith, Gulf States Toyota President Jeff Parent, Senior Vice-President at Toyota Motor North America, Bill Fay, Penske Motor Group Chairman and CEO Greg Penske, Penske Motor Group Executive Vice-President Doug Eroh, and Longo Toyota of Prosper Vice President and General Manager Kara Brinley.
North Dallas & Toyota Grow Together
"We are excited to see the growth the communities in North Dallas are currently experiencing and proud to be the first dealership in the Town of Prosper to serve this expanding population," said Parent. "It's very evident that Penske Motor Group is already a strong partner within the Toyota family, and we have no doubt Kara and her team will continue the proud tradition of providing the level of experience and service Toyota customers demand."
The new 61,000-square-foot facility will occupy 15 acres and is scheduled for completion in the fall of 2017. The building will be LEED certified and will feature an expansive showroom and guest lounge, an express service facility, a truck customization center, and a wellness program for its team members. Designed with the guest in mind, the dealership will provide convenience to Toyota owners in the Frisco and Prosper areas who currently drive long distances to acquire a vehicle or have their vehicles serviced, giving them a closer, more convenient option for all their vehicle needs.
"We look forward to the opportunity of serving the Town of Prosper and the communities of North Dallas, bringing our long-standing philosophy of great guest service to this area," said Greg Penske. "We are also grateful for the long-term partnership we have with Toyota and Gulf States Toyota and look forward to working alongside the other Toyota dealers in the Dallas/Fort Worth area to proudly represent the Toyota brand."
Longo Toyota in California is not only the No. 1 Toyota dealership in the world, but is also the No. 1 seller of Hybrid Electric Vehicles and will bring that knowledge and expertise to the Prosper market. Longo Toyota also employs a diverse work force and its team members collectively speak over 40 languages and dialects.
To ensure the dealership is meeting guest demand and creating the best guest experience, Longo Toyota of Prosper will hire nearly 70 team members from the Prosper area before they open this fall.
Other local economic contributions include partnering with a local general contractor, Crossland Construction, and subcontractors, as well as the use of local vendors and business partners for lighting, security, and service equipment.
Although Longo Toyota of Prosper is Penske Motor Group's first retail automotive dealership in Texas, the Penske family of companies is no stranger to the Dallas market. Through its affiliates – Penske Truck Leasing, Premier Truck Group – the Penske family of companies has more than 1,100 team members and business partners in the Dallas/Fort Worth Area.
The name Longo comes from the original owner of Longo Toyota – Mr. Dominic Longo – who passed away in 1985. The Penske family purchased the dealership from the Longo family that year and has owned it ever since while retaining the Longo name. Longo Toyota has sold over 593,000 vehicles during the time the Penske family