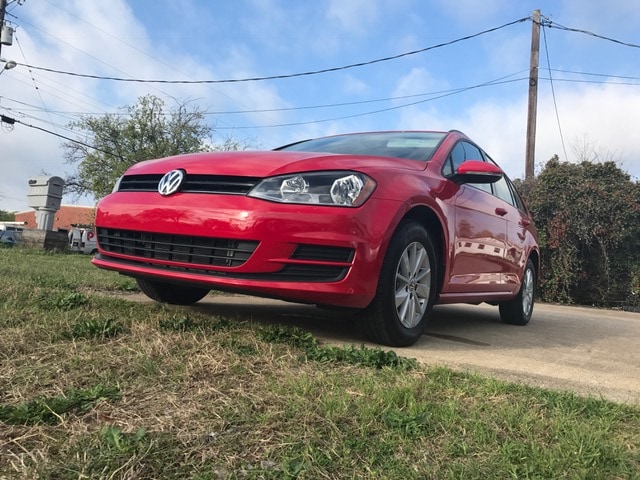 A Lot of Fun In A Wagon
The new 2017 Volkswagen Golf Sportwagen TSI S model is a vehicle you will buy, hold, and enjoy for the long term. At least the model I tested for a week is a vehicle to keep and enjoy. Why do I say that? The manual transmission gives it lots of pep. It makes it super fun to drive, and nimble off the line. It makes it hug curves. But, that manual transmission does something else as well.
A manual transmission makes your vehicle desirable only to people who know how to drive standards. True, those who love the sportiness of a standard want nothing else. On the other side of that coin, however, is the majority of Americans who can't competently drive a standard to save their soul. Everyone who can drive a standard can also drive an automatic, but many in today's world were taught on an automatic and have no clue how to drive anything else. Therefore, your trade in value is likely to suffer since the market for your vehicle could be significantly narrowed if you ever want to trade it in or sell it.
The question then begs – why in the world would anyone want to get rid of a vehicle that always answers the beck and call of your right foot when the left one pops off the clutch? No good reason, anyone who loves the way real drivers love to drive will say.
2017 VW Golf Sportwagen
I found the 2017 VW Golf Sportwagen very enthusiastic to the touch. The shift lever operated precisely as God intended with not a single instance of stalling out when that clutch was "popped." Ah, but would a good driver not have to worry about that because all standards shift smoothly even with a steady hand and foot? Yes. I have seen many a vehicle with a standard be a bit stubborn even when operated by a driver I consider to be experienced with manual. There was never a hint of stalling out, nor a problem finding gears, as one marched up and down from first to fifth and back.
It's easy to see why Volkswagen sales have surged, carrying them to a position of leadership. Performance and value like that exhibited in the $22,400 Sportwagen mean sales will continue to grow in future years.