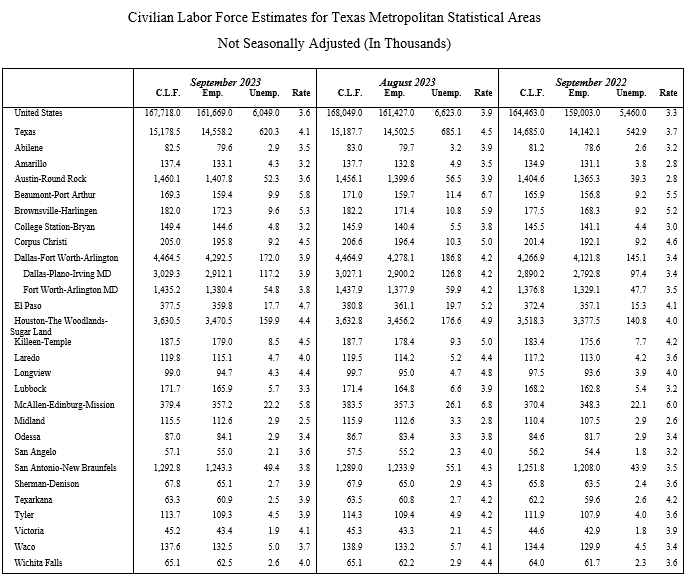 Lone Star State Surpasses 14 Million Jobs, Continues Growth Streak
AUSTIN ⎯ Texas' labor market achieved new record highs in September in terms of the job count, number of people employed, and number of people in the civilian labor force. Total nonfarm employment increased by 61,400 positions over the month to reach a 24th consecutive series-high level with 14,049,400 jobs and a 31st consecutive month of growth. Since September 2022, Lone Star State employment grew by 435,800 positions as Texas' annual growth rate of 3.2 percent outpaced the nation by 1.1 percentage points.
The seasonally adjusted number of employed persons increased by 26,900 people over the month, raising Texas' new record high to 14,515,800. The Lone Star State's seasonally adjusted civilian labor force also reached a new record high of 15,141,300 after increasing by 29,500 people over the month. The state's seasonally adjusted unemployment rate held at 4.1 percent for September.
"The Texas economy continues to grow, exceeding 14 million jobs for the first time," said Texas Workforce Commission (TWC) Chairman Bryan Daniel. "TWC supports this continuous job growth through a number of programs designed to ensure the Texas workforce continues to meet the needs of Texas employers."
Employment in nine of eleven major industries expanded over the month. Trade, Transportation, and Utilities saw significant growth over the month with 15,200 jobs added while the Professional and Business Services industry gained 14,900 jobs in September. Another 13,800 positions were added in Private Education and Health Services, and 8,000 jobs were tallied for Manufacturing.
"Texas has achieved growth across all major private industries by fostering a business environment that enables Texas employers, large and small, to thrive, grow and succeed," said TWC Commissioner Representing Employers Aaron Demerson. "TWC has a number of programs and initiatives like Texas Interns Unite! and the Skills Development Fund that help companies upskill their workforce, create new jobs and provide them with the support they need to bolster the Texas economy."
The Midland Metropolitan Statistical Area (MSA) maintained the lowest unemployment rate among Texas MSAs with a not seasonally adjusted rate of 2.5 percent in September, followed by Amarillo at 3.2 percent, College Station-Bryan at 3.2 percent, and Lubbock at 3.3 percent. Behind them, Odessa had an unemployment rate of 3.4 percent in September while Abilene maintained a rate of 3.5 percent. Austin-Round Rock and San Angelo both matched the U.S. unemployment rate of 3.6 percent. In addition, the civilian labor force in the San Antonio-New Braunfels MSA increased by 3,800 people in September and employment increased by nearly 10,000 jobs over the month. Employment in the Houston-The Woodlands-Sugar Land area grew by 14,300 jobs in September while the MSA's unemployment rate was half a percentage point lower than it was in the month prior.
"The record-setting civilian labor force of 15.1 million people enhances the state's economy," said TWC Commissioner Representing Labor Alberto Treviño III. "TWC strives to assist millions of Texans with in-demand, long-term careers as demonstrated by the increase of employed persons over the last several months."
Employment estimates released by TWC are produced in cooperation with the U.S. Department of Labor's Bureau of Labor Statistics (BLS).
*All estimates are subject to revision. To access this and more employment data, visit TexasLMI.com.
The Texas Labor Market Information Data for October is scheduled to be released on Friday, November 17, 2023, at 9:00 a.m. (CST).