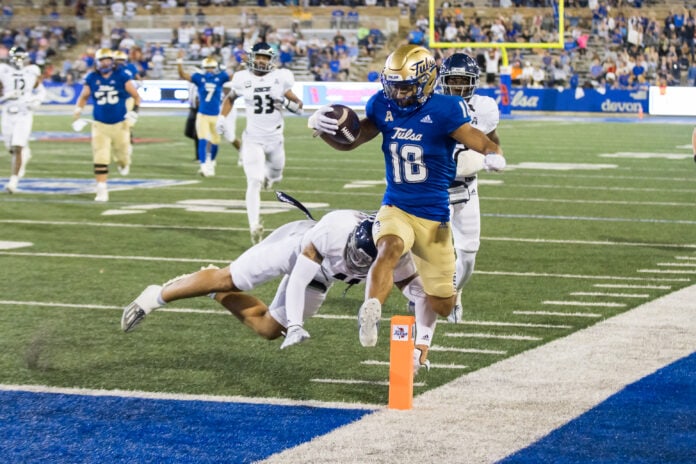 (CEDAR HILL, TEXAS) Kamdyn Benjamin followed his dream as a preferred walk-on at the University of Tulsa, an NCAA Division I school, over scholarship offers to smaller schools.
That's why one of the highlights of his career was finally earning that long-awaited scholarship.
"We were in the weight room one day, and the coaches said they wanted to talk to us," said Benjamin, a Cedar Hill High School Class of 2019 Graduate. "They announced they were putting me on scholarship. The whole team was there to celebrate with me. It was nice to know the hard work in practice didn't go unnoticed, and they saw me as a guy who could contribute to the team."
Benjamin, the son of Cedar Hill Athletics Director Melanie Benjamin and Cedar Hill Boys Track & Field/Wide Receivers Coach Kevin Benjamin, realized another career milestone on October 19 vs. Rice University.
Now a graduate student in his fifth season at Tulsa, Benjamin caught his first career touchdown pass – a 30-yard reception from quarterback Cardell Williams in the second quarter.
"It was great to finally get that first touchdown reception, and hopefully, there will be many more to come," said Benjamin, who finished with three receptions for a team-high 48 yards.
Melanie Benjamin has criss-crossed the country, leaving hours after a CHHS Football Game to head to Chicago, Miami or Seattle to watch her son play.
Next Saturday (October 28), several family and friends will be on hand when the 5-foot-9, 172-pound senior and the Golden Hurricane (3-4) visit SMU at Gerald J. Ford Stadium in Dallas.
"It will be really cool to make an appearance in front of all of them," Benjamin said. "I was a  special teams player the last time we played at SMU. Now, I have more of a role in the offense."
Benjamin is currently the Golden Hurricane's third leading receiver with 16 receptions for 270 yards. He has multiple receptions in his last six games, including a career-high 61 yards in a September 16 loss to then-No. 19 Oklahoma.
"I've been working and doing what I can to try to improve my game," Benjamin said. "I'm happy to be on the field and able to make plays."
After catching three passes for 18 yards last season, Benjamin is the clear front runner for the American Athletic Conference (AAC) Most Improved Player.
Benjamin, who graduated in the Top 10 of the Class of 2019, started taking college dual credit courses in high school. He managed to earn a Bachelor's Degree in Exercise Science in 2021. He's on track to complete a Master's of Business Administration (MBA) Program soon and still has a sixth year of eligibility – which he plans to use next year.
"My plan after college is to stick around sports – it's always been something that's been part of my life," Benjamin said. "I'd like to go into coaching as a Graduate Assistant. I may use my MBA Degree if the opportunity presents itself."
Benjamin is close with former Cedar Hill teammate Garret McGuire, who graduated two years ahead of Benjamin and is now the wide receivers coach at the University of Nebraska.
"He's definitely an inspiration – we grew up together and served as ballboys together," Benjamin said. "It would be great to work together in the future, if possible."
PATH TO TULSA
Benjamin began attending Bray Elementary in 2006 when Cedar Hill won its first State Football Championship. His father was an assistant coach on Joey McGuire's staff, and his mother was assistant athletic director.
He was in sixth grade at West Intermediate and seventh grade at Permenter when the Longhorns won their 2013 and 2014 State Championships, respectively.
By the time he got to high school, Benjamin's father was his position coach.
"Luckily, I enjoyed football because we talked about the game and watched film at home," Benjamin said. "It's awesome to have the support of my parents. I really enjoy and love their support."
Benjamin competed in Baseball, Track & Field and Powerlifting, but he also made it a point to be involved in a wide variety of activities. He served as Student Council Vice President and as Senior Class Historian.
Academically, Benjamin could have chosen just about any college in the country. His dream of playing Division I football drove him to Tulsa.
There was some uncertainty in eastern Oklahoma after the Golden Hurricane dismissed head coach Philip Montgomery. Benjamin had been there for four of Montgomery's eight years.
Montgomery landed as the offensive coordinator at Auburn, and the Golden Hurricane tapped former Indiana head coach (and former Oklahoma and Ohio State Offensive Coordinator) Kevin Wilson as head coach.
"It was an adjustment for everybody, but we opened Coach Wilson with welcome arms and did what was needed," Benjamin said.
In 2020, Benjamin returned to the Metroplex when the Golden Hurricane lost to Mississippi State in the Armed Forces Bowl in Fort Worth. A year later, he was in sunny South Carolina as Tulsa defeated Old Dominion, 30-17, in the Myrtle Beach Bowl.
He's hoping for a third bowl game in five seasons. The Golden Hurricane will have to win at least three of their final five games to make that a reality. The toughest game remaining on the schedule is a trip to #23 Tulane, the defending Cotton Bowl Champion, on November 11.