Takis® aims to reduce waste and promote alternative means of transportation with help from TerraCycle®
TRENTON, NJ ( March 13, 2023) – Takis®, the popular spicy rolled tortilla chip brand, has partnered with international recycling leader TerraCycle to gift bike racks made from recycled materials to 15 Dallas-area high schools. Each Dallas high school was also gifted $1,000 to their Environmental Club or a similar school-led environmental initiative.
A full list of the schools who received gifts follows:
·        Coppell High School
·        Keller High School
·        Timber Creek High School
·        Allen High School
·        Lewisville High School
·        Marcus High School
·        Flower Mound High School
·        Plano High School
·        Plano West High School
·        Grapevine High School
·        Colleyville Heritage High School
·        Arlington High School
·        Dallas Jesuit
·        Arlington Seguin High School
·        McKinney Boyd High School
"Toward the goal of a more sustainable future, Takis® has prioritized environmental efforts within our own practices and in communities across the country, and we are proud to partner with TerraCycle in that endeavor," said Cristina Lopez Sordo, Senior Brand Manager for Takis®. "As a Dallas-area company, we were especially thrilled to drive this goal forward with these local high schools, and are even more excited to continue similar initiatives to create change in 2023 and beyond."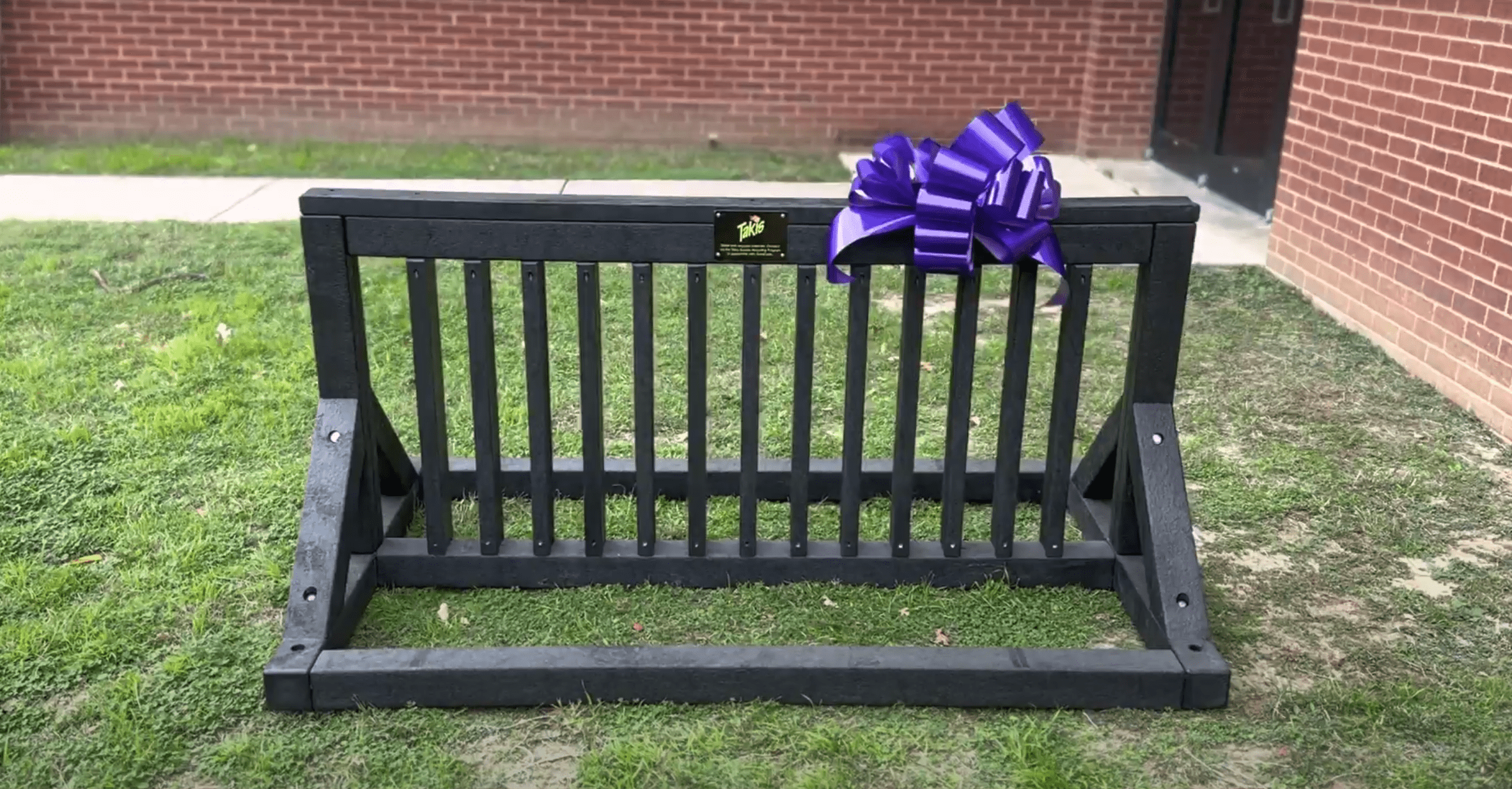 Taking this partnership to the next level, Takis® also collaborated with TerraCycle for the Takis® Snacks Free Recycling Program. Consumers are invited to create an account on TerraCycle.com, sign up on the Takis® Snacks Free Recycling Program page, and mail in the empty snack packaging using the provided prepaid shipping label. Once collected, the packaging is cleaned and melted into hard plastic that can be remolded to make new recycled products. For more information and sign up, please visit the TerraCycle program page terracycle.com/en-US/brigades/takis.
"Living a sustainable lifestyle doesn't stop with recycling, so TerraCycle and Takis® took it a step further," said TerraCycle Founder and CEO Tom Szaky. "It is our hope that the bike racks made from recycled material serve as a reminder of the possibilities our waste can have when we put our minds together."
The Takis® Snacks Free Recycling Program and the bike rack contributions are just the brand's most recent sustainability initiatives. In the pursuit of maximum efficiency, Takis® has implemented new technologies throughout its manufacturing process, including a heat exchanger that repurposes heat to reduce overall energy expenditures and cleaning techniques to reduce water consumption, among others.
The Takis® Recycling Program is open to any interested individual, office, or community organization. For more information on TerraCycle's recycling programs, visit www.terracycle.com.
About Takis®
Takis® is the most well-known brand of Barcel USA, the U.S. snack division of Grupo Bimbo, the world's largest baking company with operations in 33 countries. Barcel USA is an exciting, young and fast-growing consumer packaged goods company headquartered in Coppell, Texas, with a strong presence in the largest markets nationwide. Takis® snacks are not ordinary; they are the most intense snacks in the world. With different varieties such as Takis® Rolled Tortilla Chips, Takis® Stix, Takis® Waves, Takis® Chippz and Takis® Hot Nuts, Takis® snacks are for the strong, brave and daring. Visit us at www.barcel-usa.com/Takis
About TerraCycle
TerraCycle is an international leader in innovative sustainability solutions, creating and operating first-of-their-kind platforms in recycling, recycled materials, and reuse. Across 21 countries, TerraCycle is on a mission to rethink waste and develop practical solutions for today's complex waste challenges. The company engages an expansive multi-stakeholder community across a wide range of accessible programs, from Fortune 500 companies to schools and individuals. To learn more about TerraCycle and join them on their journey to move the world from a linear economy to a circular one, please visit www.terracycle.com.