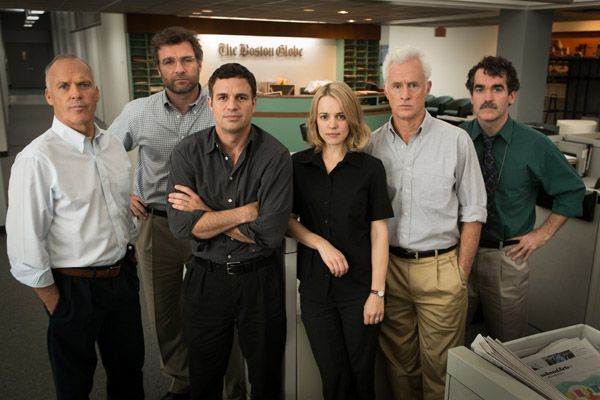 Spotlight Movie Review: Based On A True Story
Open Road Films' "Spotlight" opened Friday, Nov. 13 in limited release in area theaters including the Angelika Dallas and NorthPark. A suspenseful drama written by Tom McCarthy and Josh Singer and directed by McCarthy, the film is rated R and runs 2 hours 7 minutes.
This film, covering the Boston Globe's Pulitzer Prize-winning team of reporters and editors who uncovered numerous cases of child abuse by priests in 2001, is the best film I've seen this year. In spite of a high level cover-up, the Spotlight team from the Globe refused to back down from doggedly pursuing this important story that had been virtually ignored by the Catholic Church.
This story is all the more riveting because it's true. Even though we know the outcome, the suspense escalates to an almost unbearable crescendo as this horror story unfolds. What was initially thought to be a few "rotten apple" priests turns out to be closer to 100, and that's just in their neighborhood. It's not just the church and its leadership that kept this outrage buried, but high-ranking legal and government officials were also involved in the cover-up.
"Spotlight" stars a terrific ensemble cast led by Michael Keaton as editor Robby Robinson, with his Spotlight investigative team featuring Mark Ruffalo as Michael Rezendes, Rachel McAdams as Sacha Pfeiffer, Brian D'arcy James as Matt Carroll, and John Slattery as Deputy Editor Ben Bradlee, Jr., who oversaw the Spotlight team. Liv Schreiber plays the new Executive Editor, Marty Baron, who started the ball rolling on the story.
Other standouts in the film include Stanley Tucci as Mitchell Garabedian, an independent attorney who's fought tremendous odds for years in trying to win settlements or a day in court for the victims and their families; Billy Crudup and Jamey Sheridan are also attorneys who were involved in the investigation. Neal Huff is also compelling as a victim who started an organization called SNAP for other victims of abuse, while kindly Len Cariou (best known for his ongoing role as the Senior Reagan in "Blue Bloods") aptly demonstrates the benevolent influence enjoyed by Cardinal Law.
The film doesn't give its reporters super powers, but instead shows how hard work and plain, old-fashioned knocking on doors—and listening to people–can slowly unravel even the most intricate web. Far from being a glamorous job, their investigative reporting was tedious and time-consuming, taking a toll on them as well as their families.
Amazingly, once the Globe broke the story early in 2002 it quickly became evident this was only the tip of the iceberg. Incidents of child abuse and resulting cover-ups came to light all over the world. In the Boston area alone, there were over 1,000 victims who came forward following the story.
"Spotlight" shines a light on what journalists—or any of us who want to help make the world a better place–can accomplish when they refuse to be intimidated by an abuse of power.