GLENN HEIGHTS—Sometimes you have to know when it is the right time to move on.
That's what current Glenn Heights City Manager Aretha Ferrell-Benavides has decided to do. Several weeks ago, the City Manager gave the Glenn Heights City Council her letter of resignation.
Ferrell-Benavides will head to Petersburg, Virginia. She describes her future post as "… a great council, but one that has experienced some real problems."
Those problems include a $70 million budget and over 600 employees. Ferrell-Benavides said she felt it was a "real step up" to take this position.
It's also a salary increase.
"Given the larger size and budget of the community I will make more than I currently make in Glenn Heights," she said. "My contract is scheduled to be approved by Council in Petersburg next week. The salary range for the position goes up to $204,638 annually."
Ferrell-Benavides was courted by three different cities. In the end, she says that Virginia was the "best overall fit."
She said "What sold me most were the council and Mayor. They are great."
She was approved unanimously and will begin life and work in her new home on July 20, 2017.
Work In Glenn Heights
Ferrell-Benavides served the City of Glenn Heights for three years. She came from Washington, D.C.
She also held positions like the Chief Operating Officer for the District of Columbia Department of Parks and Recreation; Chief of Staff for the Office of the Deputy Mayor for Children, Youth, Families and Elders; and Director for the Office of Neighborhood Action; the Community Empowerment Cluster.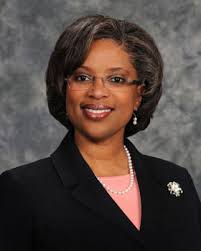 She celebrated her second anniversary as the City Manager in Glenn Heights in April of this year. It was in April 2015 she was appointed the Interim City Manager, after serving as the Deputy City Manager since July 2014. On May 19, 2015, Ferrell-Benavides was appointed as the official City Manager.
"Following my second anniversary with the City I decided to check my marketability against current City Manager jobs available," she explained. We have done a lot in Glenn Heights over the years, but since joining I have not been open to looking at other opportunities, thus I had not applied for other positions."
During her tenure with the City of Glenn Heights, Ferrell-Benavides made many positive changes. She notes that upon her arrival, there were many issues to address.
"When I joined the City of Glenn Heights, internally there were several executive vacancies including the Directors of Finance and of Planning. Organization and accountability were missing and morale was low," she said. "Technology being used by staff was outdated or not being used to its full capacity. Finally, the city's budget was approved depending heavily on Reserve Funds to balance the budget. The city was struggling to control the rising cost of employee health care. Relationships among staff were strained and there was an absence of trust throughout the organization."
Municipal Improvements
Externally, construction was resuming within the city, however many projects were merely progressing through the pipeline. Ferrell-Benavides felt that citizen engagement was limited to a few key programs including the annual Family Festival, Mayor's Essay Contest and Community Clean-up.
Construction had virtually stopped in many planned developments that were authorized with multi-phased plans left dormant for years.
Now, three years later, the outgoing City Manager says, "The greatness of our organization is seen daily. From the quality of the employees to the infusion of technology in the city's operating systems. Programs are in place to support our residents and community in such needed areas as the Senior Citizen Water Billing Program and the Rental Registry Program. We have about 85 seniors enrolled in the alternative billing program and these programs reflect increasing the quality of life standards."
The city also saw itself through a severe tornado during her administration. In December, 2015, an F3 category tornado destroyed homes and businesses along the northern border of town making Christmas of 2015 less than merry.
A survey report said 122 structures were impacted. Among those, 32 buildings were totally destroyed.
Improvements have been made on the financial front as well. Glenn Heights has increased its Reserve Funding with three consecutive balanced budgets. In addition, the city has increased revenue over the past three years by over 30 percent, all with Ferrell-Benavides at the helm.
In a nutshell, she has brought financial and developmental improvements, operational automation, community engagement and general transformation to the city.
"I just want to thank all the staff, Council and regional leaders for supporting me over the past years," Ferrell-Benavides concludes. "I have learned and gained so much from my time working here."