Duncanville Independent School District now has its own police department. DISD board chair Janice Savage-Martin administered the oath of office to the new DISD Chief of Police, Chavela Hampton, at the Nov. 12 meeting of the Board of Trustees.
Following the dissolution of Dallas County Schools, the agency that previously provided officers for the district, various options were explored. It was decided that having their own police department was the best way to provide safety and security for the district.
After voters approved the Tax Ratification (or Penny Swap) election in September, it became possible for Duncanville ISD to form their own district police department.
Chief Hampton, with 27 years of experience in law enforcement, spent 23 years with Arlington Police Department. A single mom with one son, Chief Hampton lives in the DeSoto/Cedar Hill area. She was a deputy police chief in Arlington when she was hired by Duncanville ISD to help create a new police department last August.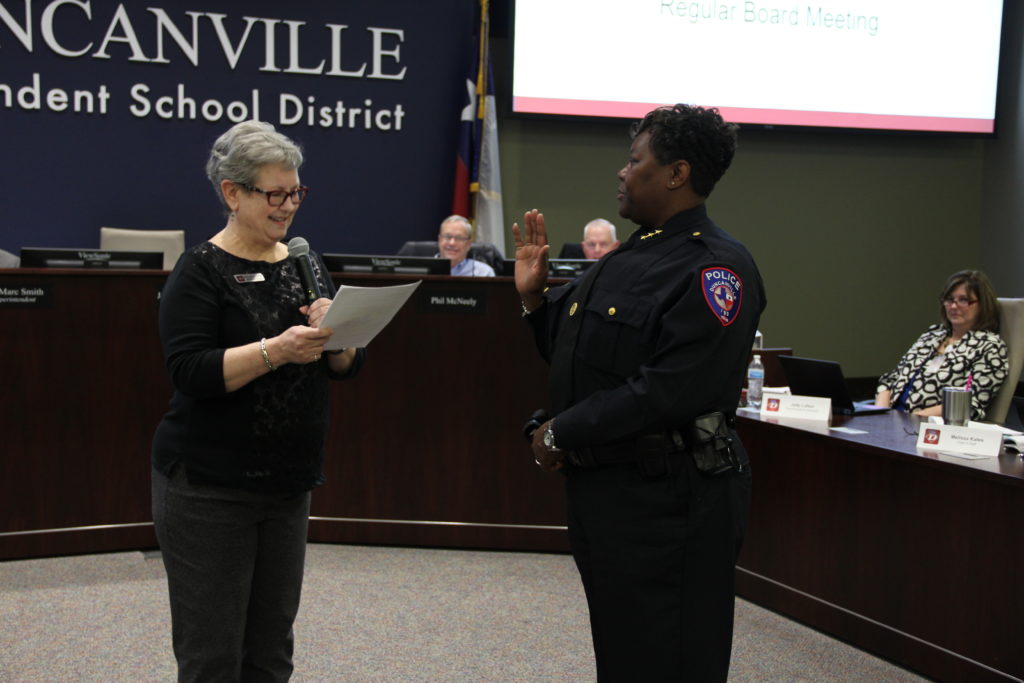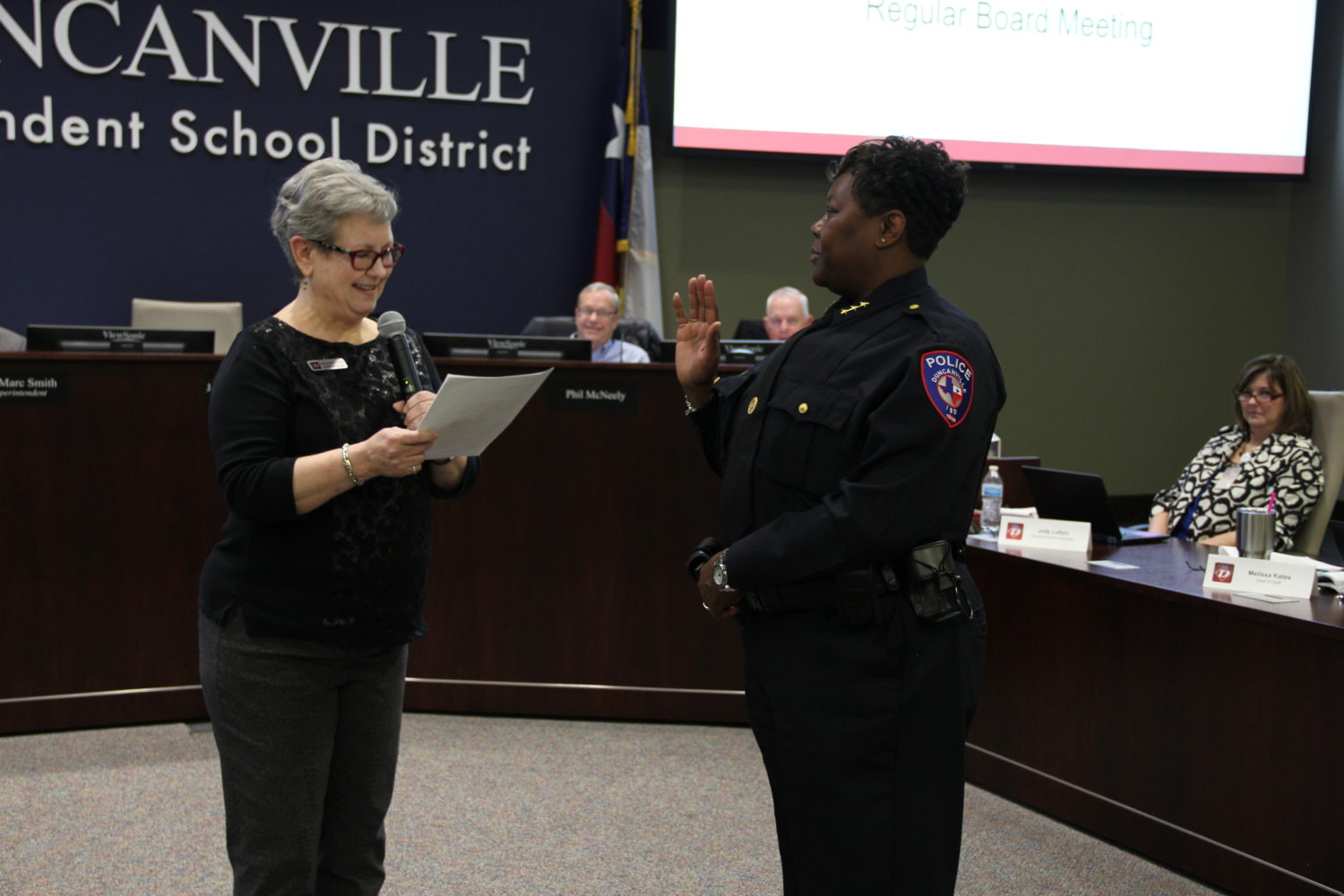 At the Board of Trustees meeting, Chief Hampton also administered the oath of office to her new team: Sergeant Mitchell Lambert, Sergeant Kristopher Dossey, and Police Officer Chris Russell. Duncanville ISD Police Department is currently headquartered in temporary offices at Duncanville High School.
Chief Hampton says the board has plans to move the department over to the old DISD administration building on Main Street in the future. There are 18 schools in the Duncanville Independent School District.
Duncanville ISD Police Chief Chavela Hampton Establishes Procedures
Her biggest challenge, Chief Hampton said, "has been building the newly formed department from the ground up. Everything from establishing operating, administrative, and management policies and procedures to establishing and implementing a police officer recruitment and hiring process. I've spent countless hours working with the Department of Public Safety, Texas Commission on Law Enforcement (TCOLE) and other internal/external entities to set up profiles and accounts for others to recognize Duncanville ISD Police Department as a law enforcement agency."
"I'm blessed to have obtained from Arlington Police Department the knowledge and skillset necessary to successfully advance to the point where we are now," Chief Hampton said. "Plus working with other law enforcement agencies and county agencies creating Interlocal Agreements/Memorandum of Understanding (MOU) to establish who has authority for such things as who makes arrests, issues citations, etc."
Chief Hampton said, "I am very proud to be a part of the Duncanville ISD Family. Whether in a school environment or patrolling the streets of Arlington engaging the youth has always been a passion of mine. It's very rewarding knowing that I played a significant role in 'Making A Difference' – a positive impact in the life of a young person. My team and I have plans on moving the district to the next level as it relates to Safety and Security."