My husband's favorite event takes place this week and he's lamenting the fact that he won't be there. The 51st annual Terlingua Chili Cook Off is a storied event, turning the sleepy Ghost Town of Terlingua into a bee hive of activities Nov. 2-5. Aromas from many bowls of red waft enticingly over two campgrounds.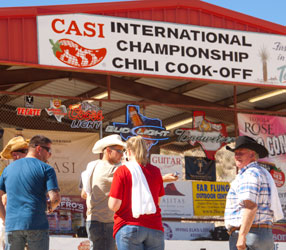 Last year, my husband helped judge the semi-final rounds for the 50th anniversary CASI sanctioned Terlingua International Championship Chili Cook Off. The CASI Chili Cook Off is actually a short distance from Terlingua, on Rancho CASI de los Chisos. It began in 1967 as a publicity stunt for Frank X. Tolbert's book, "A Bowl of Red," and race car driver/Mustang designer Carroll Shelby's west Texas real estate ventures.
A rebel competition started when Tolbert and Wick Fowler split off in 1983. Called the Original Terlingua International Championship Chili Cook Off, it takes place in Terlingua. Each group of chili heads claims theirs as "the real Terlingua Chili cook off."
Contestants, team members, family, friends, and camp followers flocked to both events from all walks of life. Some came in deluxe RVs, while others camped out in tents. For a $40 gate fee they could stay all day, or all week. Serious chili heads set up their campsite early in the week, so by the time we arrived on Thursday, the party was in full swing.
Country music bands played nightly, and the after party at Krazy Flats drew crowds Thursday-Saturday nights. Headliners like Prophets and Outlaws played last year. Cowboy Camp is the party place at Terlingua cook off; their big draw is free grub and booze plus music.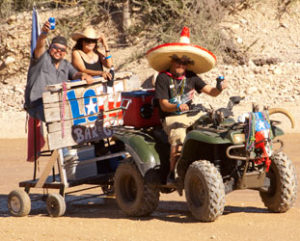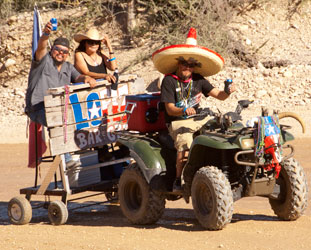 Chili Heads Love To Party
The party paused only slightly during daylight hours, with impressive amounts of beer and other adult beverages still consumed by cooks and spectators alike. One former champion said winning ingredients included burned beef, peppers, broth, secret spices, and a shot of tequila for the cook.
For the CASI cook off, categories were added for salsa, buffalo hot wings, and beans. But the main dish was chili, usually made with beef, with no beans and lots of hot peppers. The darker the shade of red the better.
Festivities were in full swing shortly before judging on Saturday at CASI cook off. Several rows of carnival-type attractions set up on the campground showcased different teams. They competed for showmanship awards through skits, songs, fortune telling, and games with prizes. I won a wooden 50th anniversary Terlingua Chili Cook Off sign that we haven't found a place to hang yet. Costumed characters ranged from Gator Guy to other swamp critters, Pink Pig Lady and Dixie Chili Chicks.
The judges missed most of these festivities since they were busy tasting batches of chili. My husband said those that made it to semi-finals were so good it was hard to choose finalists. We took a carefully-wrapped pint of chili home with us, and it was yummy. But I had to eat most of it by myself. After all that tasting, he was through with chili for a while.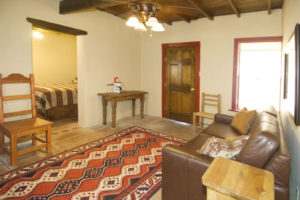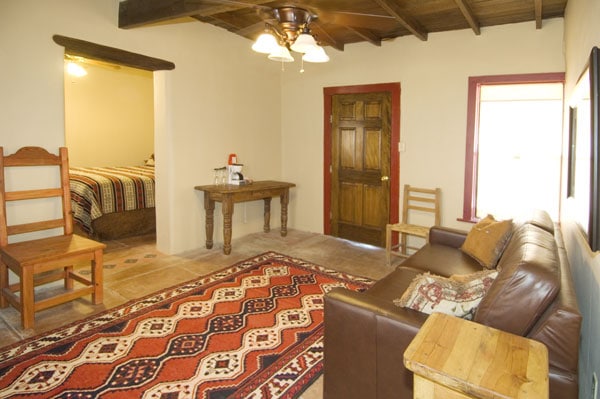 This year we took a September trip to Big Bend National Park, 30 miles from Terlingua. We spent a night in the historic ghost town's Holiday Hotel (bigbendholidayhotel.com). We loved staying in the spacious El Patron Suite, where we learned there are no telephones or television sets in the hotel rooms. Time to unplug, although there is free wi-fi.
Terlingua (ghosttown.texas) didn't look much like we remembered from the year before, when it bustled with chili lovers and hangers-on. Once the site of a successful mine operated by Chisos Mining Company, now Terlingua's a visit to the past. Visitors can explore miners' homes, their church, and the owner's decaying mansion (although rumor has it the mansion will be restored soon). Admission to the ghost town is free.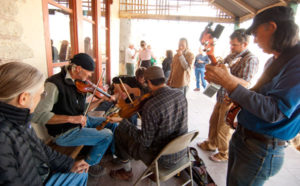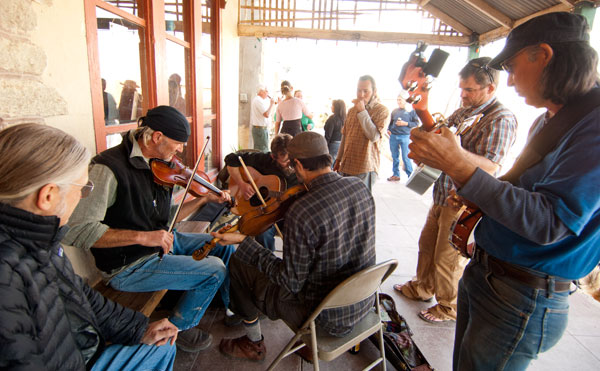 While there was plenty to see and do there, including lots of old ruins and fossils, most people we met had come to relax and do nothing. Especially the people on The Porch, outside the Starlight Theatre Restaurant and Saloon. Folks gather nightly to watch the sunset, chat and play music.
Besides providing a great getaway from modern day civilization, there is surprisingly good food and entertainment in this tiny town of less than two dozen permanent residents. The Starlight Theatre (thestarlighttheatre.com) provides nightly live entertainment by country musicians. They also serve terrific food like the tender beef filet I had, or my husband's giant pork chop, delicious but big enough for two.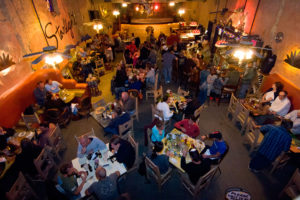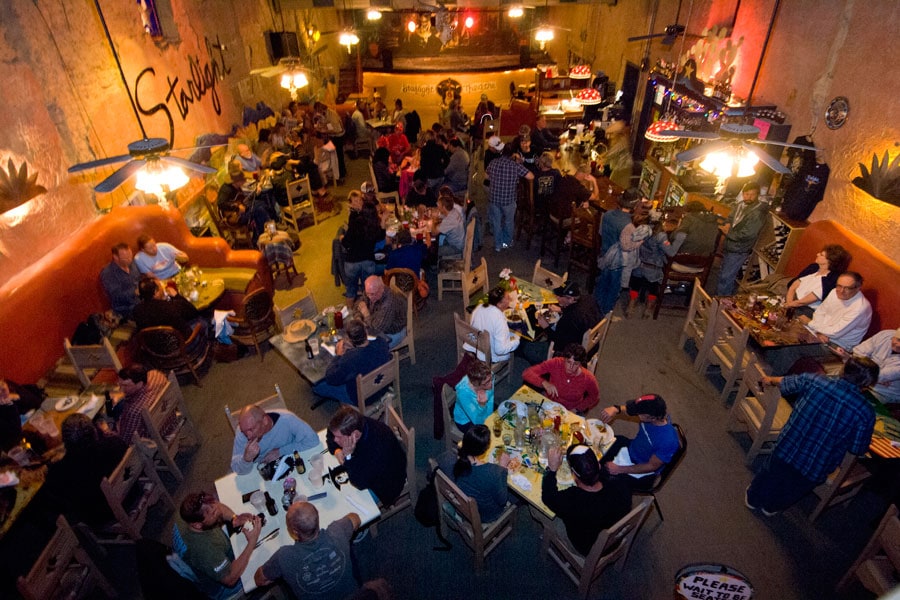 The hotel, theatre and restaurant are located at 631 Ivey Road in Terlingua. The restaurant is open Sun.-Fri. from 5 p.m. to 12 midnight; and Sat. from 5 p.m. to 1 a.m. They serve brunch on Sunday featuring Huevos Rancheros, chicken fried steak and eggs, Terlingua Quiche or other entries along with specially priced cocktails ($3.50).
Getting there from North Texas can be a challenge, but it's worth it. Amtrak has a train that stops in Alpine, about 100 miles to the north. Nearby Lajitas Golf Resort has charter planes and buses that bring people to their resort from various Southwest cities. We drove down, about 10 ½ hours from Dallas. The closest commercial airports are in El Paso or San Antonio, where you can pick up a rental to drive either 4 ½ hours or 6 ½ hours to Terlingua.