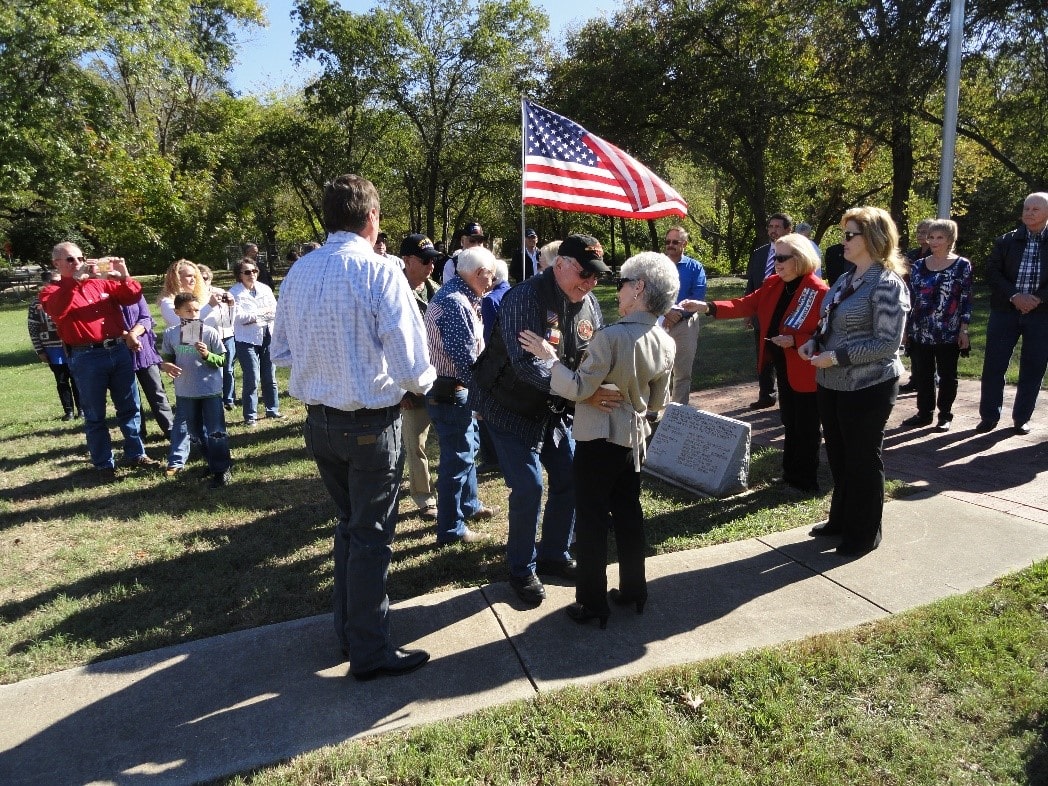 Veterans Recognition Celebration, an annual event hosted by the City of Ovilla, will be held Sunday, November 5. The public is invited to attend the 2 p.m. event at Heritage Park on Main Street. Lapel pins will be distributed to those who attend. All veterans will be recognized during the program, and Vietnam veterans will be presented with pins specifically designed to honor their service.
Begun as a way to honor the hundreds of veterans who live in the Ovilla area, this is the fifth year Old Chisholm Trail Chapter, NSDAR in Duncanville, has sponsored the event. Veterans Services Chair Kathleen Hartless says similar recognition events have been held in DeSoto and Oak Leaf.
Music for the event will be provided by Larry Doran, Music Director Midlothian ISD. Past Regent Patricia Thibodeau says there's plenty of parking for the more than two hundred people expected to attend the event.
Ovilla Mayor Richard Dormier will welcome everyone to the program, which will be presented by Old Chisholm Trail Chapter, NSDAR. The program includes the placing of a wreath in honor of parents who instill in us a desire to serve, our warriors, and those who wait at home. A prayer written by Kathleen and Scott Hartless will be followed by taps played by Midlothian ISD Music Director Larry Doran.
All veterans in the community will then be recognized. The Ovilla Police Department will serve as Honor Guard and North Texas Patriot Guard Riders will provide an Avenue of Flags. Closing remarks will be made by Mayor Dormier.
Tuesday, Nov. 9, the Museum of International Cultures in Duncanville presents a 100 Years Tribute to World War I. They will welcome participants from Dallas VA Medical Center as their honored guests. Dr. Bill White opens the program at 10 a.m. with a musical salute to veterans. A reading from "Long Grey Line" and book signing with Pat Thibodeau is scheduled for 11 a.m. Light refreshments and coffee will be served at a reception hosted by Old Chisholm Trail, NSDAR. The event is free to attend and open to the public.
A Vietnam veteran herself, Thibodeau says honoring our veterans is one of the three issues upon which our society and all chapters focus. The National Society Daughters of the American Revolution was founded in 1890 to promote historic preservation, education and patriotism. Its members are descended from the patriots who won American independence during the Revolutionary War.
With more than 177,000 members in approximately 3,000 chapters worldwide, DAR is one of the world's largest and most active service organizations. DAR members are committed to volunteer service having served more than 12.5 million hours in communities throughout the world during the past three years.
To learn more about the work of today's DAR, visit www.DAR.org or connect with DAR on social media at facebook.com/TodaysDAR, twitter.com/TodaysDAR and youtube.com/TodaysDAR.