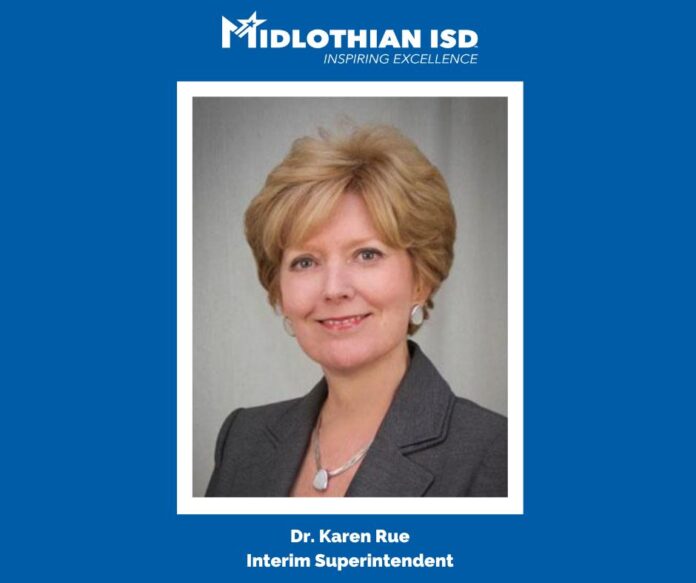 The Midlothian ISD Board of Trustees unanimously voted to name Dr. Karen Rue as interim superintendent of the district, on June 19, while the Board searches for a new superintendent.
Rue has a bachelor's degree from the University of Southwestern Louisiana, a master's from Lamar University, and a doctorate from Texas A&M University. All three degrees are in education.
Dr. Rue is currently an Executive Superintendent for the Texas Association of School Administrators. She is active as an interim superintendent and in providing executive services, including  superintendent searches and executive coaching for superintendents. Dr. Rue is a TEA provider for school board member training. She also serves North Texas school districts as a member of the ESC Region 11 Board of Directors.
A former Professor of K-12 Educational Leadership at the University of North Texas and in the Baylor University School of Education, she previously served as superintendent of Northwest ISD (from 2005 until her retirement in 2016) and Tuloso-Midway ISD, and as executive director of Katy ISD. Rue has been active in leading and creating a transformational shift in education, with a focus on preparing future-ready students, encouraging innovation and creativity, and developing more meaningful assessment and accountability measures.
Dr. Rue began her work with the district on July 1, 2023 and will lead the district alongside the Board of Trustees and district leadership until the superintendent search is complete.
Tami Tobey, Board President, commented, "Our amazing MISD team is honored to have the opportunity to work with Dr. Karen Rue. Her wisdom and educational excellence will help our committed leadership team catapult us into the next level of 'MISD awesome.' In my opinion, perspective is everything and adversity is preparation for greatness. Rest assured, this board has a decided heart and steadfast vision to find the next phenomenal leader for our district. And, Karen Rue will be a wonderful asset in helping us in this transition."
To learn more about Dr. Rue, visit https://www.misd.gs/about/leadership/superintendent. The district encourages the MISD community to follow the details of the superintendent search by visiting https://www.misd.gs/about/school-board/superintendent-search.
The application process for the Superintendent process opened on June 28 and remains open until 5pm on July 31. In the meantime the district has asked the community to answer a seven minute survey to provide feedback on what "attributes, skills and qualifications you would like to see in our next leader."
The first round of interviews is scheduled for August 19, followed by the second round August 23-25 with a tentative vote scheduled for September 13.
MISD Approves Two New Executives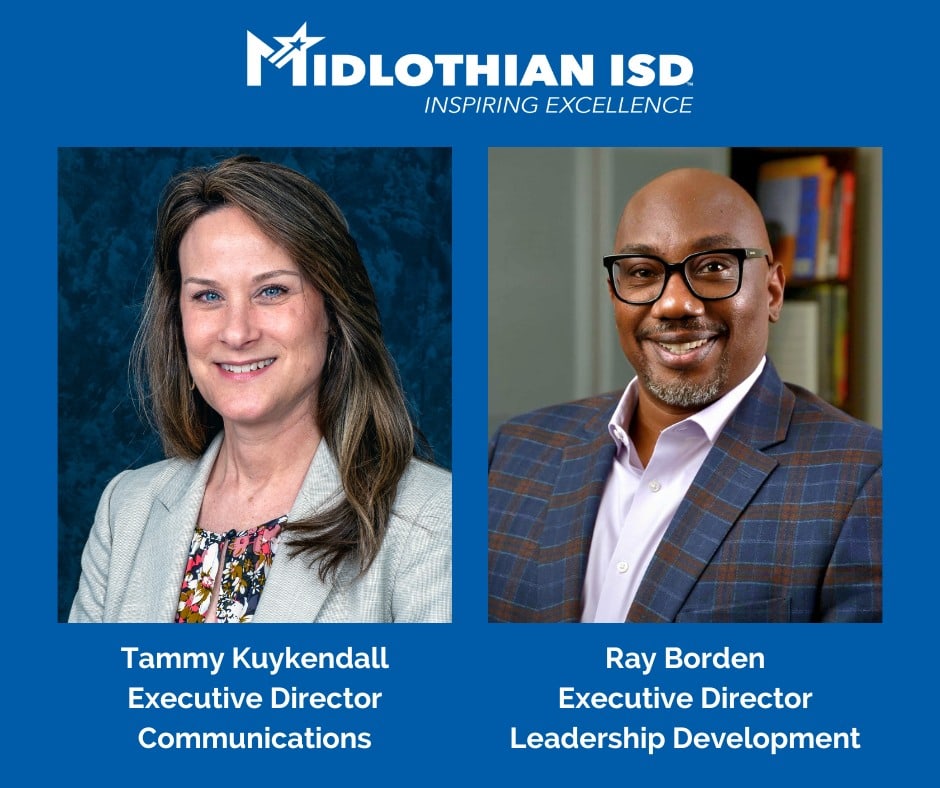 In other MISD news, Midlothian ISD Board of Trustees approved Tammy Kuykendall as the Executive Director of Communications and Ray Borden as the Executive Director of Leadership Development on June 26, 2023.
Tammy Kuykendall has more than 20 years of experience leading teams and coaching executives in strategic communications, media relations, public relations, branding, and content marketing. She has served as a key member of the Executive Leadership Team at Highland Park, Dallas, Sherman, and Duncanville Independent School Districts for more than twelve years. She also brings years of experience in government and non-profit communication to Midlothian ISD. Kuykendall earned her bachelor's degree in education with an emphasis in marketing from Oklahoma State University.
"Joining Midlothian ISD, one of the premier districts in Ellis County, is an honor and I look forward to working alongside a group of very talented professionals," said Tammy Kuykendall.
Ray Borden comes to Midlothian ISD from Little Elm ISD, where he served as a high school principal. Borden also served as a high school principal for several Arlington ISD campuses, as well as the Lead Secondary Principal. Borden will bring his years of award-winning experience to Midlothian ISD to coach and develop leaders within our district. He earned his bachelor's degree from the University of Texas at Arlington and his master's degree from the University of North Texas, and he is currently attending Baylor University for his Doctorate of Educational Leadership degree.
"It is an honor and a blessing to be given the opportunity to be a part of the Midlo family! I am excited about the positive changes ahead and eager to learn the history and traditions that make this district special! I can't wait to be a productive, energetic part of the Midlo leadership team!" commented Ray Borden.