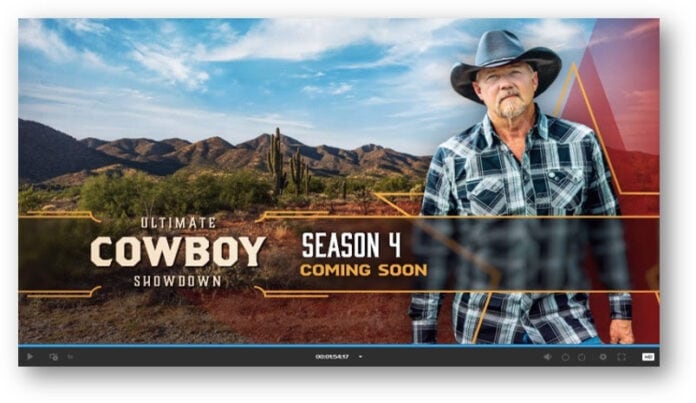 Grab your cowboy hats, folks! INSP, the home of compelling, heart-stirring entertainment, is saddling up to present the 4th season of the award-winning cowboy competition series "Ultimate Cowboy Showdown," slated to premiere on Wednesday, September 6th at 8PM ET. This All-Stars Edition gallops in with contestants who've captured our hearts, thrilled us, and dared to dream big in the previous three seasons. The announcement was made by Doug Butts, INSP's EVP of Programming.
"Ultimate Cowboy Showdown is more than a competition; it's an adrenaline-fueled journey that has been gripping viewers from the start," said Butts. "Audiences are spellbound as the crème de la crème of cowboys from every corner of America pour their blood, sweat, and determination into a competition that transforms lives. With stakes soaring sky-high, these rugged men and women lay everything on the line with fervor and passion."
Ultimate Cowboy Showdown pits a unique, fearless cohort of cowboys against one another in a gritty battle for an awe-inspiring prize – their own herd of cattle. Season after season, these cowboy gladiators face brutal individual and team challenges that test their mettle to its limit. One after another, cowboys who falter are weeded out by an expert panel of judges, including multi-platinum Country music icon Trace Adkins. The sole cowboy who defies the odds claims the reward: a herd  of cattle (valued at a hefty $50,000); top-of-the-line cattle & ranch gear; the much-coveted Ultimate Cowboy Showdown belt-buckle; and eternal bragging rights.
Butts enthused further, "When we chose to unleash a fresh season, we wanted to rope in the memorable cowboys that audiences knew from previous seasons. These mavericks are being offered another shot at seizing the grand prize. This captivating new season, filmed against the breathtaking backdrop of Wickenburg, AZ, is crammed with relentless action, high-octane drama, and a jaw-dropping finale twist that will leave audiences stunned and create a buzz that will echo long after the champion is crowned. This might just be our most riveting season yet."
Season 4 of Ultimate Cowboy Showdown is a thrilling roller-coaster of 10 episodes set to draw viewers back to INSP every Wednesday night, beginning September 6th at 8PM ET. To catch a sneak peek of the new season, click the graphic above. Ultimate Cowboy Showdown is expertly crafted for INSP by Glassman Media. Hold onto your hats, the showdown of a lifetime awaits!