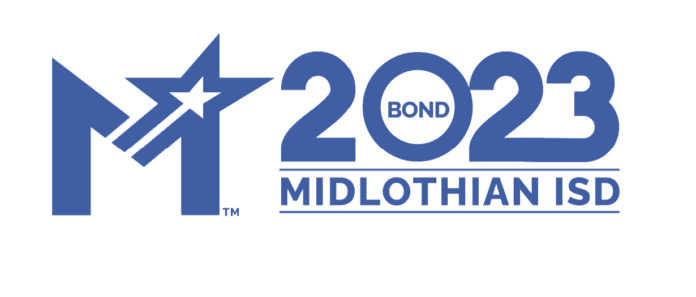 Dear Midlothian ISD Resident:
On February 13, 2023, the Midlothian ISD School Board voted to seek voter approval for a $415,944,300 bond issue. This process has been a community effort over the last year with involvement from over 135 volunteers and over 1,000 hours of planning. The Committee included citizens, city leaders, both current and past board members, teachers, parents, and students. The Committee dedicated several months to data collection, evaluations, and planning to put this bond package together. This plan includes: district-wide safety and security improvements, new construction, renovations, and additions.
The district's financial advisor has determined that there would be a school tax rate impact to finance this bond. This will include an impact to the district's I&S tax rate of 2.61 cents per $100 valuation. Projects will be funded based on new valuations and growth within the district. The district's 2023 bond package includes:
Proposition A ($356,004,800)
● New Elementary School #9*
● New Elementary School #10*
● Career & Technical Education Center*
● Land Acquisition
● Midlothian High School Addition/Renovation*
● Frank Seale Middle School Renovation
● Mt. Peak Elementary School Addition/Renovation*
● Longbranch Elementary School Addition/Renovation*
● J.A. Vitovsky Elementary School Addition/Renovation*
● Transportation Facility Addition (wash and mechanical bay)
● Ag Barn Addition (more space for animals)
*includes storm shelter
Proposition B ($48,664,600)
● Storm shelters for schools not receiving an addition in Scenarios 1 & 2:
○ T.E. Baxter Elementary School
○ Dolores W. McClatchey Elementary School
○ LaRue Miller Elementary School
○ Walnut Grove Middle School
○ Frank Seale Middle School
Proposition C ($11,274,900)
● Athletic Improvements (WGMS & FSMS restrooms/bleachers, HHS
Baseball/Softball fields turf, WGMS tennis courts)
Midlothian ISD residents will have the opportunity to vote on the propositions above beginning with early voting on April 24 – May 2, 2023, and on Election Day, which is May 6, 2023.
If you would like more information, please contact Dr. Ron Bland: ron.bland@misd.gs or visit MidlothianISDBond.com.
Dr. Jo Ann Fey
Superintendent of Schools