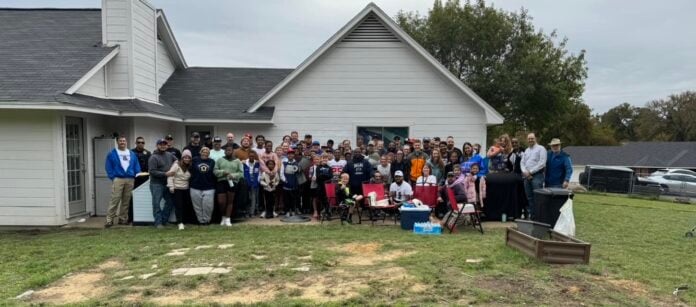 MIDLOTHIAN – Late last month, Midlothian resident Wilbert Manley made a call to the Midlothian Police Department reporting his home had been vandalized. On October 23, his wife found someone had spray-painted racial slurs on multiple windows located in the back of his house. He washed the paint off and hoped that was the end of it.
About a week later, Manley called again and reported that around midnight, he was asleep when their son came in to tell him he heard a knock at a rear window. When Manley went outside, he again found racial slurs spray painted on the back side of the house, according to a police report.
While the investigation is still ongoing as to who is responsible, people in the community got together with Manley to assist with eradicating the racial slurs on the Manley home.
Manna House was one of the organizations which assisted the family. Sissy Franklin, Executive Director of Manna House, founded in 1992 by a group of 8th graders that were concerned about their friends and neighbors and made it their school project, said she was contacted by Midlothian Mayor Justin Coffman asking for any assistance if they could offer the family help.
"We assisted them in some areas of their needs and provided the paint and supplies needed for the clean-up of the hate on their home," Franklin said. "My heart sank as I read the words on their home. What a sickening feeling. I can only imagine the fear this family felt in their own home. Midlothian is a very loving town; the actions of a few do not reflect the true feeling of community we have."
Franklin said there was proof of that love because about 100 people showed up to love this family and help with the clean-up.
Demetrius D. McClendon, better known as Pastor Mac from Discover One Church, also got involved with his congregation.
"I received a call from Tanya Manley – the Mother," McClendon said. "She was encouraged to reach out to me from the School District and one of our local 501's; therefore, she called, and I met with the entire Manley family that evening in addition to Alexis, our Ministry Director, and Larry, our Associate Pastor of Social Justice."
McClendon said it was without question that his congregation at Discover One Church would play a role in this family's life, specifically the family's 10-year-old son.
"No one, especially Jalen, a 5th grader, deserves to come home with disgusting racial slurs painted on his home," Pastor Mac said. "I organized a "Love over Hate Paint Party." We wanted Jalen to know more people in our town see him, love him, and are willing to stand with him than those who hide in the cloak of darkness, demonstrating their bold ignorance by writing on someone's home."
Jalen's football team showed up, too, and folks brought tamales, donuts, water, and juice. Some painted, and others made new friends.
McClendon said Discover One Church, which has been in Midlothian for 16 years, is totally engaged in keeping the church community informed about everything related to justice. And everything love, as witnessed by their helping the Manley family.
"We are a community of reformers having ten different denominations represented in our fellowship, yet all of us have less allegiance to our formation and more reverence for the God who's transforming us," McClendon explained. "It is our responsibility to be present for those who don't have representation, to speak up for those who don't have a strong voice."
McClendon said he believes the community of Midlothian mirrors the majority of communities in America, growing and making positive steps as a community to be a place where even more families want to come, live, and thrive.
Midlothian ISD issued a statement that said, "The Manleys are part of our Midlothian ISD family and we rally around them," the statement read. "We were deeply saddened to learn about the vandalism of their home, particularly the racial slurs, and have no tolerance for this kind of behavior. Midlothian is a strong, supportive community that comes together to care for neighbors in a time of need."
"We are better together as we maintain unity in our community," McClendon concluded. "Mr. Manley asked me, 'If this happened to me, would I stay?' My answer was concise and quick. Because I know the Spirit of the Lord called and led me to this place, there's no way I would leave where God sent me to be."